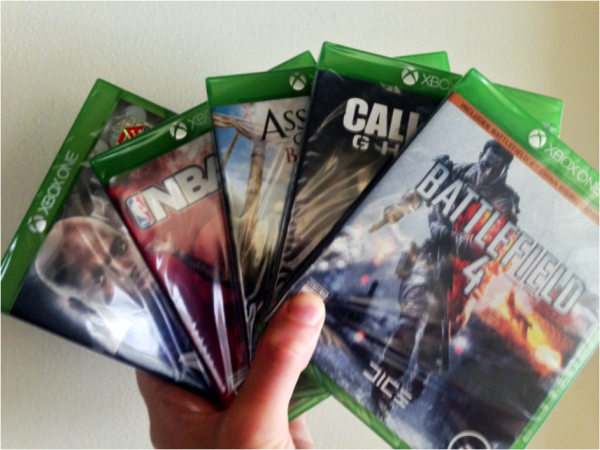 Since the current generation of console gaming kicked off last November, both Microsoft and Sony's consoles have played host to a wide selection of exclusive and mutual games. Granted, these games vary in quality from title to title – even more so based on personal preference – but that doesn't change the fact that each system has plenty of games to offer. And that's not including those coming in the future.

What follows is a list of games on the horizon that you need on your Xbox One. That being said, this list is based on personal opinion. There may be some games on this list you don't like, and some you want included. Feel free to let me know in the comments below which games you're looking forward to on the Xbox One.
They may not be the best games in the world, and they definitely aren't all exclusives, but each one focuses on a different type of play-style, and if anything is the spice of life, it's 'variety' – above all else, that's what your Xbox One needs.
6. Kinect Sports Rivals
Platforms: Xbox One
Release date: April 8 (NA, UK, AU); April 11 (EU)
While not the most agreeable of choices, hear me out.
No, not everyone likes Kinect. But just because the first iteration was more of a gimmick than anything else by no means makes it a bad addition to the console. The Kinect 2.0 can read your heart rate, read the human body accurately down to player expressions and position of their fingers, measure muscle displacement and applied force, and more. This alone provides a more accurate experience when using the Kinect.
The reason you should get Kinect Sports Rivals is because it takes a genuinely fun (somewhat 'party') experience, and uses it to showcase a lot of the improvements between last-and-current-gen's Kinect capabilities. Not only that, but the game itself includes a number of activities – such as jet skiing, rock climbing, target shooting, tennis, and so on – bound together by a constantly evolving world. Think Forza 5's 'Drivatars', if they were jet skis or bowling champions instead of cars.
5. Fable Legends
Platforms: Xbox One
Release date: TBA
One of the original Xbox franchise's most celebrated IPs, the Fable series has gone through a number of highs and lows across the course of its existence – the most recent of which is a high after Fable Anniversary's release.
This brings us to Fable Legends. Taking on more of a dungeon crawler approach to the Fable universe, rather than the tradition Role Playing Game that the series is known for, Fable Legends attempts to blend Fable's story with a seamless multiplayer experience.
Set 400 years prior to the first game, Fable Legends features an Albion that is only just discovering the true potential of Heroes. These heroes through out the game are in search of an ancient artifact known as "the moon on the stick".
The game features 5 characters – 4 are heroes, and the last is the villain – which players can control. This setup allows players to go from a hub city, called Brightlodge, into a quest that will never be the same as the last. The villain represents the ultimate Dungeon Master, with players being able to choose where to lay traps, spawn enemies (and determine how tough they are), and split up the band of Heroes, among many other options. The Heroes will have to band together to complete each quest, giving cooperative play a far heavier focus than in previous Fable games.
This game will make a fun addition to your Xbox One library because it's one of the Xbox's flagship exclusives; but not as you know it. With a new generation comes new ideas and innovations, and Fable Legends aims to bring the online-only world of co-op, combined with Cloud and Smartglass support, into the Fable universe – and your living room.
4. Quantum Break
Platforms: Xbox One
Release date: TBA
Remedy Entertainment has been somewhat tight-lipped about the development of its upcoming action title, Quantum Break. What is known so far is that an experiment at the fictional Riverport University has, effectively, broken time, giving the three people present – Jack Joyce, Beth Wilder, and Paul Serene – different abilities in time manipulation. Each of these characters will be playable, offering multiple perspectives and backgrounds on the story.
Remedy has stated that they are aiming for an interactive story with Quantum Break. While the game itself is heavily story-based, it is also a third-person shooter focused on delivering as much action as story. The main innovation for the game is that each in-game 'episode' is followed by a live-action TV episode, where the player's actions within the game affect the outcome in the TV series. It's unclear thus far as to how exactly this will work, but one thing is for sure – if Remedy pull this off, then it'll be a step forward for interactive storytelling in both film and gaming.
3. Project Spark
Platforms: Xbox One, Xbox 360, Windows 8 (Tablet, PC)
Release Date: 2014 (currently in Beta)
The best way to describe Project Spark is that it's Microsoft's answer to Little Big Planet. That being said, the game stands up on its own two feet as a creative hub for Microsoft's shared platforms – Windows 8 Tablet, PC, and the Xbox One.
Project Spark lets players create a world and fill it with anything they can imagine. Featuring a plethora of tools varying from physics and terrain editors, to AI coding and scenario building, Team Dakota have essentially created a game maker, allowing players to take a leaf out of Inception's book and make games within a game, then share it for the rest of the world to play.
According to the various videos, updates, blogs, and live streams from Team Dakota, the only limit in Project Spark is your imagination. If this is true, as it seems to be based on feedback from the Beta so far, then Project Spark is shaping up to be the go-to player-driven creative hub for aspiring game designers, and those wanting to play them. Think Trials Evolution's track editor combined with Minecraft.
Oh, and did I mention it will be free? Yeah, it's free.
2. Titanfall
Platforms: Xbox One, Xbox 360, PC
Release date: Xbox One/PC – March 11 (NA); March 13 (EU, AU); March 14 (UK, NZ)
Xbox 360 – March 25 (NA); March 28 (EU)
Respawn Entertainment's Titanfall is being marketed as the Xbox One's 'killer app' – something that it holds high over the competition's head, in spite of the fact that it is releasing on multiple (Microsoft) platforms.
Set in a conflict-filled future, the Interstellar Manufacturing Corporation (IMC) and the Frontier Militia wage a war over natural resources across a series of star systems known as The Frontier.
Somewhat similar to Fable Legends, Titanfall is an online-only First Person Shooter that seeks to blend storytelling with multiplayer in a 6v6 environment filled with AI. The experience I had in the Beta was nothing short of epic, and Respawn focusing all their assets on multiplayer seems to be paying off.
Gameplay flows seamlessly between controlling a free-running ground troop – Pilots – and powerful, dominating mechs – Titans. The gameplay is fluid; the maps breathe life into the game with a variety of small, medium, and large environments; all the Pilots' and Titans' weapons are balanced; and, most importantly, it's incredibly fun.
1. Halo
Platforms: Xbox One
Release date: 2014
What Xbox would be complete without Microsoft's best selling franchise?
Originally announced at Microsoft's E3 2013 conference, in what has since been labelled a 'placeholder' trailer, they showed a teaser trailer depicting the Master Chief after the events of Halo 4. The purpose of this trailer was to announce that there will be Halo games coming to Xbox One.
So with that established – that there is a Halo game coming in 2014 – the only thing we don't know is which game this will be. Rumours and an accidental 'confirmation', (quickly retracted and clarified) by Master Chief's voice actor Steve Downes, suggest that 2014's Halo game will be Halo 2: Anniversary, rather than the next instalment in the Reclaimer saga. Alternatively, it could be an expansion, similar to Halo 3: ODST, which takes place between Halo 4 and Halo 5.
One thing is for sure: you need this on your Xbox One. If it's Halo 2: Anniversary, then that constitutes a piece of Microsoft history, as the original Halo 2 was one of the best selling games on the original Xbox, breaking records on release, as well as being a great game. On the other hand, if it's the sequel to Halo 4, then that marks Halo's step into the next generation of gaming, and the next step in the Master Chief's journey.
What games are you looking forward to on the Xbox One?
* Image source: Gotta Be Mobile