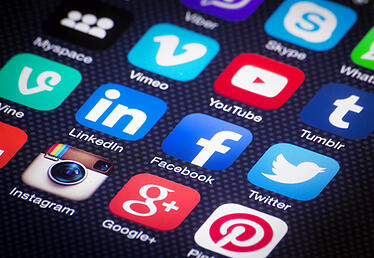 If you aren't using social media to connect with the marketplace, you're crazy. If your excuse for not doing so is because it's all just a bit too hard, you're crazier. Get reading.

Facebook alone has 665 million active users per day. Per day. You're nuts if you aren't taking a slice of that pie. Furthermore, 45 million photos are uploaded to Instagram every day, and 120 people sign up for LinkedIn EVERY. SINGLE. MINUTE. Who wouldn't want to tap into such a massive, selfie-taking, captive audience? There are so many products available to help you monitor your social media and maximise your impact; there literally is no excuse to pass this opportunity up. Below are my picks for the social media "dream team".
1. Hootsuite
Hootsuite is a great starting point for those who feel daunted by the world of social media. Hootsuite's dashboard streamlines the news feeds of all connected social media sites so you can get a clear snapshot without logging in and out of forty billion different sites. The other cool thing about Hootsuite is that they generate branded reports on your social media activity. These reports nicely depict almost any statistic you can dream up – total likes, new likers, how many users are talking about you, reach, engagement, as well as an engagement percentage for each unique post so you can see what content your audience actually responds to.
Hootsuite also presents demographic details of engaged users, giving you a clear picture of your actual audience – a pretty good metric for reviewing your target market. The free features on Hootsuite are an excellent option to get started, but bear in mind as you become more of a guru, some of the more in-depth reports will require you to whip out the plastic.
2. Statigram
One of the best Instagram analytics sites around, Statigram gives you an in-depth analysis of your engagement and shows you how to modify your content to increase your engagement. The coolest thing about Statigram is the "spread rate" feature. This tells you how much interaction you are receiving from users not directly linked to you (not likers/followers), demonstrating how much of your content is being shared beyond your circle.
"Density" highlights the days of the week and hours of the day when your followers are most engaged with your content so you can post at maximum engagement times. Posting at 6:30am while people are enjoying their morning coffee is going to generate more reach than posting at 6:30pm when they are all glued to Neighbours. "Optimisation" expands on these results and presents a graph contrasting your maximum engagement time with your actual posting time; allowing you to modify your posting behaviour to suit the needs of your audience.
Finally, Statigram will show you the top 100 used hashtags at the moment, whilst highlighting which of your past hashtags are among the top 100 so you can ensure you are directing the most possible traffic to your content.
3. Klout
Now that you're using the best hashtags and are no longer posting content while everyone is tuned into Neighbours, you're going to want to see how it's all working out and how much of an impact all this makes on your social media footprint. Klout combines your presence on Twitter, Instagram, Facebook and LinkedIn, and gives you a score from 1-100 rating your level of influence. Influence is determined by likes, comments, retweets and shares – so basically the volume of your voice on social media - giving you a nice, tidy summary of all your social media efforts.
Whilst some may argue that the metrics used by Klout are slightly rudimental - for example pre-teens with a large online following posting about pop stars may not be the same breed of "influential" as your successful social media-marketed business - it does give a good indication of where you stand and if improvement is needed.
All three of these tools are free (some require subscriptions for more advanced features) and form an excellent starting point to guide you on your successful journey to social media fame and influence.
So with Hootsuite showing you what you are doing, Statigram telling you how to do it and Klout telling you how well it's all coming together, your social media dream team is firmly in place. Now you have no excuse not to Tweet your little heart out!
Margin Media is an inbound marketing company based in Brisbane. We offer a range of digital marketing solutions to help your business increase its website traffic, qualified leads and customer base. To find out more about our services, visit our home page.
* Image source: Social Media photo from Shutterstock