With the biggest day of E3 down, and the heavy hitters knocking their conferences out of the way, the gaming world has been hit hard and fast with announcement after announcement. With Microsoft, Sony, Ubisoft, and EA all at the top of their game, there's no harder task than trying to distinguish which company put on the best show. While Microsoft and Sony clashed head-to-head, Ubisoft surprised the audience and swooped in to steal the show. And then win.
Here's how...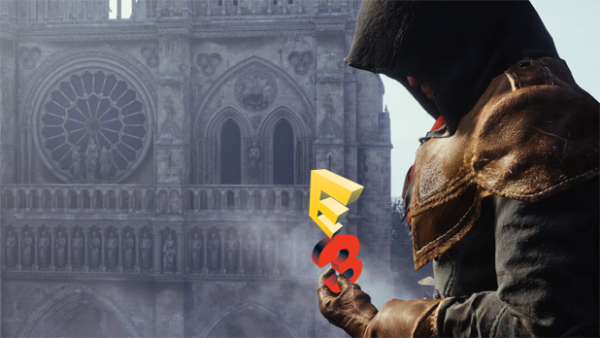 Note: This was written prior to Nintendo's presentation. For the purpose of this article, Nintendo won't be included because two of the three elements discussed, in this context, require a live presentation. If they had been included, they would have won over Ubisoft.
Presentation
Presentation is key during E3 because there are so many things happening at once for so long. There are demos, songs, montages, and cut-scenes to play; there are lines to remember; and there's an overall arc that a presentation needs to have in order to fully enrapture the audience.
Sony's conference was packed with amazing announcements, clips, and likable hosts; however, despite its absolutely killer ending with Uncharted 4: A Thief's End, its presentation could have gone a tad smoother. For one, there were minor, albeit recurring, incidents with audio levels and microphone volume. Second, instead of spacing out the facts with the games, Shawn Layden went from PSN statistics to PlayStation Now to PlayStation TV in one large chunk, which didn't help the rapport Sony had established by not discussing such features in bulk. Spacing them out a little further in the presentation would have done wonders.
Microsoft, on the other hand, did exactly as they had promised over the last few months - deliver game after game after game. They didn't discuss TV, an all-in-one entertainment unit, and only briefly mentioned the Kinect in passing when bringing up two games that will use it. That being said, the punch after punch method only really works when you finish with a devastating blow to leave the opponent reeling; it may just be me, but Microsoft didn't really deliver that. By no fault of their own, their Halo: Master Chief Collection was somewhat spoiled by leakers over the last couple of weeks, which lessened the blow fractionally. And while I have no doubt it rang true with others, I never got into Crackdown, so while I appreciate an Xbox One reboot, it didn't really blow me away.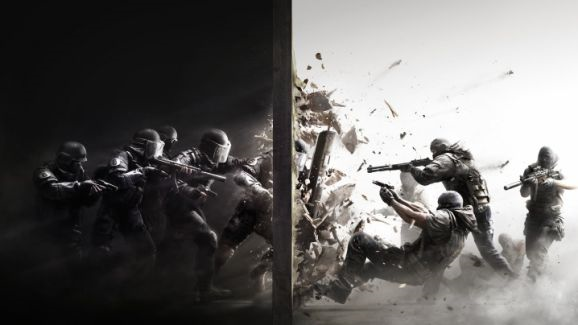 Rainbow Six: Siege will fill the gap left by the cancelled Rainbow Six: Patriots. I can deal with that
EA's conference was pretty muddled in its delivery. It wasn't so much that it was incoherent, but more so rushed. Of its three biggest and most anticipated titles, two of them - Star Wars: Battlefront and Mirror's Edge 2 - didn't receive as much time as they could have, even if they're still quite early in development. That being said, the rest of the presentation was filled with the usual titles that everyone expected from EA each year - Madden NFL 15, FIFA 15, NHL 15, The Sims 4 - which really only elaborated on the changes from the previous titles in each respective series.
Ubisoft, however, nailed their conference. I, and many others, went in expecting Far Cry 4 footage of a strange new villain, but when they came straight out of the gate with that subtly intriguing, and unsettling, opening five minutes, I was blown away. Including the likes of Just Dance 15, The Division, The Crew, Assassins's Creed: Unity, Shape Up, Valiant Hearts: The Great War, and the unexpected-yet-brilliant Rainbow Six: Siege, the presentation was near-perfect. They started strong, delivered different states of emotional high throughout the presentation, and finished just as strong. That's how to structure a presentation.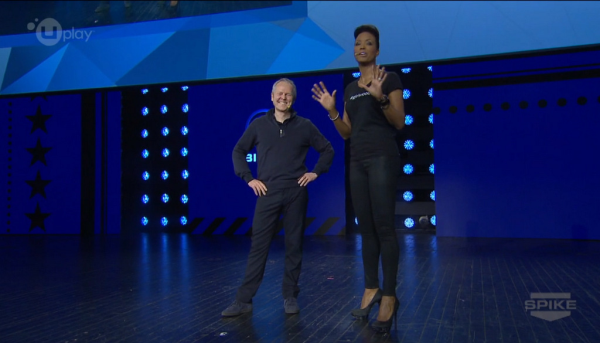 Hostess Aisha Tyler really was the life of the party
Stage presence
As any actor, performer, marketing consultant, or public speaker will tell you; stage presence in a presentation is everything. Speakers need to come across as professional, yet not uptight; relaxed, but not careless; they need to employ rhetoric that speaks to all members of the audience without alienation, and they most definitely need to know what they're talking about.
Of all the hosts and hostesses who took to the stage today, ranging from Sony's Shuhei Yoshida to Microsoft's Phil Spencer and everyone in between Ubisoft's hostess, Aisha Tyler, came out guns blazing. She was hilarious, relaxed-yet-professional, engaged well with the other developers brought on stage and, most of all, she was visibly passionate about video games. As I said, successful presenters need to employ rhetoric that makes them as likeable and relatable as possible, and she had the audience's attention and interest from the very first second she came on stage.
It's all about the games
Ultimately, it comes down to the phrase gamers have been repeating for months - if Ubisoft's lineup were lackluster, any credibility would be destroyed and E3's 'victory', as it were, would fall to Sony or Microsoft. However, Ubisoft did more than deliver by presenting sequels to critically acclaimed franchises/prequels, showcasing fun demos and borderline morbid trailers for new IPs, and bringing back a beloved franchise in style.

Through a successful combination of all three of these criteria - presentation, stage presence, and the quality the games themselves - Ubisoft have absolutely nailed this year's E3. From their energetic hostess to the order in which they presented their announcements, they got every single aspect right, this time leaving Microsoft and Sony to compete for second instead. Looks like they'll have to battle it out for first next time.
Margin Media is an inbound marketing company based in Brisbane. We offer a range of digital marketing solutions to help your business increase its website traffic, qualified leads and customer base. To find out more about our services, visit our home page.