Have you ever played a particular video game and wondered how it would translate into real life? Ever wondered if there were easy and elegant ways to monitor your driving? Wonder no more - thanks to steadily advancing technology, concept cars and the gadgets included in them are steadily shifting into the video game realm.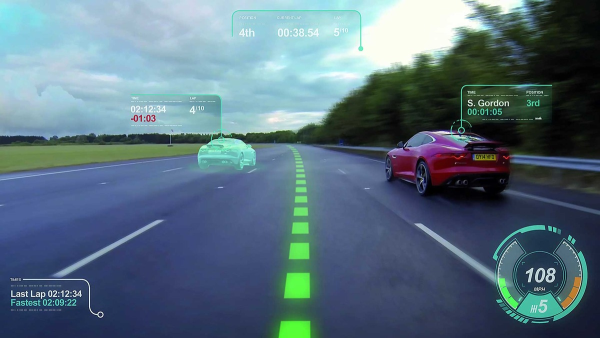 From Forza to your car
The first example I'd like to present is actually the one I am most excited for - the tech that allows you to drive as if you were playing Forza Motorsport 5. By way of a virtual windscreen, Jaguar's new Land Rover provides drivers a Heads-Up-Display that allows them to keep tabs on all the necessities whilst driving.
Similar to Forza, the HUD displays a driving line, showing the best route, as well as when to brake or accelerate; virtual cones, for novice or defensive drivers; and even a ghost car, for perfecting those pesky time trials.
While the specifics are unclear, other drivers/users can post times and laps for other drivers to beat, further cementing the link between competitive video games and reality. I highly recommend watching the video below.
Oh, and don't forget about the see-through bonnet either. That's one piece of tech you don't want to miss.
While it is just proof of concept, and Jaguar doesn't believe they'll have the tech fully functioning for about 10 years, it's still mighty impressive - and very close to combing video games and real life.
Let the car do the driving
We've all done it - be it in a video game or on the road, we've all dreamt of the day when we can just sit back and relax while the car does all the work, iRobot style. In some video games, that's possible; in real life, not so much - until now.
Mercedes-Benz unvieled the Future Truck 2025 earlier in the month. As the name suggests, they hope to get the technology into mainstream vehicles by 2025, depending on legal setbacks. Oh yeah, there's legal setbacks - because some countries don't like a truck driving by itself.
The technology in the truck uses vehicle-to-vehicle Wi-Fi, lateral radar on both sides, and full-range and short-range radar on the front to communicate with other vehicles on the road. It really is impressive, and especially useful for truckies pulling long hauls interstate and late at night.
Video games generally have freedom to play with any kind of technology they like, suspending the audience's disbelief. My disbelief, however, comes from seeing these types of concepts move from the world of gaming into the automobile industry.
All these concepts look fantastic, but I'm personally incredibly excited for a car that lets me drive exactly how I do in Forza; whether that kind of driving will be legal in the real world is still up for debate.
If you'd like to keep up-to-date on the latest marketing and tech news, be sure to subscribe to our blog via email. You can find the subscription box to the right on this page.
Margin Media is an inbound marketing company based in Brisbane. We offer a range of digital marketing solutions to help your business increase its website traffic, qualified leads and customer base. To find out more about our services, visit our home page.