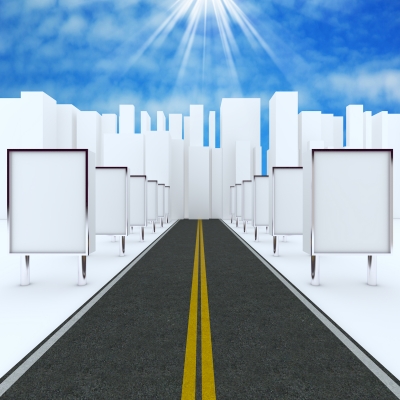 It's no secret how many people now use their phones to keep up to date on their favourite social networks, and it looks like Facebook has caught onto this fact with the introduct of mobile-only ads.

Although businesses have had the option to also have their ads appear on mobile devices for a few months already, this newest move by Facebook is the true introduction of mobile advertising.
See, in the past, placing an ad on a mobile Facebook device was just an extra option businesses could choose along with their normal desktop advertising. However, they could never choose to advertise exclusively to mobile devices. That's what has changed.
As a result, there are now five total advertising placement options that can be chosen. They are the following:
All placements: Right-hand side, desktop newsfeed and mobile newsfeed
Desktop placements: Right-hand side and desktop newsfeed
News feed (both devices): Dekstop newsfeed and mobile newsfeed
Newsfeed (desktop): Desktop newsfeed
Newsfeed (mobile): Mobile newsfeed
As you can tell from the list, mobile ads only have the option of appearing in the newsfeed as the layout between desktop and mobile Facebook is naturally different, so no traditional Facebook ads can exist to the right-hand side.
Mobile advertisements present themselves as "Sponsored Stories" and appear like any other newsfeed item, as the below picture demonstrates.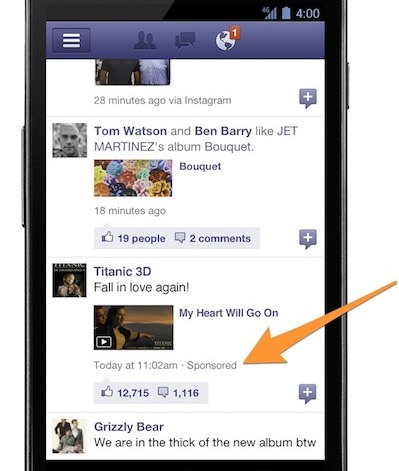 Is this good for marketing?
Before with sponsored stories, it was hard to gauge whether your desktop advertising or mobile advertising was the real winner. Now, thanks to the two being segregated, you can try mobile advertising on its own and measure how it performs in comparison to a desktop-oriented advertisement.
Also, if you've found through other efforts such as AdWords that mobile marketing suits your company best, then you've possibly been avoiding testing the Facebook waters due to its lack of a mobile-exclusive option. Now that there is one you can take the dive and see where it leads you.
Of course it is very early days - this new feature has only just been rolled out. And there is still a lot of uncertainty about whether or not people really appreciate having ads inserted into their newsfeed. So if it turns out people don't like it on their desktop versions, then it's logical to think they won't appreciate it on their mobiles.
Regardless, mobile-exclusive advertising is now available on Facebook for all businesses to try. If you do decide to try your hand at it, let us know how successful it is in the comments below.
* Image sources: