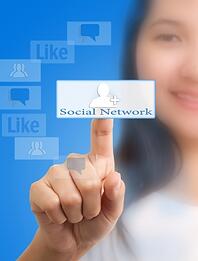 Much like any other aspect of your inbound marketing strategy, social media plays a significant role, so it's important to ensure your social presence is the best it can be.

In this blog, I will mention some of the ways that you can measure how well you're doing in the social sphere. From Facebook Insights to third-party metrics services, the following metrics will help you improve your overall social media strategies.
Facebook Insights
If you are the administrator of a business page on Facebook, then you will have access to Facebook Insights. Insights allow you to measure the following key metrics:
Reach - how many people have seen your post (the number of news feeds your post ultimately shows up in)
Engaged Users - how many people actually end up clicking on your post
Talking About This - refers to how many people have created a story in relation to your post. A story is created through actions such as liking, commenting on and sharing your post
Virality - the number of stories created out of the number of people who actually saw your post. It is shown as a percentage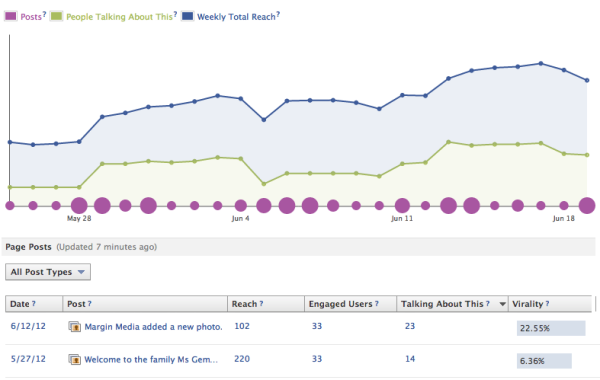 Along with Insights, Facebook have also started including some basic metrics on each post you make on the posts themselves. It includes the number of people reached and a reach percentage. If you highlight either, it will explain them in further detail.
With number of people reached, it'll tell you how many were reached organically and how many were reached virally. This means both people who like your page and those who are friends of those who like your page can be reached.
Your reach percentage only refers to the people your post reached who actually like your page. So factors such as viral reach will not be taken into account. This means that your reach percentage may not coincide with your number of people reached.

As an example, one post of ours reached 220 people but our reach percentage was only 19%. Overall we have 193 Facebook fans. So 19% of our actual Facebook fans were reached out of that 220.
Tailored Trends
Tailored Trends is a new feature that Twitter has rolled out. It aims to personalise the trends that show up in your Trends box so that they more accurately reflect your interests. It's deterimined by who you follow, who follows you, what Twitter knows about your interests and your location.
At this point in time I've found Tailored Trends to be a little hit-and-miss. But hopefully they will improve and it will benefit businesses through being able to see what topics are inspiring a lot of discussion at that moment. To find out more about Tailored Trends and how you can use it, click here.
Reach stats
With inbound marketing software such as HubSpot, you can get overall metrics regarding the reach of all your key social media platforms. You can see how many followers/fans you have and how much your numbers have either grown or reduced. It's a great a way to get a snapshot of how well your social media efforts are going.

Listening metrics
Last but not least, software such as HubSpot and Radian6 allow you to listen in on social media discussions. By typing in keywords that you consider important, both softwares can show you a list of when these topics are being discussed on platforms such as Twitter, what people are referring to specifically and on what days these discussions spike.
HubSpot's listening metrics are helpful, but Radian6's certainly go more in depth. Whichever one you choose, it allows you to identify when you should be talking about a certain topic relevant to your industry. Think of them as a far superior version of what Twitter's trying to achieve with Tailored Trends.
Any other valuable social media metrics you can think of? Share them with us in the comments below.
* Image source: Nutdanai Apikhomboonwaroot / FreeDigitalPhotos.net