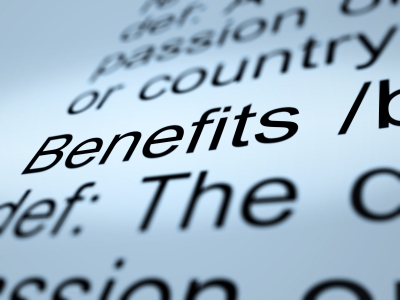 At Margin Media, when it comes to marketing your business we certainly believe inbound marketing is the way to go.

But this isn't just because it's our specialty or that it's substantially cheaper than more traditional marketing; it's also because of a number of other benefits it can offer your business. To give you an idea, I have listed five notable benefits that inbound marketing can offer you over traditional methods.
1. Your prospects find you
If traditional - or outbound - marketing is all about you throwing your message out there and hoping to catch customers, then inbound marketing is about attracting customers in towards you. With inbound marketing, you get found for your expertise.
Instead of running ad campaigns that interrupt your audience, they discover you through organic searches online when searching for something relevant to your industry. By capturing them when they already have a noted interest in your business's expertise, you're earning yourself some quality prospects.
2. You can utilise social media
Along with other inbound marketing techniques, you can increase your number of prospects, leads and customers by using social media. By building your business's presence on social networks such as Facebook, you can draw a seemingly limitless number of new fans and followers - all who care about your industry. After all, no one's going to like your page or follow you if they don't like what you're offering.
To find out more about the different social networks you can build your business's presence on, check out this blog.
3. You become a thought leader
Blogging is a massive part of inbound marketing, but its benefits go far beyond improving your website's SEO. Blogs also allow you to show your business as a thought leader. The fact that you will discuss news relevant to your industry and provide helpful guides that educate your readers on varying topics shows that you know what you're talking about. Achieving such a reputation can be difficult with traditional marketing.
4. Reachability and conversions
With traditional marketing, it's true that you could reach thousands of people - but how many of them are your ideal audience? Also, how long will your ad campaigns run for? With inbound marketing, you'll reach a more refined, ideal audience and your marketing efforts can last for years. You may write a blog one morning and earn a lead from it a year later.
Also, because your audience is more refined, it means the people who convert to leads are more ideal. They actually care about your industry and, potentially, your services. That's why they made the jump into conversion territory.
5. Extensive measuring tools
Often it can be difficult to measure the overall success of traditional marketing campaigns. With inbound markeitng, though, you have access to a slew of metrics that can offer you great insight to how successful your efforts have been.
From visits, time on site, leads, comments, sharing, etc. you will be able to tell where you're excelling in your strategies and where you may need to put in more effort or try something new.
Have any questions or thoughts regarding inbound marketing? Share them with us in the comments below.
* Image source: Stuart Miles / FreeDigitalPhotos.net