For a long time Google Analytics has provided invaluable metrics for website owners, showing them their views, bounce rates, how long someone spends on their site and much more.

Now, Google has introduced a new section to their Analytics service - that of mobile metrics. When looking at your overview page, you will notice a new mobile segment which is divided into three categories:
Operating System
Service Provider
Screen Resolution
By clicking on either of these, you can get a quick summary of how many visits your site is earning dependent on the operating system, the service provider (such as Optus or Telstra) or even the screen resolution of the mobile device that the person visited your site through. Below is an example of the metrics for mobile operating systems.

This shows that iOS is the dominant operating system that mobile users use. iOS of course relates the the operating system for Apple's iPhones, iPads and iPods. Android, which is Google's operating system, is next. Then finally, BlackBerry's OS.
By clicking on 'view full report' you can then get extensive details such as how many pages of your site were viewed per visit, the average time people spent on your site, how many of your visitors were new, and how big your bounce rate was via mobile devices.
From this page you can then look at the same extensive stats by primary dimensions such as service provider, screen resolution, the brand of the mobile device, even the actual product (e.g. iPhone or a Samsung Galaxy).

Finally, you can then choose a secondary dimension to measure your metrics by. The categories include visitors, technology, traffic sources and content. So say you want to delve deeper into your visitors, you could choose to measure visitor numbers via the country they come from or even the language they speak.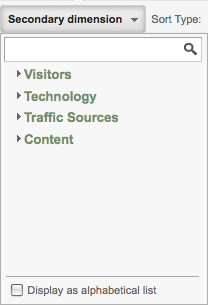 Should you be optimising your site for mobile?
The simple answer is yes. As more people turn their focus to mobile internet, it means that you need to make sure your site is mobile-friendly. For example, one culprit of a high mobile bounce rate may be because your site hasn't been given a mobile design yet. It can be very off-putting for someone to arrive on your site on their mobile and be exposed to the same desktop-oriented design. This could cause them to back out immediately.
By 2014, it's believed that mobile internet use will surpass desktop internet usage. So it's best to start optimising your site for mobile now and use Google Analytics to help you gauge the success of your design. For tips on what you shouldn't do with a mobile website, click here.
Are you happy to see Google Analytics release mobile-specific metrics? Share your thoughts in the comments below.