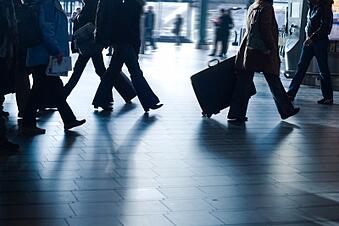 When employing an inbound marketing strategy for your business, the first thing you should do is ensure that your website is more than just a website. It should be a hub.

By making your website a hub I mean it should be dynamic and engaging, it should link with other areas of your online presence and it should encourage interaction. By doing this, you will make your website and your business more interesting. The more interesting you are, the more people will return.
But how do you compell people enough to come back? How do you create a hub? I'm going to offer you a few tips on exactly how to do this.
Simple website design
Before turning your website into a hub, you should make sure that it's simple. Keep the navigation simplistic, use simple layouts, embrace whitespace and avoid unnecessary graphics. Ensure the key information a visitor wants to know is there when they land on your home page. If a site is unsightly, people won't come back. If the design is nice and easy to navigate, it leaves a good impression with those visitors.
Add a blog
One of the first ways to turn your site more into a hub is by incorporating a blog. A blog helps make your website dynamic and improves its SEO. This is because Google rewards fresh, valuable content. It also creates a place for people to interact with your brand, comment and share your content.
Get social
Build your business's social presence and you'll guarantee an increase of traffic and return visitors to your site. Networks such as Facebook, Twitter and LinkedIn are great places to start, each with their own unique benefits.
Most importantly, though, social networks can be integrated with your site in both ways. You can provide links back to your site through your social network pages, and also embed social sharing buttons and follow buttons on the pages of your website. A great place to include social sharing buttons is on every blog post you make.
A weekly or fortnightly email to your subscribers is a great way to expose them to updates that have occurred on your site. Maybe it's a series of new blogs or a brand new ebook that may just interest them.
Lead nurturing
The other part of your email marketing strategy is to nurture the leads you earn from conversions (e.g. those who provide their email to you in exchange for an offer such as an ebook or webinar). Through lead nurturing, you can move them further down the sales funnel and also become more personal with them.
Maybe you can inspire them to reconvert or check out a new blog entry. If you've really been nurturing a lead well, you may even get that long earned sale from them.
What methods do you use to ensure people return to your website? Share your tips with us in the comments below.
* Image source: healingdream / FreeDigitalPhotos.net