Ask yourself a question: Can you imagine a world without Google?

I know I certainly can't. An internet lacking the world's most popular search engine would be like trying to drive to a new location 500km away for the first time without the assistance of a map. In other words, it would be very painful to navigate.
But the importance of Google - and other search engines, for that matter - goes far beyond simple discovery when involving the marketing of your business. Not only does it offer you great discoverability, but authority as well. In this blog, I will expand on why Google is absolutely imperative to your marketing efforts.
Why Google matters
Let's say one morning you wake up to find yourself craving some Chinese food. Instead of going to your usual joint, though, you decide you want to try someplace new. To do so, you either jump on your smartphone, tablet or computer and go straight to Google. You type in "chinese restaurants" as your query and wait to see what's on the other end. Your results page fills with organic search results (and perhaps, paid ads) with a strong listing of potential candidates for your next Chinese food outing.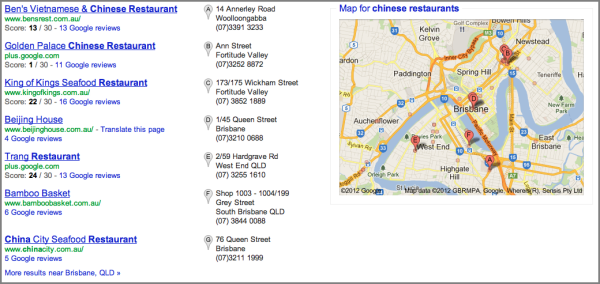 Within this group of results, one will come out victorious. However, any site that's on page 1 of Google has a very strong chance of exposure over any results that fall on page 2 or 3.
The sad truth is, if you're not on page 1 of Google's search results, then you're going to significantly struggle in the online marketing realm. But it's not just the lack of exposure that will hurt you, but how much this lack of a quality rank on Google will hurt your business's online authority.
In a global study conducted in November 2011 by PR agency Weber Shandwick, they found that 81% of people consider search results important in determining the reputation of a company. In other words, if your business isn't performing well in search results relevant to your company, then this will impact on the perception people have of your company.
What you can do to rank better
In January of this year, content discovery platform Outbrain ran a study that found 78% of brand and agency marketers are investing in paid search results (such as Google AdWords) and that 69% are working on their SEO efforts. If you want your business to rank better, you need to be doing this.
Google AdWords allows you to create an ad (or series of ads) that will show up in people's search results when they type in keywords you've aligned your ads with. What's great is that you only have to pay each time someone actually clicks on your ad result. So if 1,000 people saw your ad but no one clicked, then it would be at no cost to you.
The general rule is that the more you are willing to bid on a click, the better your ad's position will be against your competitors who are also bidding on similar keyword clicks. In the end, the closer to the top of page 1 your ads can be on Google (as illustrated in the below image of results for "insurance"), the better. To find out more about Google AdWords, click here.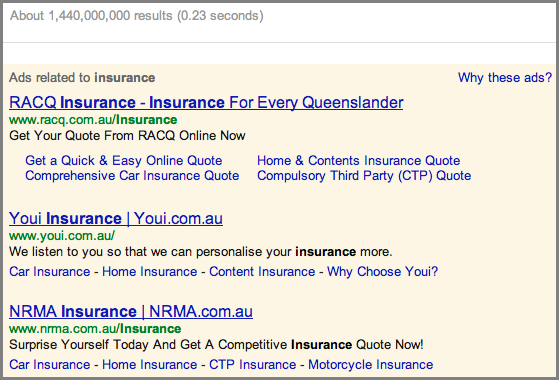 In terms of improving your website's organic search rank, you need to invest in some Search Engine Optimisation (SEO) strategies. There are a number of ways in which you can achieve this with strategies such as keyword placement, inbound links, social media, quality content and more. To learn more about how to implement these strategies, check out this blog.
Do you think Google's important to successful online marketing? Share your thoughts with us in the comments below.