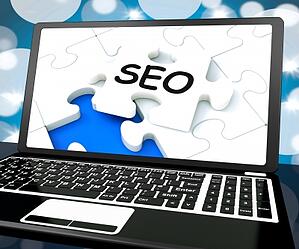 SEO is one of the most utilised digital marketing channels among businesses, so its importance within the online world is undeniable.

Still, despite its importance and large adoption as a digital marketing method, SEO has a number of myths surrounding it. Whether these are misconceptions about how nothing below rank 1 on Google is worth it or that social media doesn't play a role in SEO, these 7 myths are ones that we believe are worth debunking.
1. I'm number 1 or I'm nothing at all
When it comes to SEO, a common perception is that either your business's website should rank first on Google or it's a complete waste of time. Now, while being ranked number 1 is a great place to be, you shouldn't be disheartened or feel as though all your efforts were for nothing if you rank lower.
In fact, with the way websites can be displayed on search engines these days - with author profiles and rich snippets - sites that are ranking below the top 3 or even sites that are listed on the top of the second page results are still seeing some impressive click-through rates. So while you should always work towards the best rank possible, don't throw in the towel if you're not right at the top.
2. Google can't tell if I have bad backlinks to my site
Let's just put this straight. The belief that Google is incapable of knowing when your site has been linked back to by questionable sites is completely wrong. If your website was part of a police state, then Google would be big brother. Luckily, the internet is not a police state and Google aren't dictators. But, in a way, they know everything about your website from how many pages you have and the keywords you utilise to what meta tags you've utilised and the origin of every backlink to your site - from the good to the bad.
If they can tell whether a site is a quality website or a haven for spammed content, then they can easily trace questionable backlinks. So don't think getting a link farming site to link to your site is achievable without Google knocking you down a peg or two.
3. Keywords need to be an exact match
While it's always a good idea to have exact matches for certain keywords from time to time, you don't actually have to have it perfect every single time. Variants of keywords can work a treat as well.
See, the problem with trying to perfectly match keywords every single time is that it makes it a whole lot harder for you to actually write your copy. You're so obsessed with crafting your copy around a particular keyword that just doesn't gel well with the tone you're using that your copy becomes contrived and is weird to read.
Yes, include exact matches for certain keywords, but you don't have to do it every single time.
4. Content trumps all
On a day-to-day basis, I'm creating content for Margin Media, primarily in the form of this blog. But just because content is an important part of an SEO strategy doesn't mean it's the be all and end all. The problem is that as factors such as meta tags and keyword placement have been downplayed a bit in recent years, some people assume that must mean content is the new king.
The truth is that content, keyword placement, engagement, website design, utilising social media and so many other factors are all as equally important as one another when it comes to SEO. Just relying on content will not make your SEO golden. Utilising every single aspect of white hat SEO is what will.
5. Your home page needs heaps of content
A common misconception is that in order for SEO to really work, the home page of your website needs to be filled with heaps of SEO-friendly content. In reality, though, your home page should be about providing the important information, chiefly what your business does. While this should include SEO practices, having on-page SEO focused chiefly to your home page is not what will get you discovered.
Your SEO should run across the entirety of your site, and other pages besides your home page can even be more SEO-focused and it will still return strong results if done right.
6. There's a particular level of keyword density you must achieve
There is no magical number in terms of how many keywords should be on any one page. For example, when talking about a blog page, if there is a particular keyword you want that page to rank for, all you need to do is the following:
Have your keyword(s) included in your page title
Your keyword (or a variant of it) should be included in a headline in the copy
Include the keyword in the URL if you can achieve this
Have the keyword pop up at least once in your copy, besides the headline
In other words, you don't have to fill your copy with the keyword you want to rank for it. As long it makes an appearance once in each of the above manners, you're doing a good job.
7. Social media has no influence on SEO
Social media absolutely has an influence on the SEO of your website. Along with the fact that anytime someone socially shares your content (e.g. they 'Like' or '+1' one of your blogs via the social share buttons) it acts as inbound links that verifies your authority, social search is a function that is becoming bigger and bigger.
Google themselves allow for social search for anyone who has tied their Google account to social networking platforms like Facebook and Google+, meaning that depending on what that person and their friends like, social media can play a notable role in how your website ranks in a social search for them.
Just in general, social sharing of your content and integrating your website with social media broadens your name and authority, which can attribute to a better ranking. So yes, social media has an influence on SEO.
Margin Media is an inbound marketing company based in Brisbane. We offer a range of digital marketing solutions to help your business increase its website traffic, qualified leads and customer base. To find out more about our services, give us a call on 1300 798 848 or visit our contact page.
* Image source: Stuart Miles / FreeDigitalPhotos.net