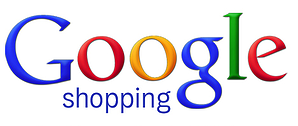 Google Shopping has officially launched in Australia, and it brings with it some changes businesses should be aware of.

If your business hosts an e-commerce site where you sell products, then Google shopping could offer you some genuine benefits that go beyond mere exposure. In today's blog, I'll be explaining what Google Shopping is and the steps you can take to utilise it for your business.
What is Google Shopping?
Google Shopping is Google's official step up from its previous service, Product Search. The transition from Product Search to Shopping last week brought with it some changes, including notable improvements to the way in which you can market your products through the search engine, but also the new costs associated with doing so.
Not only could you consider Google Shopping the search engine's own version of eBay (although far less fleshed-out by comparison), but it has also brought with it Product Listing Ads (PLAs) that allow you to more accurately target your ads and have greater control as to where your ads appear. For example, here's a collection of PLAs associated with the search term "iMac" from the normal Google search.
These results were aligned to the right-hand side of the usual organic search results on Google. Now, when searching from the Google Shopping page itself, you'll find results that could be similar to this by searching "iMac".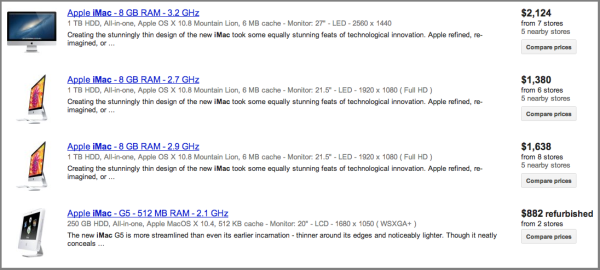 From this list you can then jump in and compare prices among different retailers and click through to the site of the retailer you find has the best offer. While the listings look different, both rely on the investment in PLAs. It's just that if you optimise your ads more successfully, your product could also find itself being listed as a sponsored result through the main search function on Google.
Either way, Google's Product Listings function on a fee structure comparable to Google's AdWords service. You will only pay when someone clicks on your product and is directed to your actual product page. However, even though it is not necessary for you to worry about including additional keywords or ad copy into PLAs, the more optimised your product information (product name, description, image and merchant name), the better its chances of ranking highly in product listings, meaning you could earn more exposure.
To get an idea of how PLAs work and how to set them up, check out the official video by Google below.
Tips on utilising Google Shopping
1. Practice
The truth is, Google Shopping's PLAs are beneficial for any business looking to develop an e-commerce presence, so it's important to get your head around them. While you don't necessarily have to take every product from your Merchant Centre and start advertising them, you should aim to test with a good chunk of them. This could include testing what bidding price garners you the best click-throughs or whether your product description could do with some improvements.
You won't get it straight away, but it's best to practice now while it's still new in Australia so that your business can get a head-start against late adopters.
2. Target
The better you target your products to all their defining attributes, the more likely it is they could pop up in related searches and take a more dominant listing against other comparable products.
For example, including targeting information such as the nature of your product (MP3 player) and the brand name of the product you're selling (Sony) means that it won't just pop up in very targeted search requests ("Sony MP3 Player") but in associated search requests ("MP3 Player" or "Sony").
3. Cost
Last but not least, you need to consider cost. The launch of Google Shopping in Australia wasn't as publicised as it could've been, which means a number of businesses probably didn't account for the marketing costs associated with it. While Google Shopping and its PLAs may not be applicable to all businesses, it presents a great opportunity for businesses with a strong e-commerce focus.
If you fall into the e-commerce category, then you should spend some time considering your budget and how much you can put aside for PLAs this year. By understanding your budget, you'll also be able to set your bid prices and overall budget more effectively.
Margin Media is an inbound marketing company based in Brisbane. We offer a range of digital marketing solutions to help your business increase its website traffic, qualified leads and customer base. To find out more about our services, give us a call on 1300 798 848 or visit our contact page.