Real-time marketing can be a fantastic strategy for marketers and businesses, but you also need to be wary of when it is and isn't acceptable to do so.

Sadly, with most tragedies that occur around the world, some brands will manage to post something insensitive in the wake of these events. In today's blog, I have listed 3 examples of when brands have gone too far with their real-time marketing and trivialised great tragedies. Make sure you never make the same mistakes.
1. Epicurious and the Boston Marathon Bombing
Yep, whether you believe it or not, one brand already managed to try and capitalise on the recent Boston Marathon bombing earlier in the week. While 3 have been confirmed dead, hundreds injured and many missing limbs, food website Epicurious somehow thought that it would be acceptable to push a marketing agenda in their tweets related to the disaster. These were the original tweets, as captured by Mr. Media Training Blog author, Brad Phillips.


The company could've easily sent out a tweet that offered their condolences, but instead they decided to send out tweets that appeared to offer condolences but were attached with a marketing angle. Needless to say, Epicurious's followers were offended by the tweets. After all, the company was using the tragedy to try and drive traffic to their website. Furthermore, by composing the tweets in this manner, they were effectively trivialising the tragedy.
To make matters worse, after the fallout, Epicurious then started sending a form apology to all Twitter users who were offended. However, while writing a form apology and attaching it to every reply is a poor move, they only came off as more insensitive when they used the clarifier "tweets seemed offensive." In other words, they weren't taking responsibility for the fact that their tweets were actually offensive.


Eventually, after deleting the initial tweets and all the form apologies sent out to users, Epicurious finally tweeted a blanket apology that took full responsibility. Of course, all of this controversy could have been avoided if the company had simply sent out a compassionate tweet that wasn't trying to sell anything.
2. SellItOnline and the Tasmanian bushfires
Unfortunately, Epicurious's insensitive real-time marketing isn't the only example out there. In fact, there are more examples than you'd really wish there were, and one of them happened right here in Australia. Earlier this year, a series of bushfires made their way through a number of states, with Tasmania being one of the most heavily affected.
While SellItOnline's message appeared noble at first, offering to donate generators to those affected in Tasmania, they clarified how many they donate would be completely dependent on how many new fans their Facebook page received.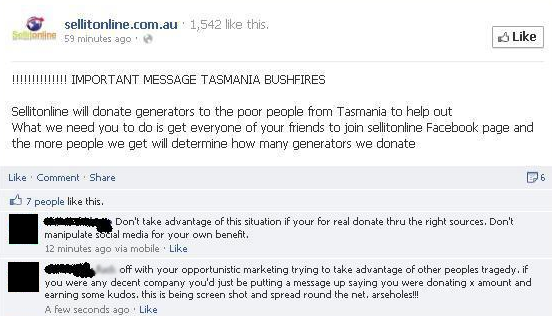 The replies, as you can see in the above image, were less than positive, and understandably so. SellItOnline tried to grow their Facebook fanbase in response to a tragedy where people's livelihoods were being destroyed by vicious fires. If you're going to be charitable when a tragedy occurs, just be charitable. It's not about your brand benefitting from it - it's about helping others out. This is something SellItOnline obviously didn't get.
3. Celeb Boutique and Aurora, Colorado
Last year, during a midnight screening of The Dark Knight Rises in Aurora, Colorado, tragedy struck when one of the cinema's patrons opened fire on fellow cinemagoers, killing 12 and injuring 58 others. Unfortunately, Celeb Boutique's PR officer was not aware of the sad reasons as to why the Twitter hashtag #Aurora was trending. As a result, it led to this tweet.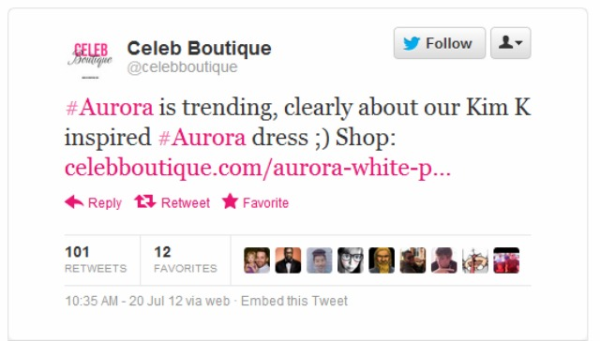 After being made aware of the uninformed tweet, Celeb Boutique quickly stepped in and took the tweet down and followed it with a series of apologies.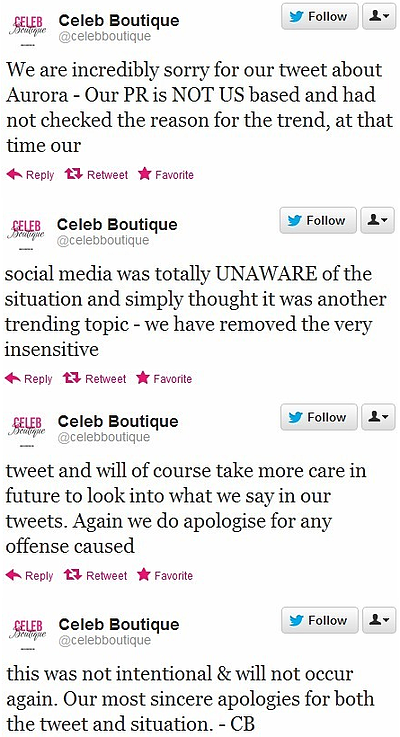 In the end, it was a good move on Celeb Boutique's behalf to remove the insensitive tweet straight away and offer a genuine apology and promise to better research trending discussions before newsjacking them without understanding the context.
It's also an important example of how you should always make sure to research a currently trending discussion on any social network before using it for marketing purposes. Along with staying informed, however, be sure you don't make the mistakes or insensitive moves the other two brands mentioned in this blog did.
When a tragedy strikes, no one has any interest in what your business has to say about it, unless it's offering your condelences or unconditional help.
Margin Media is an inbound marketing company based in Brisbane. We offer a range of digital marketing solutions to help your business increase its website traffic, qualified leads and customer base. To find out more about our services, give us a call on 1300 798 848 or visit our contact page.
* Image sources: