There really is something special about a poorly designed website.

Compared to other websites out there, those with bad designs are an entirely unique experience. Whether you're desperately trying to figure out where the navigation bar is, feeling defeated while a page infinitely loads, or doing your best to stave off an impending migraine due to too many flashing colours, bad websites are in a class of their own.
In today's blog, I've found 6 websites that have a whole host of design issues that you'd best ensure you never make yourself.
1. Water Services LTD
The first thing you'll notice when landing on this website is that it's a mess. Or maybe the first thing you'll notice is even though it says "Water Services LTD" at the top, you actually type "arvanitakis" into the address bar. What is certain is you'll see a series of random animations (unless you're using a device that isn't flash compatible, where you'll see nothing); a background that constantly changes dependent on what spinning image button you select; a huge, gold/bronze "35 YEARS" with poor anti-aliasing; and, for reasons unknown, an ancient Roman soldier with a shining shield and a flaming sword.
The business has something to do with water treatment, I'm sure, but it's slightly difficult to nail this detail down when so much is thrown at you in one go. Make no mistake, this website is a confusing mess. Again, how does an ancient Roman soldier with a flaming sword symbolise water treatment?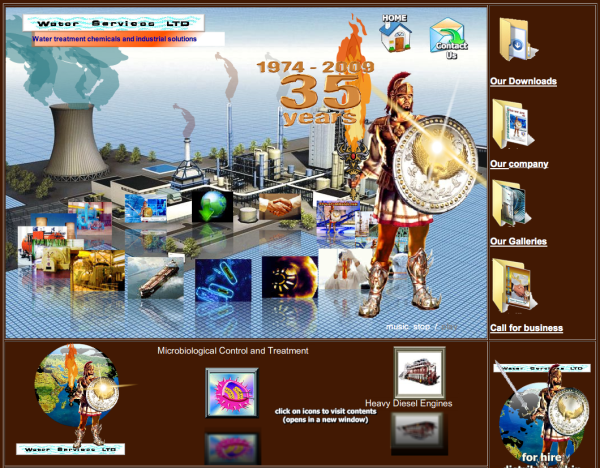 2. Bavarian Brathaus German Restaurant
For whatever reason it may be, it seems as though a lot of websites with poor design really enjoy using yellow or a creamy yellow colour for their text while overlaying banners and other images against a constantly repeating wallpaper. For what it's worth, the Bavarian Brathaus's background doesn't really have any clear seams of where the background goes on to repeat itself, plus the "Let's Strudel Baby!" statement is likeable, even if it doesn't make too much sense.
Most importantly, this website is not as bad as the above Water Treatment because you're not assaulted with an excess of Flash animation. Still, it could do with a redesign. One big issue I have with it is the image that sits to the right of the main page. There are links to their Facebook and Twitter pages, but they basically blend into the mess of colours that image contains.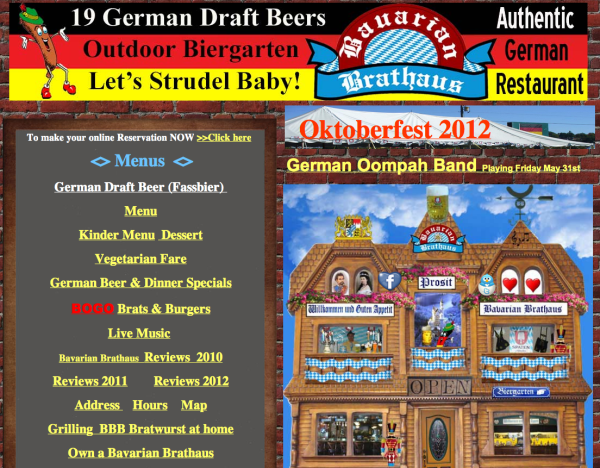 3. Constellation 7
This statement is not intended to offend, but why is it that so many religious websites are just badly designed? Seriously, if you scour for some of the worst designed websites out there, more often than not at least a couple of religious websites will sit in the top 10 lists.
Maybe it's the fact that these offending sites always seem to rely so heavily on bright technicolour palettes, a whole lot of animation, copy and pasted backgrounds, and an over-reliance on scrolling text. In the end, whatever it is, these sites are not easy to look at and you really never get a sense of where you're supposed to navigate from.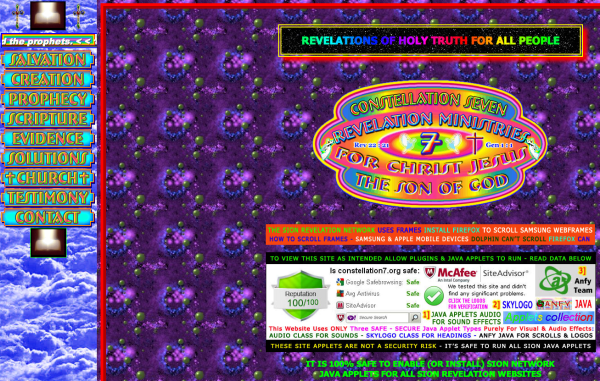 4. Leoneck Hotel
I'm not sure what it is about this website...
There's just something weird about it. When you go to it, you have two simultaneous reactions (at least, I did). One is that, as a Flash site, it runs relatively well. The second reaction, however, is the issue of it being a website. As soon as you land on this site, there's too much going on. A train glides by, your cursor is a cow's head (refer: above), and there is a static man in a business suit that keeps smiling at you and holding his hand out.
As you navigate the cow head, you can highlight certain sections and view further areas of the hotel like the lobby, garden and rooms. There's a random clock that sits to the side of the page. But, seriously, you cursor is a cow head, and this is where the biggest problem is.
Because your cursor has been transformed into an unfamiliar shape, it's hard to tell when or when not your actual cursor is highlighting something on the page. It needelessly makes the entire experience more problematic than a web experience ever should be. The fact that the entire website (or almost all of it) is comprised of Flash also means that those with slower computers can expect a sluggish website affair, and those with devices that don't support Flash can just forget about it.
5. One Nation
So it turns out that Australian political party One Nation's website is so poorly designed that it has often found its way into lists comprised of the worst sites on the internet. Regardless of what you think of their policies, it's hard to deny that the website has more than a few problems to amend.
It's got everything a bad website is known to have. A weird background colour (which changes between pages, by the way), text that scrolls across the screen like it's a news ticker, the text colours and sizes are inconsistent across the entire the website, images are out of place, unecessary GIFs are thrown in for good measure, and links don't even sit correctly, often levitating over a background of the same colour.
From my experiences exploring some of the worst website designs out there, this was the only Australian website that was consistently considered poor in its design execution... What an honour.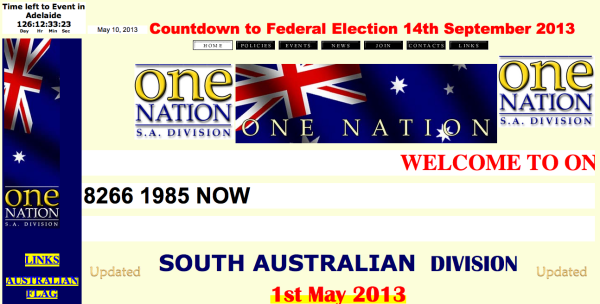 6. The World's Worst Website Ever!
I love this website. It's an absolute mess. You have pointless animations, GIFs, repeating background images, weird framing, odd text choices, scrolling text, spelling errors and a website visit counter. So why do I love this website? Well, it's because all of these design choices are purposeful.
This website had been designed in the name of educating people on what not to do. If you navigate through the main page, you'll actually find a link to a list on the site where they tell you all of the poor design choices they made. These range from the clearly visible mistakes to even informing you of bad SEO practices they've employed. It's a great piece of educational content done in the most authentic way possible.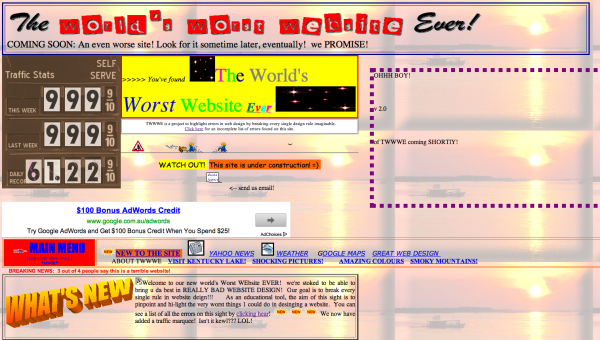 Margin Media is an inbound marketing company based in Brisbane. We offer a range of digital marketing solutions to help your business increase its website traffic, qualified leads and customer base. To find out more about our services, give us a call on 1300 798 848 or visit our contact page.