These days, it's hard to imagine a world (an online world, that is) without WordPress.

Since its inception back in 2003, WordPress has grown from a humble blogging platform into one of the world's most popular content management systems (CMS). Now, the much-loved website and blogging platforms has celebrated a special miletsone - its 10th birthday.

In today's blog, I'll be taking a look back at the history of WordPress, how it has changed, and is one of the most important tools for companies and marketers today.
A user-friendly CMS
It was back in May, 2003, when WordPress was first publicly made available to the world. The brainchild of creators Matt Mullenweg and Mike Little, there was no way of knowing that WordPress would become the game changer that it did. Nowadays, WordPress is one of the most accessible and user-friendly CMSs out there, but this is an achievement that was reached throughout the 10 year history of platform.
In 2003, WordPress wasn't a total website CMS. Instead, it was a blogging platform - and it wasn't as accessible as it is today. If you hoped to use WordPress during its initial years, you needed some basic knowledge of FTP (file transfer protocol) to set up a blog. In addition to this requirement, your web host also needed to support PHP and MySQL. If none of these initialisms make sense to you, then it's a good example of how WordPress wasn't the straightforward CMS that is today.
However, even though it was a little more complicated to setup a WordPress blog back then, it was still far easier than many of its competitors. It was this ease of use and greater accessibility that drove WordPress forward. As the years passed, more changes were made to make the WordPress experience less complicated and more appealing to the average Joe who just wanted to start up a blog or website.
Thanks to this focus, setting up a blog or complete website with the help of WordPress and a web host in 2013 can all basically start with a simple one-click install. Along with simplifying the setup process, WordPress also went through great lengths to offer its users more control and better features. When it first started, the WordPress user interface (UI) was fairly basic, with a sparse backend and limited number of tools.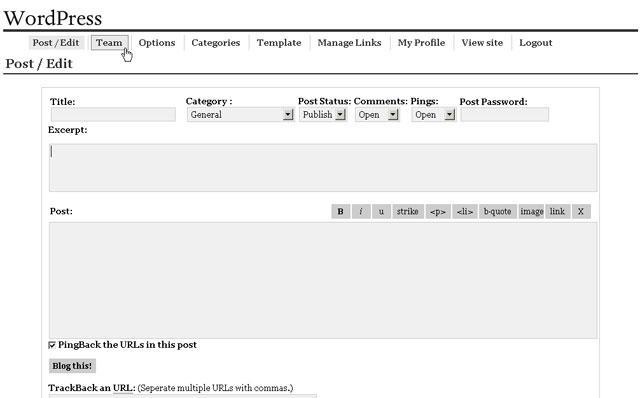 Over the years, however, WordPress introduced additional tools such as plugins, expanded themes, page creation tools, the what you see is what you get (WYSIWYG) editor, tags, drag-and-drop media uploads, and, of course, features that allowed people to use WordPress as a total CMS for their website and not just a blog.
Now, WordPress currently sits on a beta version of 3.6, which has further refined its UI and features available to users.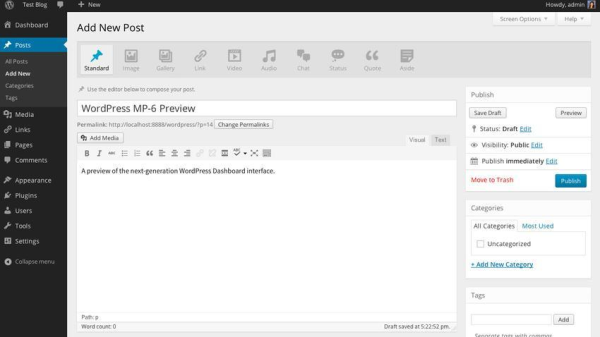 The importance of WordPress
WordPress is, without a doubt, one of the most important blog and website CMSs to come out in the past 10 years. Unlike many other CMS platforms out there, WordPress has always maintained an approach of being free. Given the large community that use WordPress, it also means users have a vast support network to rely on in case they encounter a problem they cannot resolve.
If you've ever doubted the significance of WordPress as a driving force of blogs and websites, then you'll likely be amazed to realise that the 10-year-old CMS powers around 20% of all content on the web. Not only that, about approximately 70 million websites rely on WordPress each day.
It's not only personal bloggers or small businesses that use WordPress as their CMS of choice either. The likes of CNN, The New York Times and Reuters (some of the most prominent news sites in the world) all use WordPress to pubish news stories and blogs. WordPress isn't just a ubiquotous CMS platform, it is the most used in the entire world. To say that WordPress is important is an understatement. It is one of the most substantial things to come into being online in the past decade.
Margin Media is an inbound marketing company based in Brisbane. We offer a range of digital marketing solutions to help your business increase its website traffic, qualified leads and customer base. To find out more about our services, give us a call on 1300 798 848 or visit our contact page.
* Image sources: