As Twitter has grown, the microblogging social network has proven that it can also be an incredibly valuable source of information during times of emergency.

During tragic events such as the Boston Marathon Bombings or the more recent Nairobi mall hostage situation, people utilised Twitter as a platform to keep up to date with the most recent developments. Often, with the immediacy and frequent activity that occurs on Twitter during such confronting emergencies, it presents itself as one of the quickest ways to find out what's happening.
Twitter has become aware of this potential, recently introducing a new form of Twitter Alerts.
How do new Twitter Alerts work?
When discussing Twitter Alerts, I'm not referring to the type of usual alerts a user may get in regards to when they're mentioned in a tweet or someone new starts following them. These new Twitter Alerts are all about emergency services.
Introduced to a certain set of emerency-related Twitter accounts, if a user navigates to one of these accounts, they'll see a new option to turn on Twitter Alerts. Below is an example image from FEMA's (Federal Emergency Management Agency) Twitter account.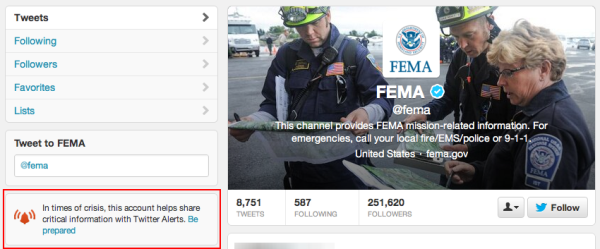 As you can see, the section highlighted by a red border indicates that you can sign up for Twitter Alerts from this account. By clicking on the 'Be prepared' link, you are then directed to a page where you can activate alerts.
Once you have Twitter Alerts activated for a certain account, it enables that account to send you vital alerts during times of crisis. Say, for example, a severe storm hits, then you may receive alerts telling you what to do and when the storm is expected to end. Or if there's civil unrest in a certain country, you could be alerted of this so that you can avoid travelling there. It all depends on which accounts you're following and the type of emergency alerts they send through.
Alerts can come through via push notifications on your mobile or, if you only use Twitter on your computer, alerts can be sent through via SMS. When scrolling through your timeline of Tweets, any that are considered Alerts will be marked with an orange bell.
At this point in time there are no Australian-based Twitter accounts offering the Alert feature, but it's likely that they will in the future - they simply have to apply for it through Twitter. If you want to see a current list of the accounts offering the service for users to sign up for, click here.
This is certainly a great feature introduced by Twitter that will ensure people stay well informed in the event of a crisis.
Margin Media is an inbound marketing company based in Brisbane. We offer a range of digital marketing solutions to help your business increase its website traffic, qualified leads and customer base. To find out more about our services, give us a call on 1300 798 848 or visit our contact page.