Social media marketing can be tough sometimes, and every brand is bound to make mistakes from time to time.

But there is a notable difference between making a mistake and then just outright screwing everything up. From racism to cursing your audience, here are some of 2013's biggest social media marketing messes.
The racially insensitive
US-based home improvement store Home Depot got into a whole lot of trouble when it tweeted out a photo from a college football match. The issue was that the tweet itself asked fellow Twitter users to identify which drummer did not look like the others. Of course, when that photo shows two black people sitting either side of a person dressed as an ape, your 'spot the difference' game has gone from harmless to profoundly racist.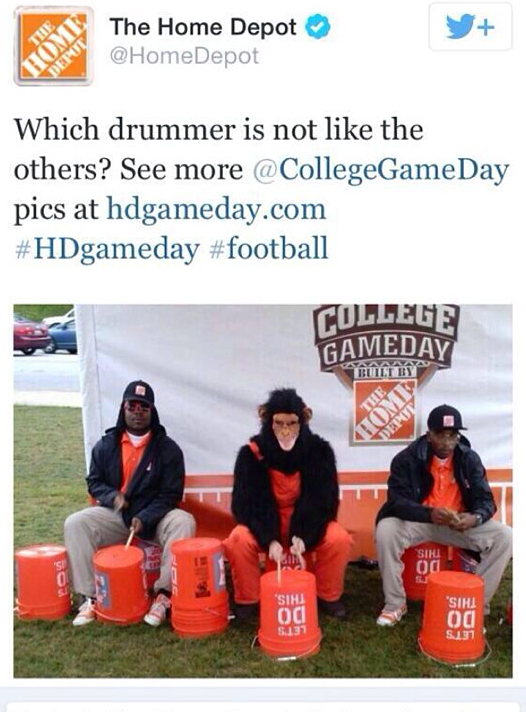 You don't have to be a genius to know that in the past (and even these days) racists have likened black people to apes. Regardless of whether the social media agency that handled Home Depot's Twitter account were being intentionally racist or were somehow oblivious to the racist nature of the tweet, it was enough to cause a social media uproar.
Home Depot deleted the tweet, apologised profusely and fired the social media agency they had hired at the time.
Firing you social media team
Now, Home Depot's firing of their social media agency was fully understandable, but when HMV UK was firing its own in-house social media team to cut costs, amounting to more than 60 employees, the company forgot to remove their access to its social media accounts.
In an act of revenge, rogue members of the jilted team jumped on Twitter and live tweeted their firing through HMV's account. No surprise whatsoever, this painted HMV in a particularly negative light.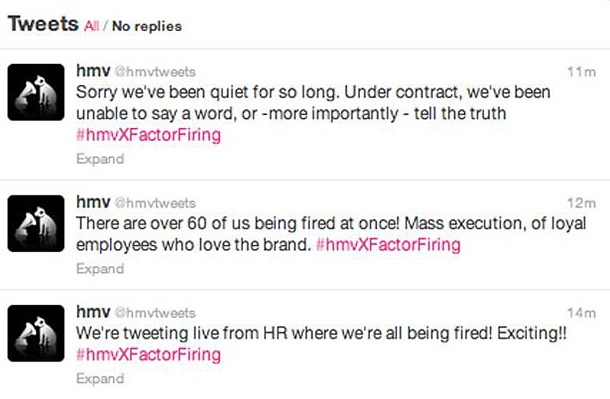 Plane crashes are funny, apparently
You know what's a great way to get people to like your airport? By making light of a 2005 plane crash in Chicago that led to the death of a 6-year-old passenger. Oh, it isn't? Well, then be sure to let London Luton Airport to know about this the next time they attempt to do exactly... Whoops, too late.
Yep, in March of 2013, London Luton Airport posted this particular gem: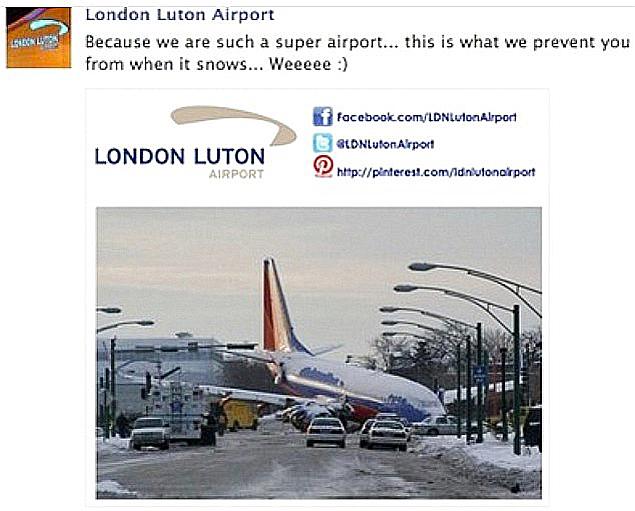 Saying that you're a super airport because you prevent planes from crashing during the snow is one type of awful. Including a photo of an actual plane crash that took a young boy's life is even worse. Including 'Weeeee' and a smiley face at the end of your post is just downright insulting. When you combine all three together, you essentially get a social media post that is pure, insensitive crap.
Using the Boston Boming as a promotional tool
On April 15, 2013, two bombs went off during the annual Boston Marathon, killing three people and injuring an estimated 264 other individuals. It was a harrowing day for Bostonians and the US at large. So you'd think that a brand wouldn't use such an event as a way of promoting its products.
Enter in Epicurious and you'd realise you could not be more wrong. Not much else needs to be said about this, but you can view their tweets belows, as well as some the replies that these tweets inspired.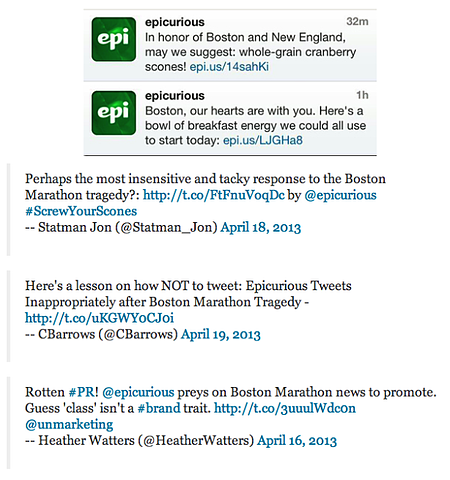 From Kitchen Nightmare to social media horror
In case you didn't know, there was an episode of Gordon Ramsay's US version of Kitchen Nightmares in 2013 that featured a restaurant/eatery called Amy's Baking Company. When the show aired, it became clear very quickly that Ramsay was dealing with quite possibly the worst people in the history of his show. Verbally abusing and threatening staff, telling Ramsay to f*** off; yep, it had it all. Understandably, the public didn't react well and took to the company's social media pages and Reddit to condemn them.
So what do you when you're the owners of that place? Simple, you go on some weird meltdown where you condescend to your detractors and keep rambling on about perseverance and God. You know, all while still being the worst human being you could possibly be.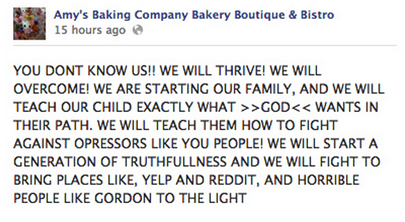 Margin Media is an inbound marketing company based in Brisbane. We offer a range of digital marketing solutions to help your business increase its website traffic, qualified leads and customer base. To find out more about our services, give us a call on 1300 798 848 or visit our contact page.