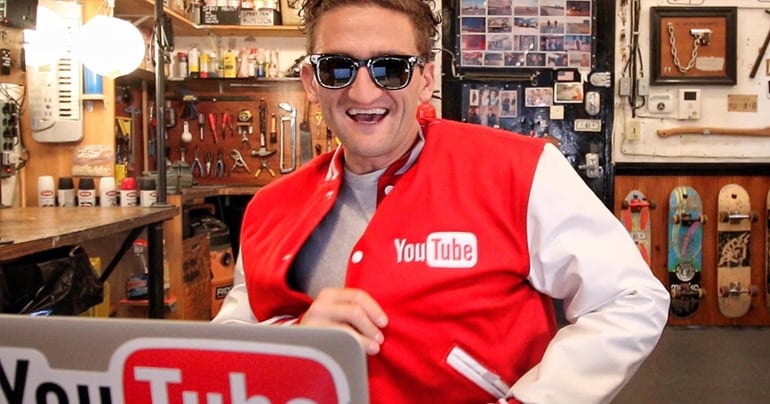 YouTube often gets overlooked for its marketing potential. Some businesses still see it as a poor return on investment, but it's still a very powerful tool for boosting visibility and lead generation.
Google recently posted about YouTube stars being more influential than traditional celebrities. And while not everyone can enlist the help of these stars, there are many ways to effectively market yourself this platform.
It's also important to remember that Google owns YouTube, so video's will often appear at the top of their search result pages. By using it to market your business, you can potentially reach more people and boost awareness of your brand, meanwhile boosting traffic back to your website.
It's true that the platform and format may not suit every business, but if your target audience (or buyers persona) are using this platform, then it may be worthwhile exploring its marketing potential.
The simplest way for any business to market themselves on this platform is to use content they already have, say blog posts, eBooks, how-to guides, or even FAQ's and translate them to video format. This brings us to our first tip:
1. Repurpose
If you can blog about it, then you can definitely make a video too. This is a great way to repurpose your old content to breath new life into it. We recently talked about the power of repurposing content, with translating it to video format being one of our top tips.
As people often use this platform to answer a query or question, it's the perfect opportunity to provide content that offers a solution. If you use a blog post that got a lot of traction and reformat it into, say, a short video with infographics and quotes, you can easily boost the reach of existing content.
It can be particularly hard to get people to read content, as they often respond better to visuals and short, bite-sized pieces of information. This is why reformating your existing content to a more digestible video format could be a great marketing tool.
Here's a great video on how to integrate video into your social media marketing. Then scroll down for more of our top tips.
2. Make it findable
Once you've created your video and uploaded it (this is a great beginners guide to getting started) it's important to make that content "findable". Your videos should be easily discoverable inside and outside YouTube. Make sure you format your title, description, and tags correctly.
For your title, always put the target keywords as the first few words. For maximum hits, you can also put a colon after your initial keywords and rephrase the title, for example: "Savings Guide: How To Put Money Away For Your Future".
In the description, make sure you lead in with a full URL link and then build an informative and keyword-heavy description. More is more in this section, as a comprehensive description will help you get found by the right people. You can also put more URL links throughout the description.
And lastly, make sure you use keyword tags in the tags field. Use every related keyword and variations on the keywords to boost your potential reach.
It's also important to remember that total views can positively affect your visibility, so always make sure your videos are set to autoplay.
3. Use annotations
You can add annotations to your videos that have clickable calls-to-action, which is a great way to build traffic or subscribers. Annotations appear at the top of your video for a specified length of time and can link to other videos, your website, call-to-action, subscription forms, basically whatever you want. Find out how to add annotations to your videos here.
4. Leverage on other platforms
Just as you can repurpose blog content for a video, you can also create a new blog post about your clip. Video content like this doesn't just have to exist on YouTube, leveraging it on other social media platforms, like Facebook, Twitter, Google+, and LinkedIn can give it more reach. Creating links between different pages is a great way to build traffic and brand awareness, which will then translate to more leads. Why not give it a go.