LinkedIn is a powerful resource when it comes to social media marketing. Some overlook it in marketing strategies, but research shows that it is 277% more effective at lead generation than Facebook or Twitter.
Not only is it good for professional networking, but creating a Company Page for your business is a great way to connect with followers and generate leads, particularly for B2B companies.
So nows the time to get your company linked up. Here's 7 best practices to get started:
1. Have consistent branding
It might not sound as important as, say, making great connections, but first impressions are key. Make sure the images and branding on your company page are high-quality, eye-catching, and consistent.
Not only will it help to establish your brand presence but given that LinkedIn is "the world's largest professional network", it pays to look the part.
Make your branding and business description immediately clear and even think about including a banner image featuring your employees. It can have more impact than a simple logo or product image, but just make sure it is consistent with your brand.
Take Mashable's page for example: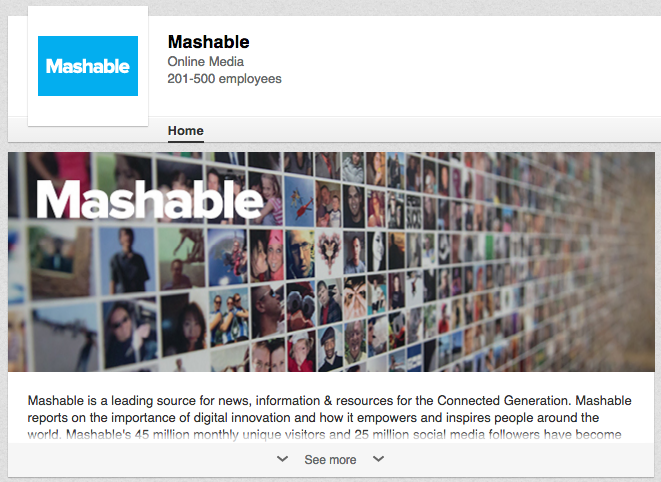 2. Fill in the blanks
Once your page looks the part, it's essential to provide as much information as you can about your company. Companies that provide detailed information in their 'Products & Services' section have up to twice as many followers of those that don't.
The more detail you have, more value you will give your page.
Click on the 'Edit' button on the top right side of the page to update or add company, industry, and website descriptions, as well as other contact information. Make sure your description is clear and detailed to illustrate your value and attributes.
Not only is it important to have a rich company description, but you can also optimise your 'Products & Services' section to direct followers to other resources, like your blog or your most recent eBook or whitepaper.
3. Optimize your page for search
Your Company Page is very SEO-friendly. It's easy to boost your position with a few, well-placed keywords. Google previews around 156 characters of your page text, so that's why it's so important to make your profile descriptive and keyword-rich.
Members can also search for you by keywords within the platform, so always include words and phrases that are relevant to your business and industry on your page.
4. Build followers
LinkedIn is all about making connections. Connect your company page with all of your employees and then seek out and follow clients, peers, industry leaders, and other relevant companies. The more connections you make, the larger your audience base will become.
It's also important to share your business page outside of the platform, you can add a 'Follow' button (like the one below) on your website and promote it on your other social channels.

5. Join discussions in LinkedIn Groups
There are over one million Groups on LinkedIn, with endless discussions and industry conversations. You can easily engage with followers, peers, and potential customers in these Groups and make genuine connections.
Take the time to join Groups relevant to your industry and target audiences and try to answer questions or contribute with meaningful comments. As people like and reply to your comments, you have the potential to become a 'Top Influencer' in the group. Not only is this a great way to show your value to followers but it will help to build your industry standing.
Use the search bar at the top of the page to search for Groups using keywords.
6. Post useful and engaging content
Updating your page with content is key to engaging your followers and growing your follower base.
Make your company page a hub for information and valuable content. Answer industry questions, provide how-to's, statistics, useful hacks and even behind-the-scenes content. But remember to mix up content types and try not to overload your followers with too many salesy posts.
You also have the ability to tailor content to different demographics. When you post an update, there will be an option of selecting a targeted audience, which means that post will only be delivered to those under your target criteria. This is useful if you want to appeal to varying demographics, industry levels, or locations.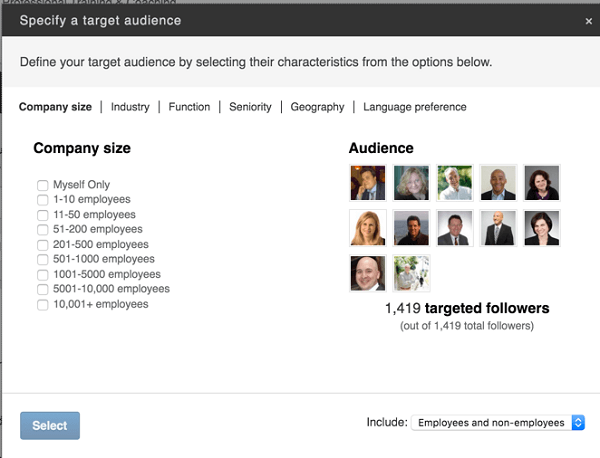 7. Create a posting schedule
Just like any good social media strategy, you should have a marketing calendar to map out what and when you will post. Try to create a 3 month plan, that way you will give yourself a framework to play with. But don't feel locked into your schedule, make sure you stay up to date with news and events and post relevant content when it arises.
Take the time to brainstorm content ideas, link to outside sources such as your company blog and any important whitepapers or educational materials.
Content updates that are posted in the morning usually get more impressions and engagement, the next best time is just after business hours (5pm). Play around with different posting times to see what works best with your followers.
Many also advise a once per-weekday posting schedule, but again, experiment with different frequencies to see what works best for your company.
What strategies do you use for your business page?