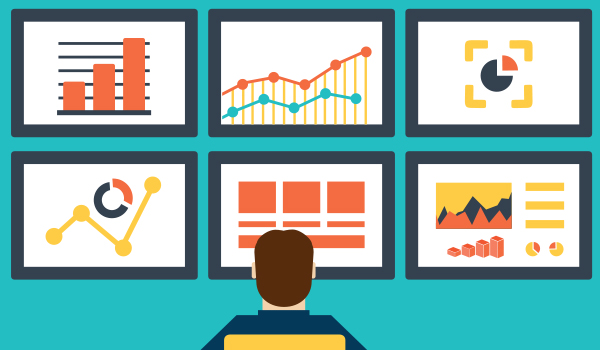 With 2014 now well and truly over, we've taken the Australian Internet and Social Media statistics from the past year and listed the most substantial findings here.
From the growth and fall of the top social networks to the shifting popularity of desktop and mobile, here's the year of 2014 in review.
Social media in 2014
In 2014, Facebook was, unsurprisingly, the most popular social network among Australians, finishing the year with approximately 13.6 million active Australian users. Tumblr maintained a steady user base, both starting and finishing the year on 4.7 million. Twitter, LinkedIn and Instagram all shared millions of users by year's end.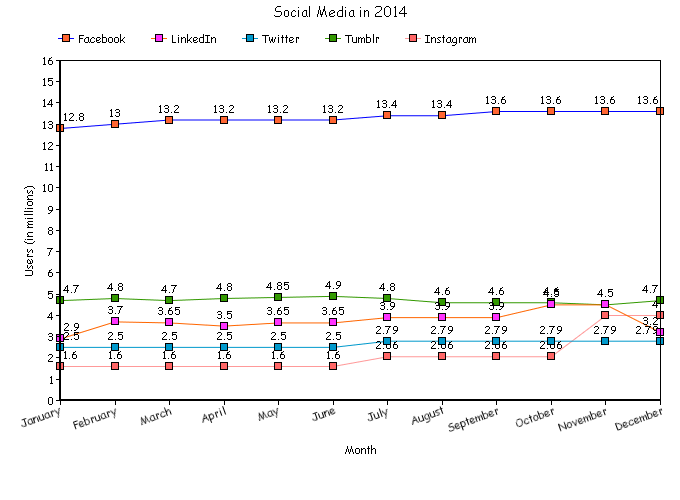 Most other social networks simply did not reach the same impressive numbers that the above five social networks did. Google+ was one of the poorest performing social network in terms of active Australian users. It started the year with 70,000 active users. This dropped to 60,000 by the end of December. Either way, the numbers never cracked 100,000.
While Google+'s numbers are low, it is worth mentioning that for those who use the social network, they're often incredibly passionate and very active on it. So you may not have the immediate numbers that Facebook, Twitter, Tumblr, etc. may have, but there is a lot of engagement to be had in those numbers.
Mobile vs Desktop
There have been numerous predictions that mobile will overtake desktop as the main way in which people will access the internet. As the below graph shows (courtesy of StatCounter), this prediction is likely going to ring true in Australia, as well. While perhaps taking a little longer than expected, it's undeniable that desktop usage is progressively decreasing while mobile is increasing.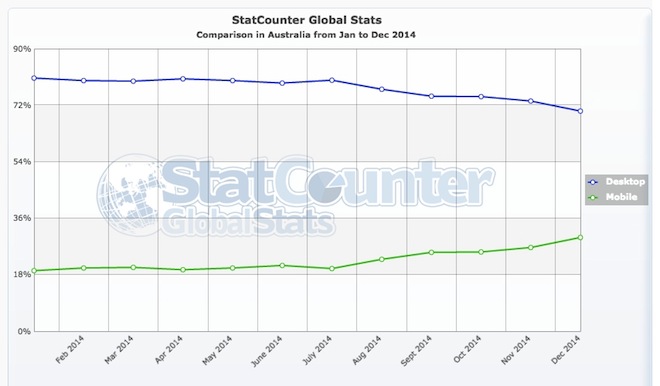 At beginning of 2014, the desktop market share was 80.68%. It dropped to 70.15% by the end of December 2014. This, in turn, means mobile increased from 19.32% to 29.85%. If this trend continues, we could be seeing a 50/50 split by the end of 2015. At the very least, we'll be getting much closer.
Mobile: iOS vs Android vs Windows
The three biggest mobile operating systems used by Australians in 2014 were iOS (Apple), Android (Google) and Windows (Windows, of course). While iOS maintained the lead throughout the year, it did see some dips as Android grew in popularity. Windows was on the low end of these top three, never even reaching a 2% market share for any month. At the year's close, iOS gained back some ground, Android dropped off slightly, and Windows continued along its steady but minor instalment base.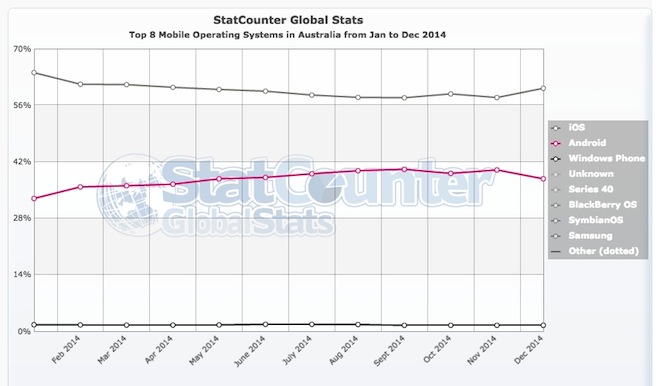 iOS finished on 60.18%, Android on 37.78%, and Windows on 1.46%.
* Statistics are current at time of publishing
** Statistics sourced from:
http://gs.statcounter.com
http://www.socialbakers.com
http://www.socialmedianews.com.au
If you'd like to keep up-to-date on the latest marketing and tech news, be sure to subscribe to our blog via email. You can find the subscription box to the right on this page.
Margin Media is an inbound marketing company based in Brisbane. We offer a range of digital solutions to help your business increase its traffic, qualified leads and customer base. To find out more about our services, visit our home page.