As Bob Dylan once wrote, "the times they are a-changin'."
Of course, Mr Dylan was discussing issues far more important than social media, but recent statistics have shown that the times are indeed changing for what platform brands choose to upload their videos on. For a long time, YouTube was the go-to location for all things video, but it appears this is no more.
As the below graph (via SocialBakers) shows, over the last 12 months more and more brands have changed their behaviour, opting to post videos natively on Facebook more than they do on YouTube.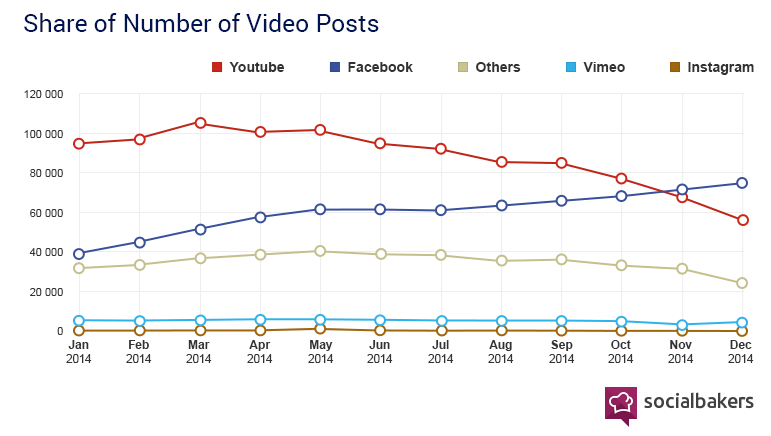 As part of the research, SocialBakers analysed 180,000 Facebook video posts across 20,000 Facebook pages. These pages were owned by the likes of celebrities, media companies, brands and more.
Between January and May of last year, the number of marketers directly uploading videos on Facebook increased by approximately 50%. This increase continued between the months of May and December, and is evident by the steady increase for Facebook's share in the above graph. By December 2014, brands (those studied) posted 20,000 more videos natively on Facebook than they did on YouTube.
While Facebook does have its quirks in terms of how content is shown to users, brands simply found more value in posting directly onto the social network as opposed to using video sharing platforms such as YouTube and Vimeo. It makes sense, after all. A user will follow your brand on Facebook, indicating a clear interest in what you do and what you may be promoting. With YouTube, on the other hand, many views can result from randomised searches or via the 'recommended for you' sections of the site, more or less meaning that those who view a video may not necessarily be 100% interested in the brand itself.
This attitudinal difference is evident in the amount of interaction Facebook-based videos receive vs the likes of YouTube and Vimeo.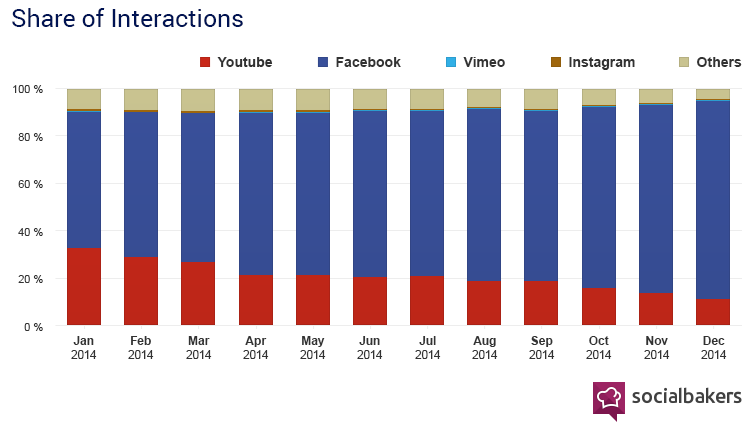 While none of this should turn you off from uploading brand videos to YouTube, it is some worthwhile food for thought when it comes to choosing where your main focus for video content should be.
If you'd like to keep up-to-date on the latest marketing and tech news, be sure to subscribe to our blog via email. You can find the subscription box to the right on this page.
Margin Media is an inbound marketing company based in Brisbane. We offer a range of digital solutions to help your business increase its traffic, qualified leads and customer base. To find out more about our services, visit our home page.