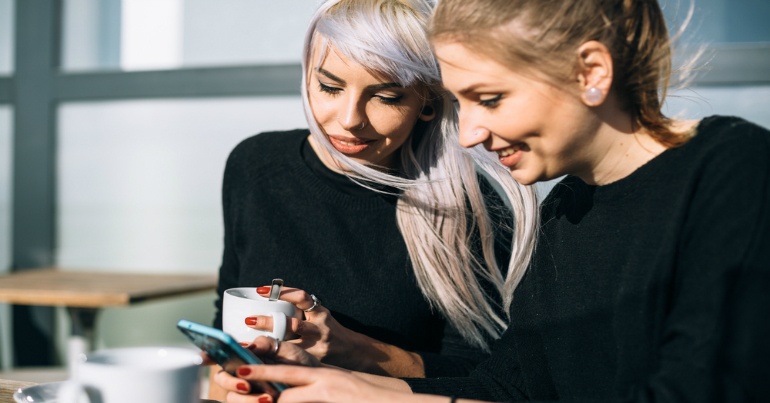 The social generation. The "selfie" cohort. Accounting for 20% of the Australian population, marketing to the millennials is strategically important. But how exactly can we attract this technology-infused age? How can we market to these young consumers and get it right?
Born approximately between the early 1980's and 2000's, this generation have some of the most unique characteristics unlike any generation before them. To engage them, we have to understand what they're buying and why they're buying it?
More than 3 in 4 millennials would rather spend money on an event or an experience that they will remember, instead of purchasing an essential product and they know the difference between quality production and an advertising campaign. They understand that their dollar contributes to a powerful opinion and are adapting their buying habits to their personal values.
Where are they spending their time online?
According to AdAge, they are spending an average of 25 hours every week online. As for where they are spending their time online, these young consumers are catching up on world news, streaming videos, playing electronic games, online shopping, as well as connecting with a variety of forms of social media.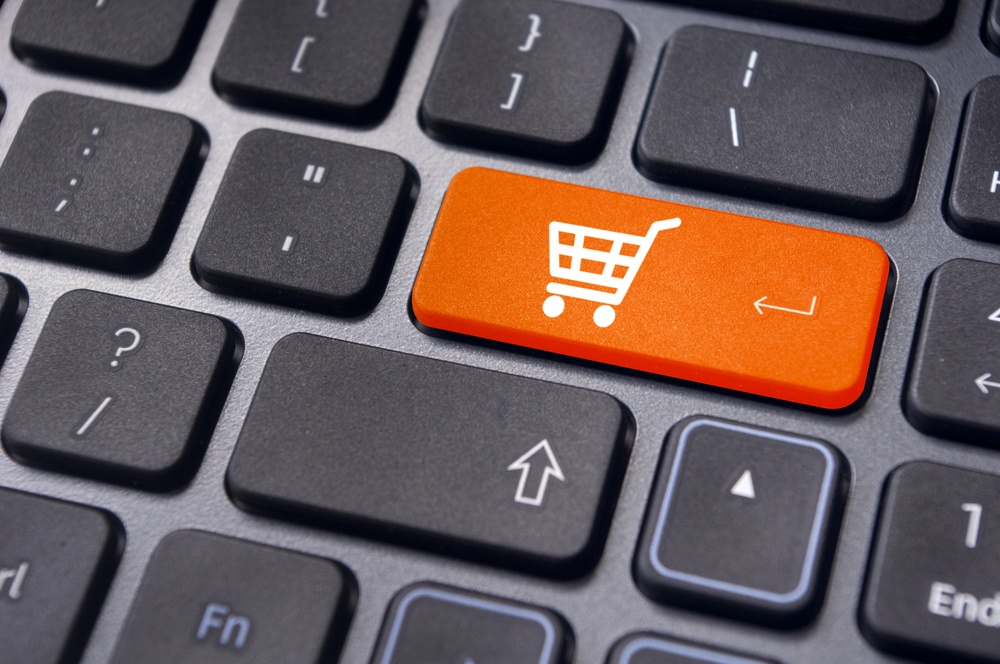 In fact, 84% of Australian millennials engage in social media, with 27% of those checking their smartphones 4 or more times each day. Facebook is the leading platform with 75.6% of young people actively using the program from their smartphones. Next, Instagram tails at 43.1%, then Snapchat at 32.9%, followed by Twitter at 23.8%.
As a result of the increase of these platforms in the young generation, social media becomes a prime target point to advertise and market on.
How do they respond to social media marketing?
As the most non-traditional generation so far, they demand a more customer-driven, personalised approach to marketing. They know what they want and will do plenty of research via blogs, YouTube videos, and forums before settling on a product.
In order to successfully market to this diverse and unique group of individuals, it is crucial to recognise that 84% of millennials do not trust traditional forms of advertising, such as magazine and direct mail campaigns. They will not respond to annoying, inattentive advertisements that give no form of care or honesty.
50% will return to brands they trust and know will recognise their needs, and 80% will engage with brands that entertain them. This younger generation is very comfortable building relationships online, so shouldn't your business do the same? In order to have these consumers boasting about your products and service, you must always remain transparent, honest, and meaningful. The more they feel as though they're being properly looked after, the more they'll care and see the legitimacy in your product.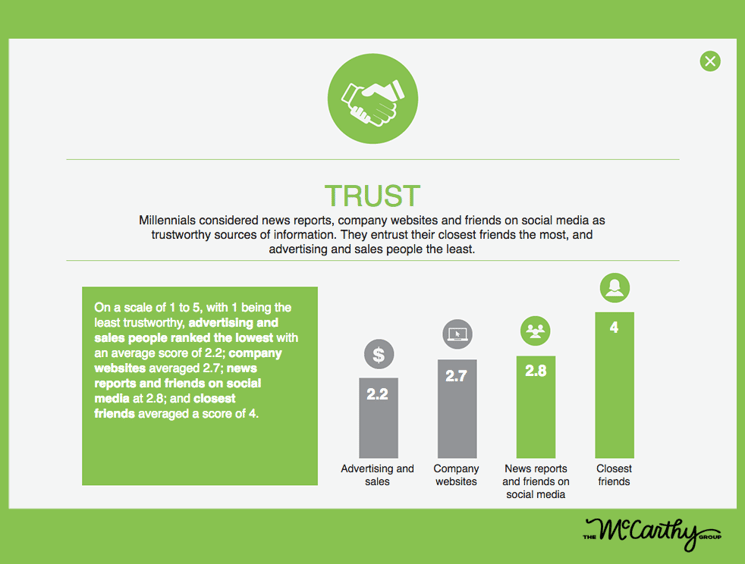 They rated advertising and sales the least dependable at 2.2 on a scale of 1 to 5, with 1 being the least trustworthy. Company websites closely followed at 2.7, then news reports/friends on social media the second highest reliable with 2.8, while closest friends was the most trustworthy with an average of 4.
It's clear that these consumers respond best to brands and companies that display legitimacy and genuineness.
Successful campaigns:

As well as being approachable and transparent to your young consumers, you've got to have them participating and engaging with your brand. By connecting, innovating, and collaborating with different companies and businesses, you will have them at your doorstep, insisting that they try your newest product.
Snapchat
Snapchat has recently collaborated with other brands by allowing them to invest in a sponsored Snapchat Geofilter in order to engage people with their products.
McDonalds was the first company to take on board this creative advertising method, allowing any Snapchat users near or within a McDonalds store to access a filter illustrated with the company's famous cheeseburger and fries.
This clever marketing strategy drew young consumers to various McDonalds establishments in order to unlock these filters, which they used to show off to their friends on the popular social platform.
Instagram
One of the best ways to engage them through Instagram is to repost customers photos. This will show you take the time to connect with your audience and interact with them in an entertaining and personal way.
DreamWorld has taken this action on board by placing Instagram cut-outs around their park, encouraging people to take photos and engage in their hash tag #DWhappiness. Visitors to the park will regularly post their photos and embed this hashtag, creating a collection of Instagram pictures that the business can recycle and use on their own page.
Facebook
An average of 8.5 hours each week are spent on Facebook by Australian users, so it's clear to see why businesses are choosing to promote themselves on the site.
Companies such as Dove frequently post advertisements to their page promoting female empowerment and self-belief, a message that connects with their customers base, particuarly this younger audience. These advertisements range from pictures to text posts to videos, making their Facebook page feel less like a promotion and more like a devotion to their customers.
By the year 2025, Millennials will take up 75% of the global workforce. They are the ever-growing consumers that can't recall a life without the Internet, and whether you like it or not, they are the future.
Social networking sites have had a major impact on this generation, shaping the way they connect and associate with others. It has also become an essential form of marketing for companies who are willing to engage with this growing consumer force, encouraging the generation to become involved and participate within all facets of their campaign.
This generation of consumers are setting the trend of putting personal values above establishments that are not willing to show their true colours and be honest with their clients. They want to be advertised to, but in a way that is transparent and will allow them to see the legitimacy of your product.
Know of any companies that are getting it right? Let us know in the comments!