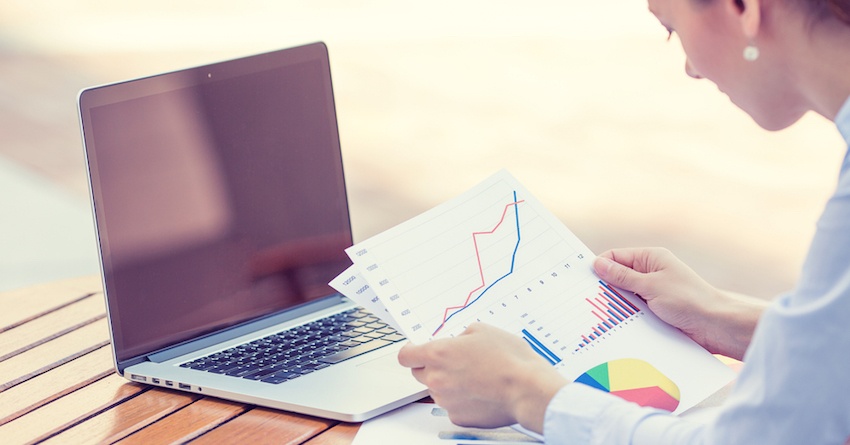 How is your blog performing and what can you do to improve it?
One of the best ways of answering both of the above questions is to conduct a content audit on your blog. While it may not be the most appealing task out there, it is worth every second of your time. In this blog, I will be running you through the most important things you need to account for when it comes to auditing the content contained in your blog.
Content auditing
While conducting an audit of any size tends to require a notable chunk of your time, it's an important and effective way of identifying where your content is excelling and where it is falling short. In regards to your blog, an audit will provide you with insight on various important factors. We've listed some of the key areas below, along with software you can use (if applicable) to help you:


Your top performing keywords (Google Analytics, Moz, HubSpot, etc.)
Traffic to your blog and individual blog posts (Google Analytics, HubSpot)
The number of comments on different blogs (manual assessment)
Where your traffic is coming from (Google Analytics, HubSpot)
Your top performing blogs vs your worst performing blogs (HubSpot, Google Analytics)
Overall Search Engine Optimisation (SEO) quality, etc. (Moz, HubSpot)

To figure out these numbers, you will likely need to use a combination of metrics software such as Google Analytics and some manual perusing through the actual blogs you're looking to assess the performance of. In terms of SEO measurements, software/programs like Moz, HubSpot or certain SEO-focused plugins can paint a picture of how well optimised the page is. While you can test a blog page's SEO via manual searches on Google to a certain degree, the results aren't as definitive and unambiguous as those provided by SEO software.
__________
__________
It's important to note that Google Analytics is free, whereas Moz and HubSpot do have subscription fees. While Moz is purely focused on SEO, HubSpot is a more extensive package comprising blogging, SEO, lead capturing and nurturing, email marketing, and social media marketing/listening. When you create your blog via the HubSpot platform, it will allow you to more easily measure all key performance indicators in terms of whether or not your blog is succeeding as desired.
A full or limited audit
How much of your blog do you want to audit? If you've been at it for a few years and have hundreds of blogs, doing a full audit of everything you've posted is going to take a considerable amount of time.
Not only will you need to look at every single blog individually (and list the name, URL and word count of each blog as a reference point), but then you'll have to factor in the above insights for each post. Is a specific blog helping you rank well for specific keywords, how much traffic does it have, does it bring in a desirable number of visitors, has anyone commented on it, where is the traffic to this blog coming from (did they find you via Google, social media, another website, etc.), is it a top perfoming blog post, does it have a good overall SEO score?
You have to do this for every single individual blog post you choose to audit. The good news is you can search specific pages via software like Google Analytics and HubSpot. The bad news, however, is that even when you do, there are plenty of other variables you'll need to adjust and account for.
While you may get the overview of pageviews in Google Analytics, it's a difficult task to actually associate which keywords people searched in Google to come across a particular page - let alone a blog page.
The important point is that collating all of this information is time-consuming and will require patience. So if you feel a full audit of every single blog you've ever posted would simply be too much, opt for a limited audit instead. This could be auditing a particular month that you found performed well for you. Auditing the blogs that were published during this time could give you an idea of what made that monthly stretch excel over others.
If you host your blog through something such as HubSpot, it's easier to see track your pageviews and the sources (including keywords).
You can also get an idea of how any blog is perfoming SEO-wise.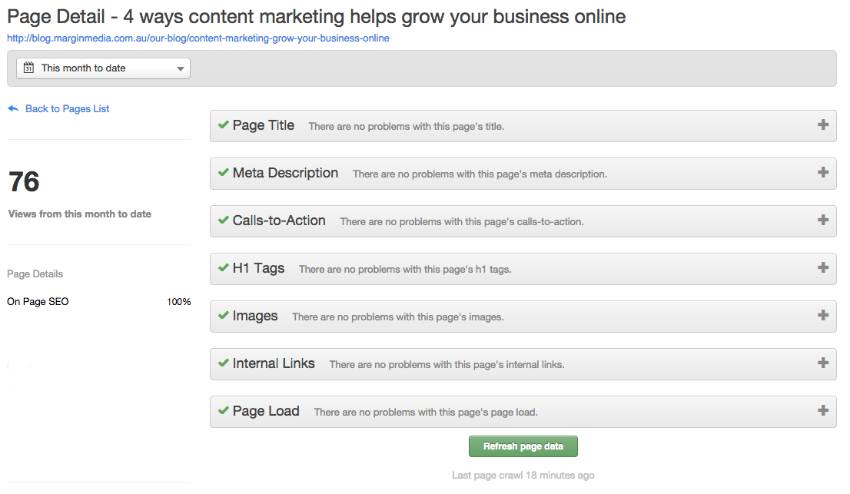 Utilising your findings
The findings you gain via your blog audit will allow you to make informed decisions about the future content you create and publish. For example, if you find blogs that focus on a specific topic tend to perform poorly (e.g. minimal views and sharing), then it may be best to turn your attention away from them.
Similarly, if you've found your SEO efforts are lacking on previous blogs, you should jump in and amend as many of these issues as possible to improve your search engine discoverability. And be sure to embrace these steps with every new blog you create.
Other variables, such as word count, can play a role in your blog's performance, too. Does yours benefit more when the word count is large or small? Craft future posts that adhere to the word count bracket that's earned you the best results in the past.
The reason a blog audit is so valuable is because every blog is different. What works for one blog may not necessarily work for yours. But taking the time out to conduct an audit (be it assessing every single blog or a sample of blogs throughout a specific time frame) grants you the ability to know what is and isn't working for yours, and you can refine your blogging efforts accordingly.

Additional resources:
* Main Audit Image via Shutterstock