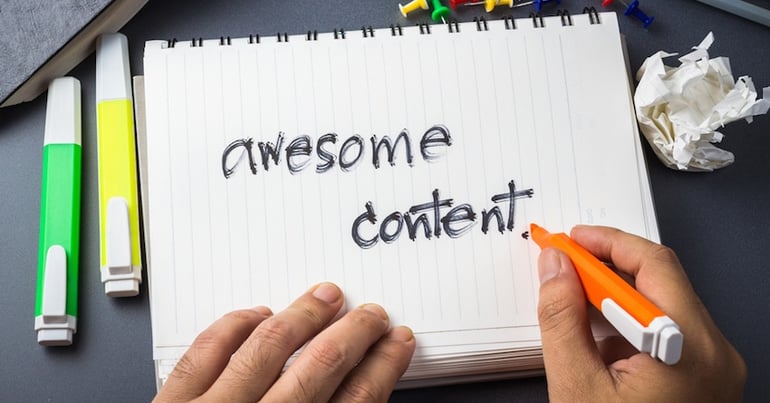 Read time: 4 - 5 minutes
Creating great content online can be a challenge, especially when you need to do so on a regular basis. Unlike other marketing channels, your online presence is something you need to constantly nurture and utilise to attract your ideal audience. If you do find it challenging to create effective content or are stuck on how to map out a constant flow of digital content, this blog offers you a few ideas that should help.
Embrace the visual on social media
With the exception of perhaps LinkedIn, most social media sites foster a design that encourages its users to post visual content. Pinterest and Instagram are obvious examples as they remain dominantly visual by nature, but other networks such as Facebook and Twitter have also pushed the value of visual content for quite some time now.
Images and Twitter used to be fairly restricted, but now you can upload photo galleries of up to four images in any one tweet. For several years, Facebook has allowed you to create comprehensive galleries (with seemingly no limit on the number of photos you can upload) and is believed to soon be rolling out revised brand pages that will place more focus on the cover photo than the profile image.
What this ever-evolving focus on the visual shows is that social networks know people prefer to digest information through visuals such as photos, graphics, videos, etc. rather than text. Text is still very important, of course, but it holds a better place on your website (such as the blog) than on social networks. Using powerful or candid imagery makes a real impression on your audience and tends to drive more engagement and helps humanise your brand.
In an overarching sense, a visual presence is more universal than any language, which is restricted and can isolate audiences from other countries for myriad reasons.
Don't shy away from video
There is something about video that can be unnerving when compared to taking a simple photo, but making the effort to more regularly utilise video online certainly has its benefits. On Facebook, videos that are uploaded natively to the social network tend to experience the most reach and engagement. Then you can think about Vine and Instagram's looping 6- and 15-second videos, respectively. And what about the Twitter-owned live streaming app Periscope?
The days of video content being a substantial, expensive investment are long gone, which means any brand or individual can now benefit from a few simple videos here and there. When you consider the popularity of an app such as Periscope, it also illustrates the fact that people are happy to watch videos that are more grounded and improvised. You don't have to craft some film that took months and months of planning, shooting, and post-production to achieve. You can simply kickstart a stream whenever and be yourself.
Devote an hour to content ideation
On a broader level, spend an hour at the start of each week to map out what content you'd like to create for that week or beyond. While content can be improvised or done on the day, the problem is that if you hit a day where you simply cannot generate ideas at a moment's notice, you're then left between a rock and a hard place. By mapping out content ideas and improvising ideas, you can come up with ideas that are timely and ideas that remain relevant and valuable no matter how much time has passed.
Never stop browsing the internet
The internet is a massive, sprawling beast that would take many lifetimes to ever have all of its content consumed - and that's if the internet simply stopped at this point and didn't continue to add any more content. The most recent numbers by Google regarding how much of the internet it's actually indexed is a good indication of just how overwhelmingly huge it is. For now, Google has only indexed about 0.004% of the internet. So if you find most of your sites through Google or any other search engine, you will never see more than 0.004% of what's actually out there.
But even this minute percentage is substantial. Thousands, if not millions, of results from a single Google search allow you to discover a figurative bottomless pit of content, and chances are a lot of it could be inspiration for your own ideas. So if ever you find yourself stuck for ideas, just remember there is practically no limit to what can be discovered on the world wide web. Of course, opting for sites that can make content aggregation simpler are worth the time. Try Alltop or set up a RSS feed reader (such as Feedly) so you can progressively add sites you'd like to follow and build an abundance of digestible and useful content you could utilise each and every day.