What do you think of when you read "influencer marketing"? For many people, it's an Instagram model promoting a new piece of clothing or a skinny tea. But influencer marketing is so much more than that...and it's not just for B2C companies.
In the last few years, it's been touted as "the next big thing" and it has definitely been growing as a powerful marketing trend. From advertising and social marketing, to content co-creation and event collaborations, there are endless possibilities for industry influencers to promote your brand.

The sale journey for a B2B company is often a longer, multi-stepped process compared to a consumer-based sale. There are more people involved, from marketing departments, sales people, technicians, managers, CEO's, and customers service, and with all of those steps, there are more chances to engage an industry voice to advocate your brand.
But first, what is influencer marketing?
There are varying definitions of influencer marketing, but at it's core it's engaging with a known industry expert or personality in a way that helps to promote your brand.
However, an influencer doesn't have to be someone who is effectively "famous". It's been found that niche (or micro) influencers are even more effective than well-known "brandividuals" with massive social followings. So just because you can't get David Beckham to front your campaign, it doesn't mean your business can't engage an influencer.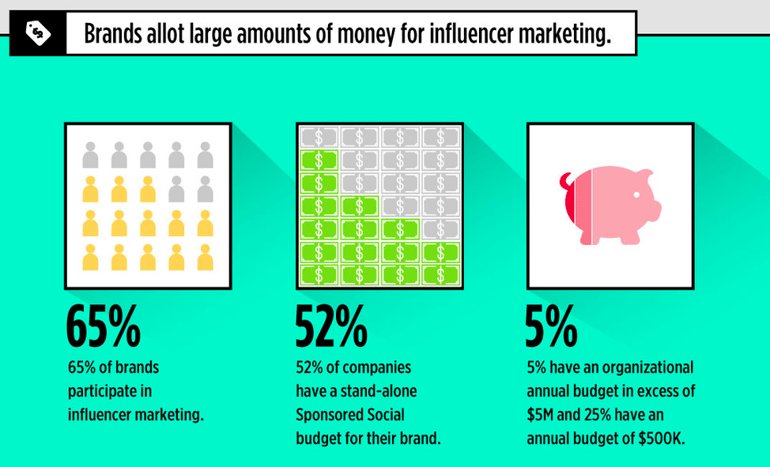 Tactics for B2B
Influencers are big on social platforms like YouTube, Instagram, and Snapchat, but social media is only one facet of brand advocacy.
And you don't just have to use influencers in an ad campaign, you can engage an industry voice for your business from the occasional content collaborations, to ongoing arrangements for influencers to attend events, hosts webinars or Q&A's, or create content for your website.
Third-party sources of information that are trusted and influential have great advantages for B2B companies, including shortening sales cycles, making larger deals, and an increase in leads and revenue.
The most popular form of B2B influencer collaboration is with guest blog posts and content co-creation. This could be as simple as providing quotes or interviews, to having an ongoing blog series or webinar, or authorising eBooks and white-paper resources.
The process starts with building relationships with influencers within your industry and approaching them to collaborate. An influencer's expertise in your industry, their network reach and talent for creating content can be very valuable to your business, but you also need to make the relationship beneficial to them. For industry integrity, it's a good idea to come up with a mutually beneficial agreement, rather than buying their advocacy.
In the age of social media, it's clear influencers are becoming big business for B2C, so it's up to B2B to keep up and use influencers' industry expertise and brand advocacy in their marketing strategies.