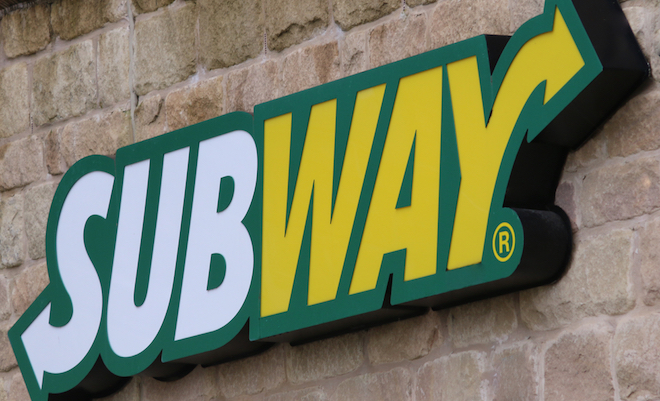 Where does a brand go when it's started to dominate the local market? This was the question Subway founders Fred DeLuca and Peter Buck faced after the choice to turn Subway into a franchise in 1974 had yieled phenomenal results - this included hitting the 100-store mark in 1978.
Between 1978 and 1984, the growth of the Subway brand continued to expand at an impressive rate throughout the USA. DeLuca and Buck were smart in the fact that they didn't prematurely overestimate the clout of their business. Sure, upon making it a franchise, 84 new stores opened in a matter of a few years, but they knew it was best to wait and see just how long Subway would maintain this aggressive expansion rate for.
Going global
The first step in becoming a global brand occurred in December 1984, when the first-ever Subway store outside of North America opened. It would open in Bahrain, the small island country situated near the western shores of the Persian Gulf. With a comparatively smaller population to the US, it was a smart choice in terms of proving whether or not Subway possessed any appeal in different countries, particularly those with clearer cultural and culinary differences.
From that moment, Subway progressively opened in more and more countries throughout the world. As of 15 November, 2014, there are Subways in 108 countries. Below is a map of the countries that currently have Subway restaurants.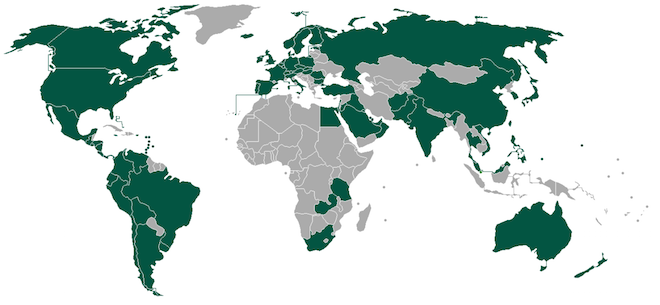 Source: "Subwaysandwich" by Cxshawx - Own work. Licensed under Public Domain via Wikimedia Commons.
In Australia, the first-ever Subway restaurant opened in Perth in June 1988.
The success of Subway's global efforts
There are always several reasons as to why a brand's global expansion is either a success or failure, and Subway is no different. Of course, we know by now that Subway's standing on the global stage is a dominant one. It is, after all, the largest single restaurant chain in the world. Two possible contributing factors to this may just include the following (for the sake of this section, comparisons between Subway's success in Australia and Starbucks's shortcomings will be used):
1. It caters to a unique market
These days, the number of health-focused fast food-style joints may be a little more common, but back when Subway first emerged it was one of the first - if not the first - health-focused fast food restaurants in the world. While others were building up a notoriety for being packed full of grease and fat, Subway was offering a healthier alternative. In many ways, Subway was ahead of its time by taking the healthy approach and changing the fast food paradigm.
Flash forward to now, and this desire for healthier fast food joints is at an all-time high, and Subway is still one of the key pioneers in this area. It's a far cry from Starbucks, a brand that has struggled with its footing in Australia, which could be chiefly due to the fact that while Starbucks reigns supreme in the US, it entered into an overcrowded market when it reached Australian shores - one with a different taste for coffee.
2. They expanded slowly
One of the big mistakes a growing business can make is to expand too quickly. Subway were effective in the fact that expansion was progressive any never went beyond what was reasonable. DeLuca and Buck slowly built their business until there were 16 stores, then made Subway available as a franchise. Those who took on the franchise themselves did it at their own risk without there being much risk posed to the brand as a whole.
Again, this was sadly the second error Starbucks made when considering its expansion in Australia. Instead of progessively opening stores, the brand opened multiple stores in one go (there were 85 in total, 60 would later close), imposing a product/service that many Australians already didn't care for. Without giving themselves room to breathe, adapt or even assess how the Australian market felt towards Starbucks coffee, they were overenthusiastic and doomed themselves from the start. By contrast, Subway expanded throughout Australia at a reasonable rate as more and more franchisees realised that, yes, there was a market for the restaurant chain.
SEE ALSO: Part 2, Across the USA
If you'd like to keep up-to-date on the latest marketing and tech news, be sure to subscribe to our blog via email. You can find the subscription box to the top-right on this page.
* Subway Image via Shutterstock