G20 is officially over, and now Brisbanites can relax as the city gets back to normal.
The historic weekend, which saw of the world's most powerful economic leaders come to Brisbane, brought with it plenty of memorable moments - some good, some bad. As the world's eyes were focused on the city and its political guests, many took to Twitter and other social networks to voice their opinions on G20 and what was achieved.
G20 social media trends
Throughout the duration of G20, QUT ran a G20 Twitter leaderboard, in which they analysed what people were posting out, from where they were posting, and who they were referring to during their posts. The below 'Brisbane G20 World Leaders Leaderboard (14-16 November)', shows the top 4 trending countries/world leaders.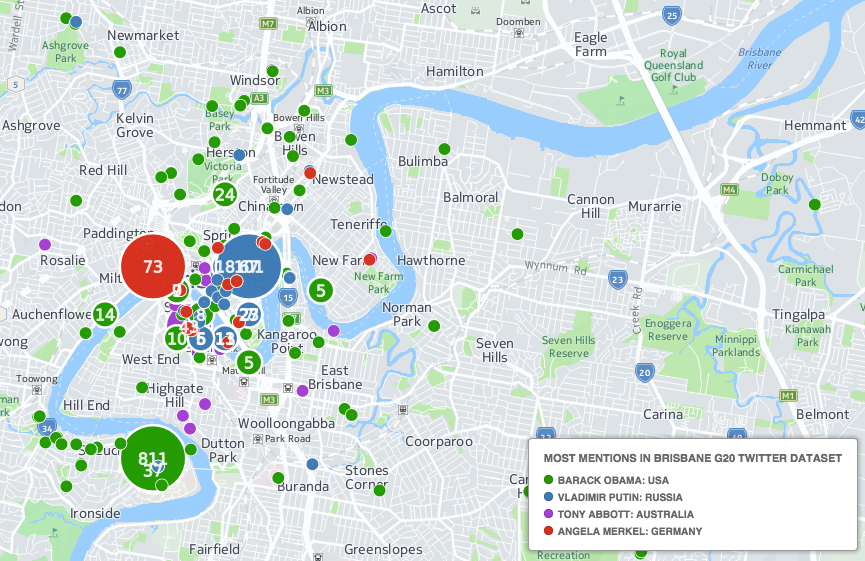 It's not surprising that Barack Obama topped the leaderboard, with a substantial number of the tweets related to him being posted in and around the grounds of UQ, where he delivered his hour-long speech on Saturday. The controversy surrounding Russian president Vladimir Putin was not lost, with a large number of social media mentions putting him in second place. A large chunk of these posts came from the area surrounding the Hilton Hotel, where Putin stayed, and King George Square, where an anti-Putin protest was held.
Tony Abbott came in third, with mentions of him having no specific location-based patterns; although a general mention of Australia's Prime Minister throughout Brisbane more or less makes sense. Angela Merkel, Chancellor of Germany, came in fourth, with a clear number of mentions coming from Caxton Street in Paddington. This, of course, results from the fact that Merkel decided to spend a night relaxing in the area on Friday night and took selfies with locals.
In addition to the above (and other) G20 map, QUT also put together a 'Hypometer' showing the trend of different countries' mentions. Below is a screenshot of the top 5.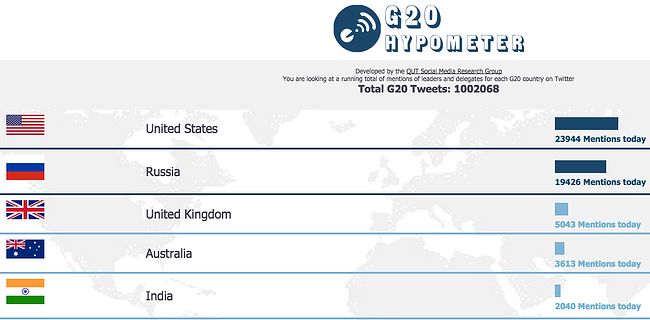 Throughout the G20, hashtags such as #putin, #brisbane, #g20, #auspol and #obama trended.
Tweets during G20
There were thousands of tweets that occurred during the G20 weekend, so narrowing them down to just a few is tough. However, some key themes started to show themselves throughout the wall of tweets, which included critcisms of Putin, praise for Barack Obama's speech (particularly the part relating to taking action on climate change), and a noted amount of confusion and embarrassment over Abbott's complaints that he couldn't get a $7 co-payment through parliament. As always, however, there was humour there, too.
Exclusive photograph from inside the canteen at the #G20 in Brisbane. pic.twitter.com/4eJnjtE5ai

— Conflict News (@rConflictNews) November 16, 2014
Obama's speech to UQ students will inspire a generation. Abbott's opening speech at #G20 was profoundly embarrassing. #auspol

— Julian Burnside (@JulianBurnside) November 15, 2014
They gave us Celine, Nickelback & Bieber but we'll still help with their PM's #G20 motorcade #nohardfeelings pic.twitter.com/7ZLSPF88TF

— QPS Media Unit (@QPSmedia) November 16, 2014
Great to catch up with @BarackObama in Brisbane - discussed his fantastic speech #ClimateChange #G20 pic.twitter.com/b954RoXe8F

— Bill Shorten (@billshortenmp) November 15, 2014
Angela Merkel's #G20 pub crawl. http://t.co/mUOM2Ublqr pic.twitter.com/Srhsr9pQqD

— Jim Roberts (@nycjim) November 15, 2014
If you'd like to keep up-to-date on the latest marketing and tech news, be sure to subscribe to our blog via email. You can find the subscription box to the right on this page.
Margin Media is an inbound marketing company based in Brisbane. We offer a range of digital marketing solutions to help your business increase its website traffic, qualified leads and customer base. To find out more about our services, visit our home page.