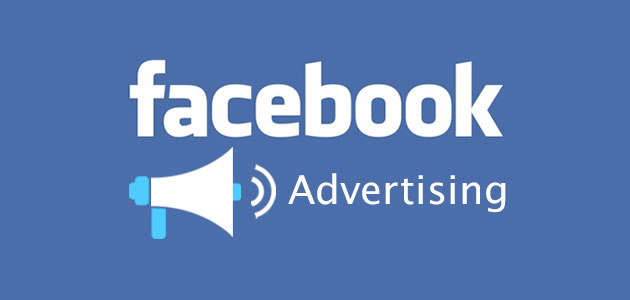 With changes to its EdgeRank algorithm and the ever-increasing need to increase its profits, Facebook can often feel like a fickle marketing channel for brands.
Whether we like it or not, the reality that you have to pay to reach a decent number of Facebook users is undeniable. Sure, there are ways to see solid organic reach, but Facebook certainly want more brands utilising its host of advertising options.
While you may feel begrudged running an ad on Facebook, the good news is it's still one of most affordable forms of online advertising out there - and it really can be an easy way to grow your presence and sales. Whether you choose to boost a set Facebook post you made or you're looking to put together a fully-fledged ad, here's a brief guide to advertising on Facebook.
Boosting a post
One ad option that you can choose from your own page's time line is the 'Boost Post' option. Here's an example of what you'll see when choosing it.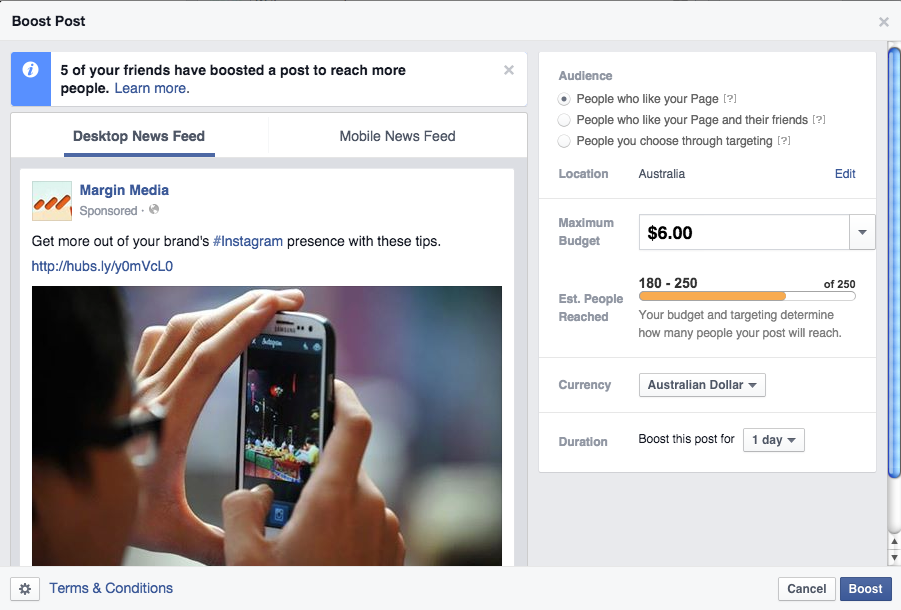 The options for boosting a post are relatively straightforward. To the left you can see what the boosted post will look like on desktop and on mobile devices. To the right is where you can customise your boosted post. Any one post can be boosted for up to 7 days (you must pay at least a dollar a day, so 7 days will have a $7 minimum spend). The more money you invest over the set days, the more people your post will reach.
At the top is the Audience option. The default option, 'People who like your Page', is simple. It means you're only boosting your post so more of your fans see it. So say you have 600 fans for your page, that's essentially as high you'll be able to increase the reach with this option.
With 'People who like your Page and their friends', the potential audience will increase substantially. As an example, let's say your 600 fans have 100 friends each. Depending on your budget, your post could reach up to 60,000 people - of course, a number like that is going to cost you a good amount of money.
The last option is 'People you choose through targeting'. Below are the settings that can be customised.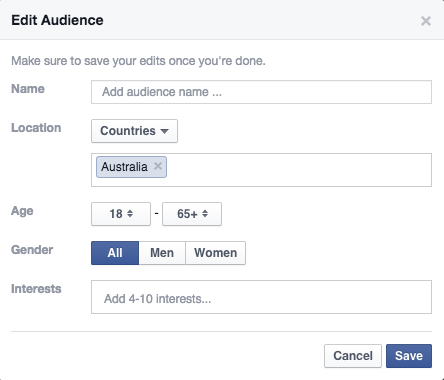 While basic, you can still better target your ideal audience based on location, age range, gender, and on up to 10 identifiable interests.
Facebook ads
If you choose to put together a complete Facebook ad from scratch, the first page you'll come to is this one: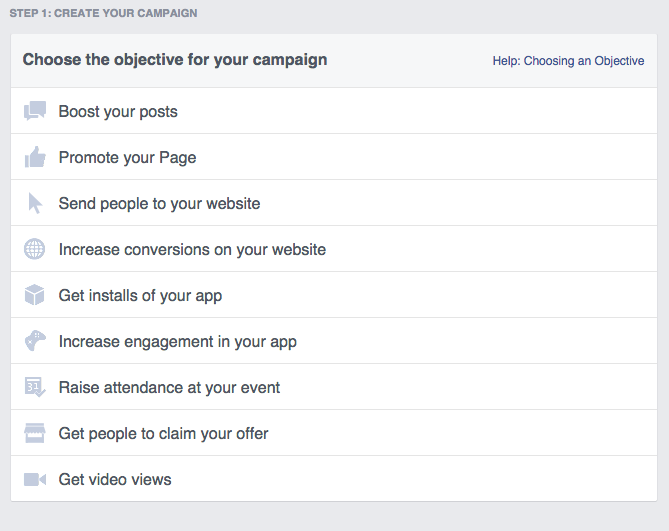 To take you through each of these would require something far larger than this single blog, because each one comes with its own unique options. Say, for example, you want to 'Send people to your website', you simply type in your website's URL and then the following options will emerge... (Be aware that there are a lot of them.)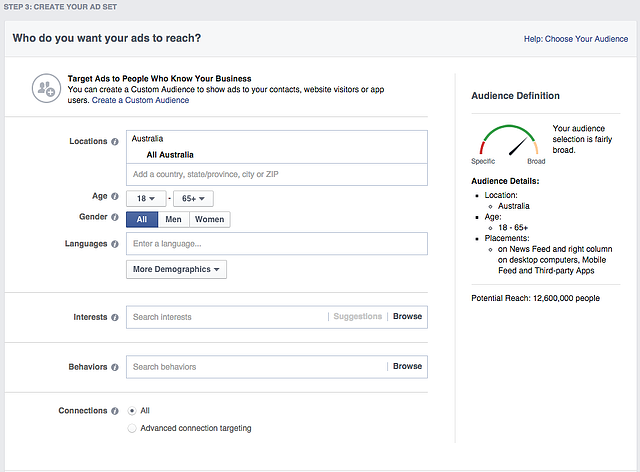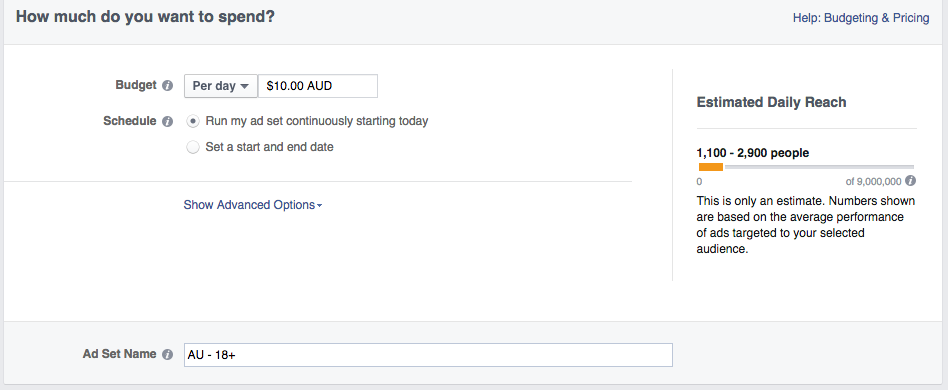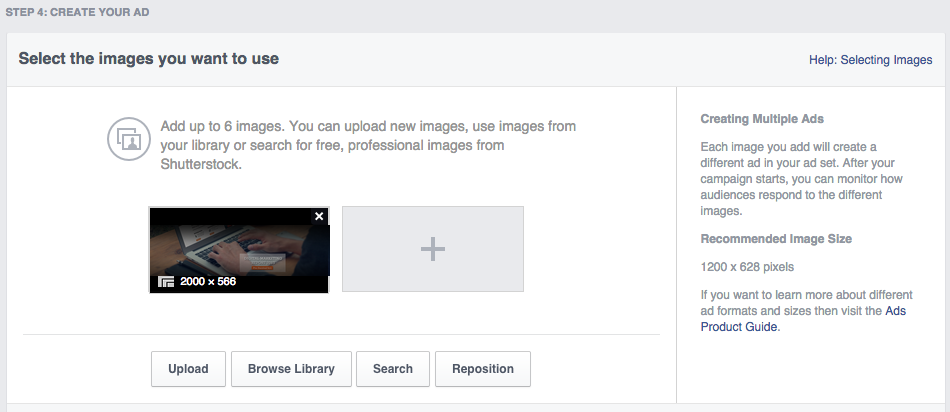 As the above screenshots show, putting a Facebook ad together is relatively simple. In terms of promoting your website, you can advertise it in the news feed (even selecting whether to have it on desktop and mobile), in the right column where more typical display ads are served, and on Partner Mobile Apps.
Depending on your campaign objective (e.g. Promote your Page vs Send people to your website), the options that are available during the ad setup may differ. As with Boosted Posts, you can get a general idea of how much your ad spend will increase your reach, and you can set rules such as paying X amount per day or having a set start and end date to your ad, with an overall budget allocated for that period.
While a 'per day' system is good if you want to play it by ear, a start and end date may be more appealing for those concerned about exceeding a set budget.
In terms of images, Facebook allows you to use your own or even utilise a number of high-quality professional images courtesy of Shutterstock - that's a great system if your own library happens to be lacking.
When it comes to choosing your audience, you have more choices here than you do with a straight boosted post. These include more demographic options, narrowing the audience down based on their behaviours (what they do on Facebook), and targeting more languages.
If you'd like to keep up-to-date on the latest marketing and tech news, be sure to subscribe to our blog via email. You can find the subscription box to the right on this page.
Margin Media is an inbound marketing company based in Brisbane. We offer a range of digital solutions to help your business increase its traffic, qualified leads and customer base. To find out more about our services, visit our home page.