When looking back, 2014 was a fairly dark and conflicting year.
With that considered, it's no surprise that many sobering and important hashtags emerged throughout the year, encouraging people from across the globe to join in on the discussion. Whether the hasthags were created to petition for the return of kidnapped schoolgirls, to discuss the ever-present concerns of racial divides in developed nations, to tackle misognyny, or to shed light on how those with mental illnesses have their plights trivialised, these hashtags held a lot more weight and importance than your average ones.
#BringBackOurGirls
On 15 April last year, Boko Haram militants kidnapped hundreds of schoolgirls (exact number unknown) from a secondary school in Chibok, Nigeria. The event prompted thousands from across the globe to start the #BringBackOurGirls campaign, which aimed to raise awareness of the situation and drive governments to seek a resolution on how to get all girls back from the terrorist organisation.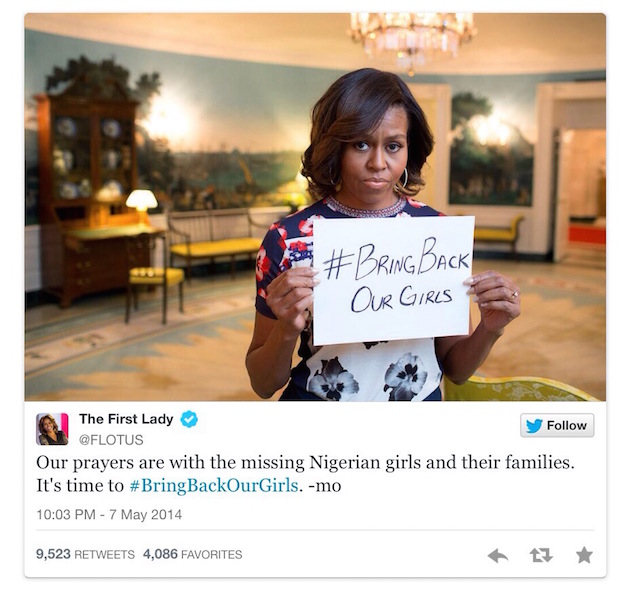 By early May of 2014, more than 50,000 tweets containing the hashtag had surfaced around the world, with people such as the USA's First Lady Michelle Obama joining in on the campaign. Unfortunately, for all the awareness and discussion the campaign spurred, it's unclear whether any of those kidnapped have been returned. What is known is that there are still 230 girls separated from their families. In spite of this, the campaign continues.
#BlackLivesMatter / #ICantBreathe
The #BlackLivesMatter hashtag first began back in 2012 in response to the trial and acquittal of George Zimmerman, who killed 17-year-old Trayvon Martin. It was used to raise concerns over the US justice system and how it treated crimes committed against African-Americans. Eventually, use of the hashtag slowed down - that was until 2014.
In Ferguson, Missouri, teenager Michael Brown was shot several times and killed by a police officer. More importantly, witness accounts noted that Michael Brown was unarmed and that the shooter, Officer Darren Wilson, used excessive and deadly force. This brought about a resurgence in the use of #BlackLivesMatter. A few months later, a grand jury in New York acquitted Officer Daniel Pantaleo, who had killed 43-year-old Eric Garner with an illegal chokehold. Garner's final words before dying were "I can't breathe", which brought on the creation of the hashtag #ICantBreathe.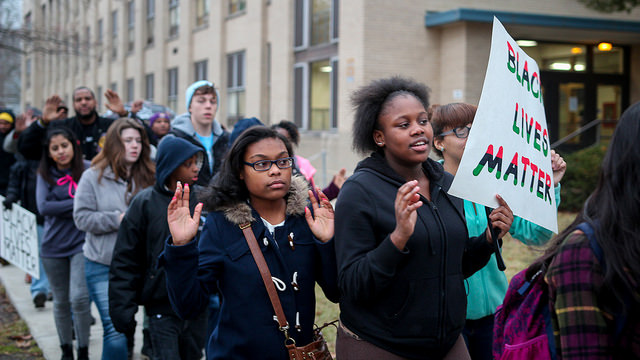 Source: Jeffrey Putney / Flickr, used under Creative Commons 2.0
In the wake of these events, both hashtags trended in substantial numbers across the world, with most activity taking place in the USA. They endure now as the wider community continues to question the needless deaths of African-Americans and the resulting acquittals of those responsible for their deaths.
#YesAllWomen
Following the shocking Isla Vista killing spree committed by 22-year-old Elliot Rodger, discussions surrounding the issues of misogyny and violence against women came to the fore. While Rodger's heinous acts of violence were not exclusively driven by misogyny, it still was a defining motive. And as became evident in his manifesto and final video, Rodger clearly held a large amount of hatred towards women.
In the wake of the shocking events, an initial hashtag that read #NotAllMen began trending on social media, with the expressed intention of stating not all men are misogynists or violent towards women. However, the hashtag drew criticism, with women responding with #YesAllWomen.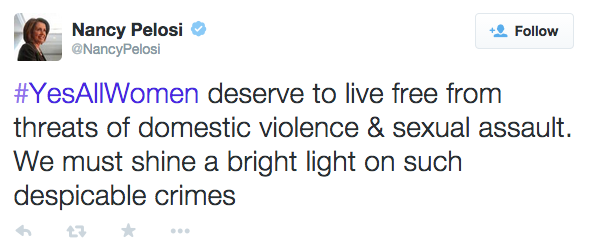 #YesAllWomen encouraged women to share their stories of when they have been subject to sexist, misogynistic and/or violent behaviour. The purpose of the hashtag was provide perspective and show that while not all men are sexist or violent towards women, every woman has been a victim of sexism in some capacity.
#IllRideWithYou
On 15 December 2014, Australia was shaken by a hostage situation that occurred at the Lindt chocolate café in Sydney. The siege lasted 16 hours, with two hostages tragically losing their lives. As the gunman, Man Haron Monis, identified as a Muslim, concerns emerged among Islamic communities that his personal actions could lead to increased threats and anger towards other Muslims.
With certain news media exacerbating the issue with sensationalist reporting, a hashtag emerged to lend practical support to Muslims who were concerned they may become targets of hatred/violence due to Monis's actions. #IllRideWithYou (I'll ride with you) began trending in Australia, with users offering to accompany any concerned Muslims on their travels for the days following the siege.

The social campaign went beyond the confines of Australia, with the hashtag trending in other countries and even being recognised by US President Barack Obama. And unlike other hashtag-based campaigns, #IllRideWithYou came with the real world efforts of those who offered to 'ride with' with Muslims holding true to their word.
#TweetLikeANeurotypical
While it has never hit the same level of exposure as the other hashtags on this list, #TweetLikeANeurotypical importantly sheds light on how often people who suffer from mental illnesses or certain brain disorders have their conditions trivialised by neurotypical individuals (a term that has been adapated to represent people who have never dealt with a mental illness or brain disorder).

Too often, conditions such as depression, anxiety, obsessive compulsive disorder, autism, Asperger's, bipolar disorder, and others are downplayed by those who have no idea what it's like to deal with them. #TweetLikeANeurotypical is used to criticise the critics and show the world the type of comments and attitudes those battling a mental illness or brain disorder have to often endure on a daily basis.
While a hashtag may not be the key to drastically changing attitudes, it at least helps illuminate where problems currently exist.
If you'd like to keep up-to-date on the latest marketing and tech news, be sure to subscribe to our blog via email. You can find the subscription box to the right on this page.
Margin Media is an inbound marketing company based in Brisbane. We offer a range of digital solutions to help your business increase its traffic, qualified leads and customer base. To find out more about our services, visit our home page.