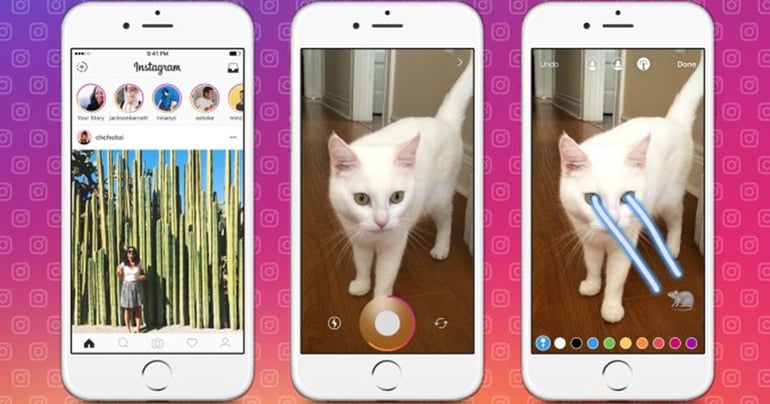 Instagram recently announced the launch of their new stories feature. While many are criticising its similarities to Snapchat, there's no denying it points to the growing influence of ephemeral marketing: fleeting, temporary content that caters to bite-sized pieces of information that consumers are turning towards.
Instagram stories, as well as Snapchat, mark a change in marketing; there is now more demand for authenticity from brands and less traditional forms of advertising. The challenge with these kinds of ephemeral platforms is creating enough of the right kind of content. As content disappears after 24 hours, it requires a higher volume and frequency. Rather than posting a few times a week, you'll have to be more prolific to have the same reach.
Instagram is currently sitting on around 300 million daily active users, while Snapchat is on 150 million, and its story feature has more discoverability, with the use of hashtags, geotags, and the Discover section. Snapchat content, on the other hand, has to be promoted on other channels to build its reach.
So it's still early days, and both platforms allow businesses to share authentic content that don't 'feel like ads', but still build on their brand. Where some might struggle is in the spontaneity. Businesses that are used to curating and scheduling content on their social platforms will no longer have that luxury.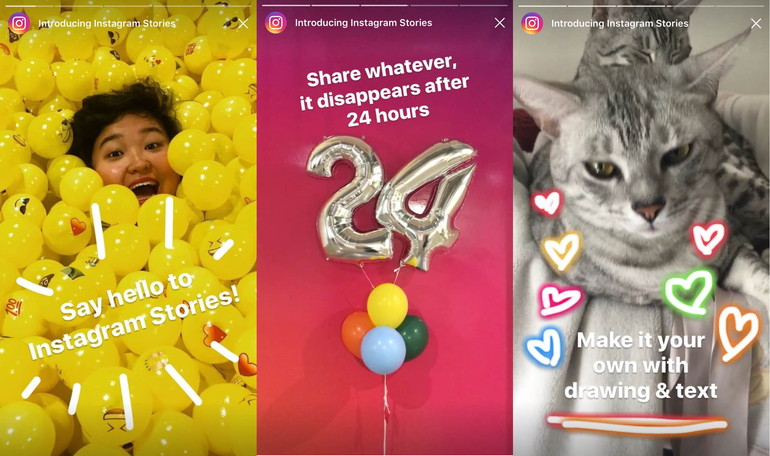 So how can you use it?
Build hype:
There are many ways to use the new feature, but given the temporary format it's perfect to build hype around a new product or upcoming news. As each video or photo lasts for 10 seconds and then disappears, you can give people bite-sized glimpses to heighten interest and even test the reaction to a new product.
Behind-the-scenes:
This is a perfect option if you already have a solid following. Giving your audience a behind-the-scenes look into somewhere like your office will help build customer trust. You can create a relationship with your audience by showing them a more human side to your otherwise curated feed.
Takeovers:
Takeovers are a great way to build brand awareness. Collaborating with someone else, say a sister-company or spokesperson, will help draw in a new audience. Not only will you have your existing followers, with the help of hashtags you may have a bigger reach than Snapchat's unsearchable content.
Product spotlights:
You can also use stories to help in the consideration stage of the buyer's journey. Particularly for industries like fashion, having videos of people wearing items of clothing in real-life settings will help others decide if they want to purchase it.
Tell a story:
This gives you endless possibilities to be creative with your marketing. Creating a humorous story across several videos or photos is a great way to connect with your audience. And instead of having to come up with several pieces of original content per day, a single story may do the same job.
If you want to learn more about building your brand on Instagram, our eBook may be just the answer. Click on the link below to access it for free.