With the Sydney siege over, Sydneysiders are very slowly going back to their normal routines.
While it will take Australians time to come to terms with what happened, there were a few uplifting moments to occur from such a tragic event. These include the ongoing #illridewithyou hashtag and the response to Rupert Murdoch's insensitive tweet.
#illridewithyou
With some of the sensationalist news coverage that occurred throughout the duration of (and after) the siege, a number of Muslims voiced their fears of riding on public transport and the potential of being verbally or physically abused. It was this fear that ultimately inspired the heartwarming #illridewithyou hashtag, created as a sign of solidarity for all Australians, regardless of their religious beliefs or cultural backgrounds.
The hashtag ultimately began when Facebook user Rachael Jacobs noted she witnessed a Muslim woman quietly remove her head covering while on a train. In her post, Jacobs' noted: "I ran after her at the train station. I said 'put it back on. I'll walk with u."
While Jacobs didn't create the hashtag, she did inspire it. It was Twitter user @sirtessa who ultimately created the hashtag itself, encouraging others to ride with Muslim Australians on public transport as a sign of solidarity and religious understanding.
If you reg take the #373 bus b/w Coogee/MartinPl, wear religious attire, & don't feel safe alone: I'll ride with you. @ me for schedule.

— Sir Tessa (@sirtessa) December 15, 2014
Maybe start a hashtag? What's in #illridewithyou?

— Sir Tessa (@sirtessa) December 15, 2014
From there, the hashtag exploded. It not only trended in Australia, but throughout the entire world. Within hours of its creation, #illridewithyou was used in more than 120,000 tweets the world over. As you can see from the below image (unfortunately somewhat blurry), the hashtag had a notable global reach.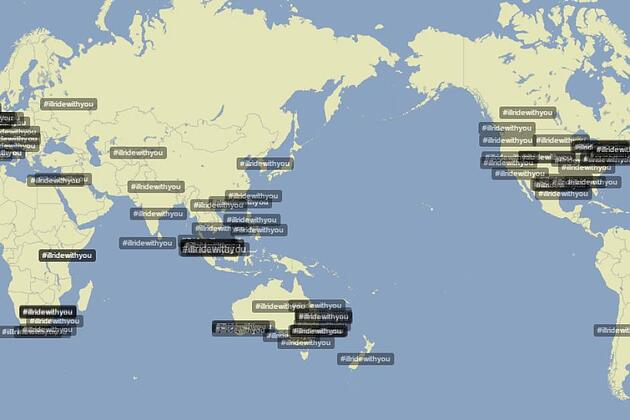 My thoughts go out to the hostages and their families, and to the police and emergency services personnel . #lovesydney #illridewithyou

— Russell Crowe (@russellcrowe) December 15, 2014
Thanks for protecting my sisters #illridewithyou pic.twitter.com/Qy9l0lN1qB

— Angger Prawitasari (@anggerwitasari) December 15, 2014
#Illridewithyou's a little ray of light on an otherwise dark day.

— Hilltop Hoods (@hilltophoods) December 15, 2014
Rupert Murdoch
Unfortunately, along with the inspired tweets in the midst of a tragic incident, there were those who were almost entirely lacking in empathy for the hostages or those who died at the hands of the gunman. One sad example of this was by business magnate Rupert Murdoch. Known for owning a host of conservative, tabloid-style newspapers, these were his main thoughts on the events that unfolded towards the end of the 17-hour siege.
AUST gets wake-call with Sydney terror. Only Daily Telegraph caught the bloody outcome at 2.00 am. Congrats.

— Rupert Murdoch (@rupertmurdoch) December 15, 2014
Yes, Rupert Murdoch congratulated The Daily Telegraph for capturing 'the bloody outcome' of the siege. That was his main takeaway from the entire incident. Suffice to say, his tweet has disgusted a significant number of people, and many expressed that disgust in a variety of ways, from calling him a "disgrace" to other more expletive-laden expressions of disgust. This particular response received a lot of engagement.
Rupert Murdoch, you are a vile human being. @rupertmurdoch #sydneysiege pic.twitter.com/fGX1gAKanb

— Major Tom (@cyenne40) December 15, 2014
While it is sad to see a tweet such as Murdoch's, he is notorious for saying incredibly insensitive and factually incorrect things with little to no remorse. But the silver lining is seeing the number of people both in Australia and around the world condemning him for his comments.