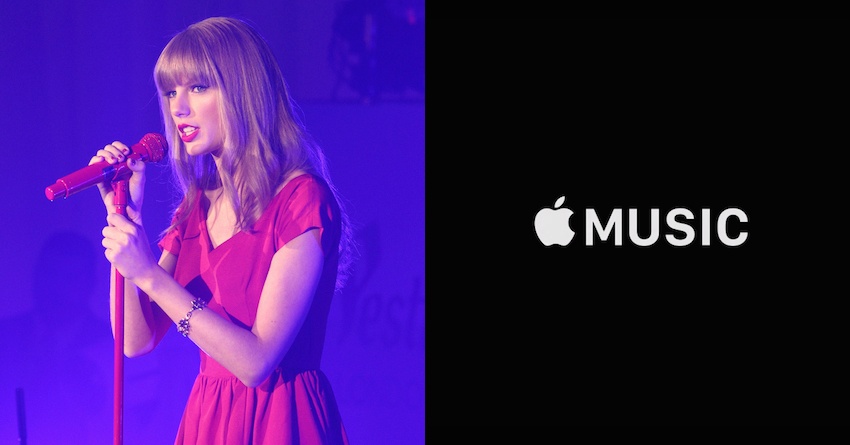 The latest headlines in the music industry have seen pop megastar Taylor Swift taking on tech giant Apple's newest baby, Apple Music. Like its rivals Spotify, Rhapsody, and more recently, Tidal, Apple Music is a subscription streaming service that is poised for a worldwide debut in a matter of days on 30 June.
Swift vs Apple
Swift's row with Apple is not the first time she's opposed free (or low-cost/low-royalty) music streaming services. Spotify was her first target, which saw Swift reeling back her new album and back catalogue from the service in November last year over the scant royalties it paid.
This time, she threatened Apple with not releasing her latest album, 1989, on the service. In a polite but stern blog post entitled "To Apple, Love Taylor", Swift explained why she would be withholding her tunes from Apple Music.
The answer: Whilst Apple plans to offer a free 3-month trial period for subscribers, it did not plan on paying those responsible for getting the songs out – the writers, producers and artists – for the same period. This led Swift to call Apple out on the unfairness of asking "anyone to work for nothing", since a quarter of a year is a "long time to go unpaid".
In a remarkable move, Apple made a 180 turn on its initial plans the very same day and will now pay royalties from day one.
Music streaming challenges
Will this be enough? In other words, will Apple Music avoid falling into the same hot water that Spotify found itself in with Swift over its royalty payments? Even if the percentage of royalties that Apple plans to pay is 71.5% - up 2% from the industry standard that hovers around the 70% mark – this marginal amount may or may still not cut it.
But it doesn't help that there is a tendency for streaming services to lose money. Although a US$9.99 monthly subscription fee isn't necessarily a big ask (whether via Spotify's premium subscription or Apple Music's post-free trial period), multiply that by Spotify's 20 million+ paying subscribers, and it's a staggering amount of theoretical revenue (and don't forget ad revenue, too).
But if Spotify can't even manage to turn an actual profit, it's going to be hard for artists to make good money when other streaming services have a similar price point (Tidal's premium monthly subscription is likewise US$9.99 – this is not the same as Tidal's high-fidelity subscription, which is notably higher per month).
On the other hand, Apple arguably has more room to move. As a company with a market capitalisation of over $700 billion, it could perhaps manage its expenses better and pay more royalties in a way that Spotify, as a much smaller company, could not. It's entirely possible that, with time, Apple will find a solution to the problem of crafting a subscription streaming service that generates revenues agreeable to both service provider and artist, and that does not hurt the pockets of subscribers, all at once.
Meanwhile, from a consumer perspective, streaming is a dream. It caters to those who don't want to purchase a track or an album outright and would rather pay to listen to a whole host of songs (minus the drawback of not owning any one outright). Of course, this is not always the most ideal way of selling music for musicians for the time being, with Swift being one of the most vocal opposers.
The challenge is playing the price game right and figuring out how to best capitalise on the increasing number of people moving from purchasing downloads to streaming tunes. That, or artists have to learn to "Shake it off" and settle for less at the moment as they, together with music streaming service providers, try to get a handle on the evolving market for music consumption.