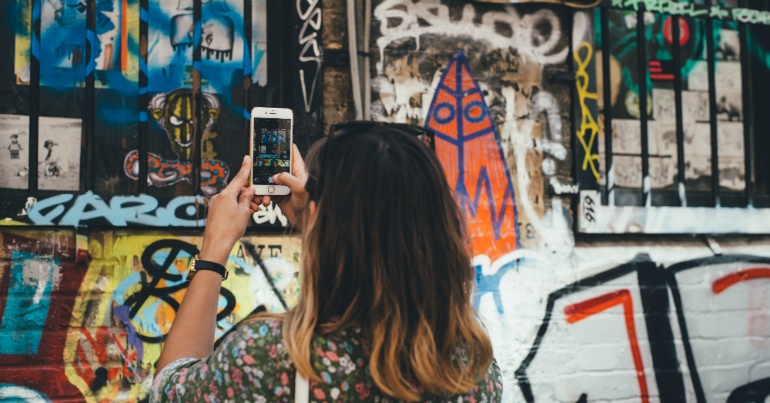 Social media, we're all on it in some way or another. Facebook, Twitter, Instagram, LinkedIn, it all seems pretty straightforward...until you try to get results for your business.
It can be hard to get your voice heard in all the noise. With millions of users across the world, trying to make an impact on social media can seem a little daunting.
But there are 5 essential things any business can do to try to build their presence and connect with their audience.
1. Have a plan
First things first: you need to have a plan. Without planning your approach, your target audience, the platforms you'll use, or your publishing calendar, you'll end up wasting a lot of time.
Instead of jumping straight in and trying everything and anything (and risking looking confused) you can take out some of the guess work by sitting down and thinking about what you want to achieve for your business.
Is it generating more leads? Increasing brand awareness? Building trust? All of the above? Once you have a clearer idea of why you're on social media, then you'll be able to customise your posts to reach your target audience. Which brings us to our next essential...
2. Have a target audience
Who is your ideal customer? What are their wants and needs, but most importantly, what are common problems they face? Once you are able to understand your audience, then you'll be able to address issues or topics that they actually care about.
As Google found out recently, consumers are more likely to buy from brands that help them easily find answers their questions.
By narrowing down your audience and addressing topics that speak directly to them, you'll increase your chances of getting noticed.
Speaking of getting noticed, take a look at the best times to post to get the most reach.
3. Choose the right platforms
This is one of the most important steps. There's no point trying to reach your customers on Instagram if most of them aren't using that platform.
Start by looking at your industry competitors and see what platforms they are using. Then think about your target audience, their age bracket, and social media use.
Take a look at the infographic below to get a better idea of which platforms will be better for your business: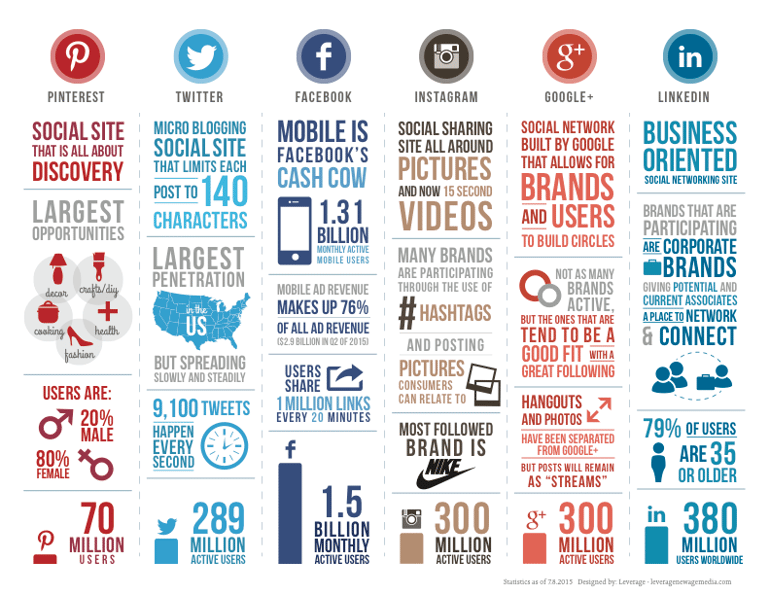 4. Create engaging content
Sometimes this is easier said than done, depending on the industry you're in. Let's face it, some industries are more interesting than others. Retail or tourism are easily appealing, waste management not so much.
The best way to create engaging content is to provide people with answers to their questions. If you present yourself as a source of knowledge in your industry, you'll immediately put yourself ahead of your competitors.
If you post interesting facts about your industry or links to blogs that provide people with how-to guides, your followers will remember that you were helpful and knew what your were talking about. Which is a great way to build trust.

Check out our comprehensive guide to image sizes to really nail your content.
5. Define your voice
Defining your voice has a lot to do with consistency. Think about how you want to present your brand, the industry you're in, the type of people you're talking to, and then be consistent with your voice.
If you're really serious one day and then post a funny video of an otter the next, people will get confused. Always think about your industry, your target audience, and what platforms you're using.
And remember, give your voice some personality. People will want to know that there's a human being behind the brand, it's the perfect way to connect with your audience on a personal level.

Still having trouble with your businesses social media? Let us know in the comments below.