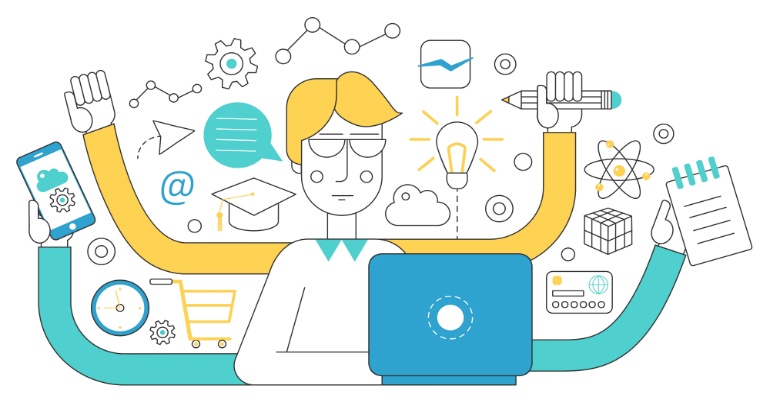 With each new year, marketers are having to adapt and expand their skills to the grow with the ever-changing market. It's not enough to be a one-dimensional marketer any more, you need to be proficient across multiple platforms, technologies, and methodologies.
Not only do marketers have to master more but they have to understand how everything works together to increase leads, engage customers, and build brand authority.
Here are the 5 skills hybrid marketers need:
Master of social media
Successful hybrid marketers should be able to keep up and master the fast-changing world of social media. It's not enough to schedule a few updates every now and then, marketers need to bring strategic understanding and tactical insights to their social strategy.
Start by subscribing to social and tech news to stay up to date. Always test out new apps, new features, new social updates, and analyze social ad performance.
It doesn't just come down to creating good ad content, marketers need to understand why something worked or failed and be across ad tactics and features on every social platform. Knowing how to get the most out of your ad budget has always been a key focus for marketers, but now with continual updates and changes to user behaviour, it's more important than ever.
Content marketing versatility
Content is the heart of good marketing, for both B2B and B2C companies. Marketers now need to be versatile with their content creation, promoting tactics, and performance analysis.
To keep up with the changing digital market, marketers need to know how to build a content marketing strategy: understanding what kind of content is effective in their industry, the kind of content relevant to each stage of the buyer's journey, and how that content adds value to their business.
As well as creating valuable content, marketers need to understand how content marketing fits into an overarching digital marketing strategy. Content is integral from beginning to end, and it's a marketers job to know how to deliver the right content at the right time.
Here's how some B2B marketers are using content and social in their strategy: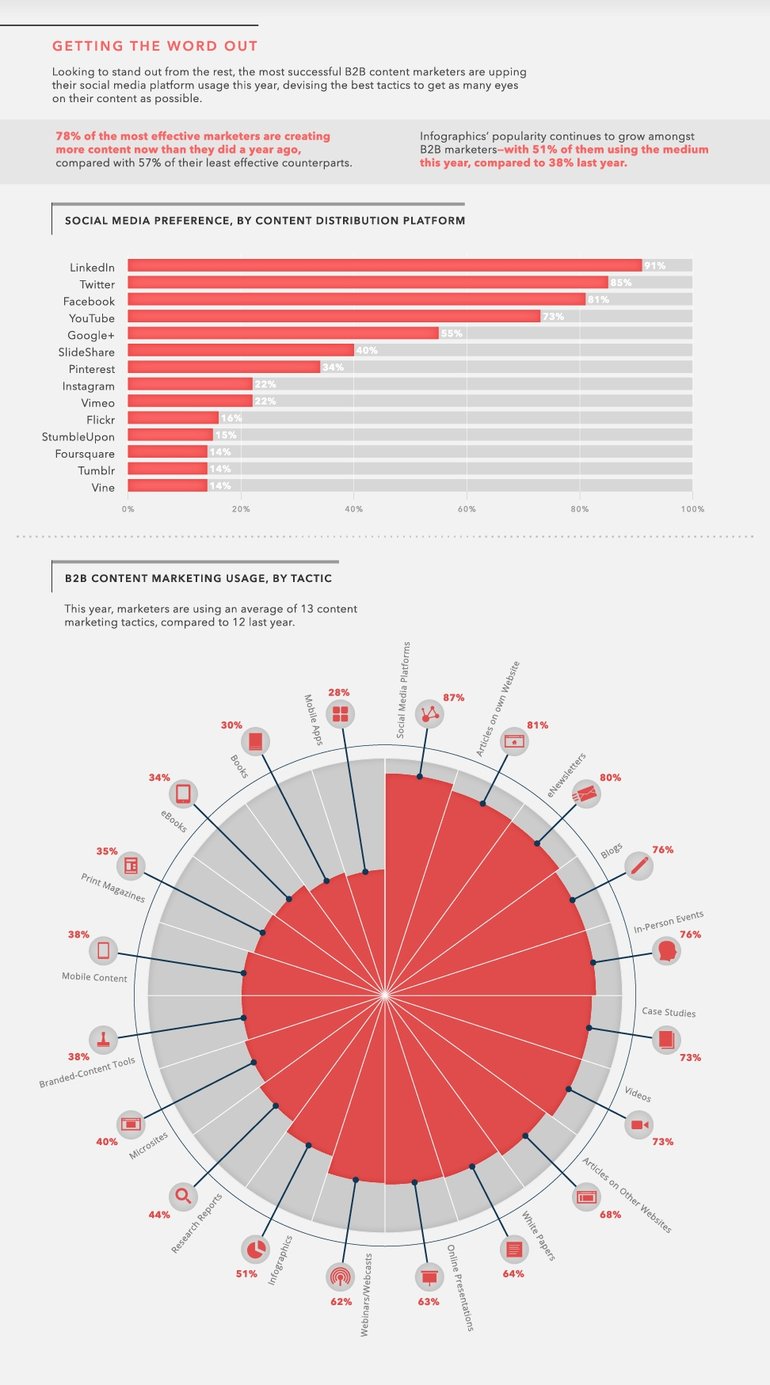 Source: Column Five, on behalf of LinkedIn
Exceeding at email
No, email isn't dead. Marketers just need to hone their skills to get the most out of email marketing.
Gone are the days of generic, template emails sent out to your entire database. Marketers now have to build personalised email campaigns, deliver relevant content to the right people, and learn how to segment their database to best target their customers.
Although email is one of the most powerful tactic for customer acquisition and retention, it doesn't mean that it's easy. Not only do you have to deliver valuable content, but you have to know how to create an email that entices people to open it, read it, and engage with it.
And don't just count the amount of link clicks or unsubscribes (although they're still important metrics) but look at what value you are giving your email recipients, how much helpful content you are sharing, and how it affects your authority within your industry.
Up your analytics game
For good reason, marketers are obsessed with metrics and statistics. They shape marketing campaigns, target customers, social tactics and content strategies. Data is at the heart of almost all marketing decisions. That's why marketers need to go past just being able to read Google Analytics and start understanding how data is their greatest asset.
Marketers shouldn't be afraid of software. In fact, they should welcome it. In the same way that marketers need to adapt to change, they need to adapt to new software, new ways of analysing data, and the ways that data can inform their strategy.
It's time to start crunching numbers and get excited about how technology and software can be used to your advantage.
Focus on full-funnel marketing
Marketers like to focus on the leads at the bottom of the sales funnel: they are the closest to becoming paying customers and a high priority to sales. But successful marketers will know that the best way to acquire and retain leads is to nurture them at every stage of the funnel.
Full-funnel lead nurturing can generate 50% more sales-ready leads, and it is the most effective way to build customer relationships and brand promoters.
Take the time to understand each stage of the funnel and how they all work together to guide more leads to becoming customers and, particularly, how it impacts your business's bottom line.
Successful hybrid marketers not only know how to adapt and multi-task, but they also understand how every aspect of digital marketing effects and defines their customer interactions.