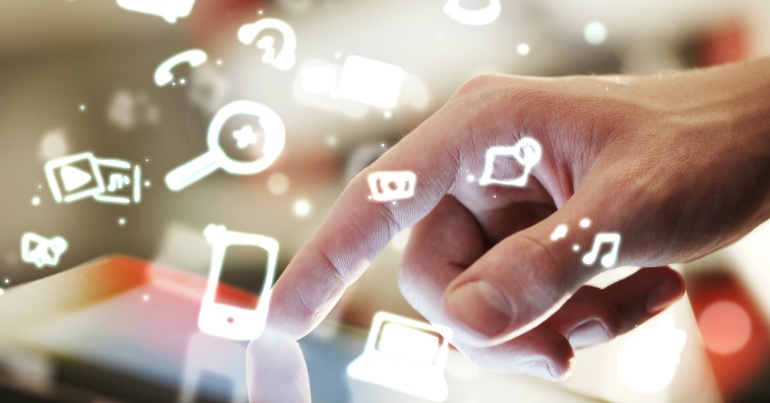 It's hard to keep up with all the updates social media platforms go through. You may have just finished updating your LinkedIn profile after they changed their layout design, and then Instagram decided to introduce Galleries.
We're here to bring a bit of order to the ever-evolving world of social media. Thanks to the work of Mainstreethost, we can bring you the most up-to-date 2017 image guide, including shape, size and profile layout designs of the top social channels.
We'll also give you a few top tips when it comes to choosing imagery across the platforms, particularly for business and brand accounts.
So let's get into it...
Facebook
Facebook is still one of the top performing social platforms for marketers and businesses, so it's important to keep up with all the changes going on.
Profile layout is the same for personal and business accounts, but to ensure that your business page appears legitimate and trustworthy, make sure your profile image, cover photo, and all the shared images and links are clear, high-resolution and engaging.
Facebook also likes to keep the amount of text overlay on images in check, so that advertisers can't post anything overly spammy or salesy. Facebook have this tool to check the text-to-image ratio of your images.
LinkedIn
LinkedIn is all about professional networking and making business connections, so without a professional looking profile or Company Page you will be on the back foot.
You don't need to organise a photoshoot to get the best head shot, but you do need to make sure your profile image is clear, high-resolution, professional looking, and reasonably close-up.
The same can be said of the logo image and cover photo on your Company Page. Don't use stock images or unrelated photos, this is your prime real estate for showing people who you are and what your business is about.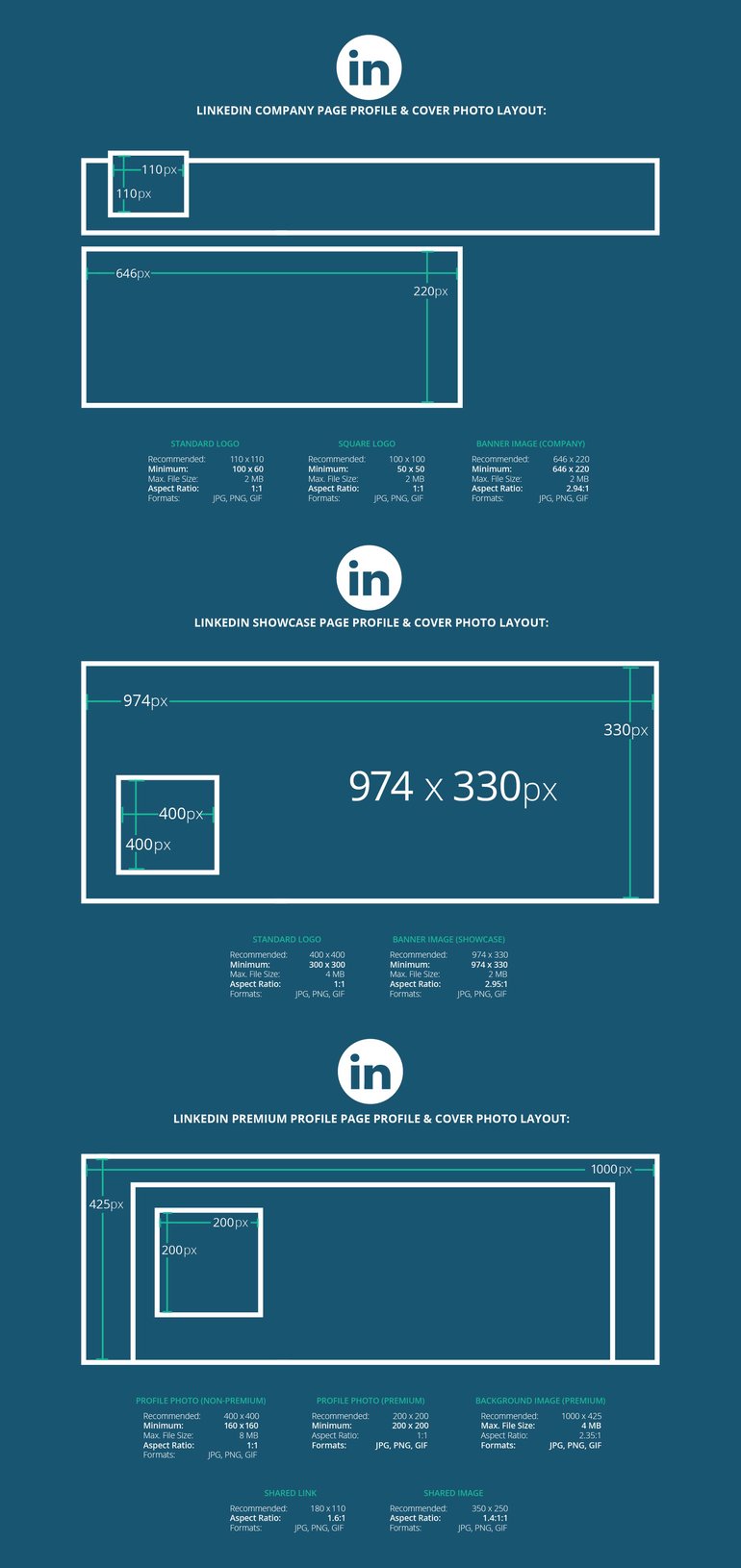 Instagram
It goes without saying that your images matter on Instagram. As primarily a photo-sharing platform, you need to make sure your photos are high-resolution and engaging.
However, you do have the freedom to get a bit creative with Instagram, try using features like Stories, Galleries, Boomerang videos, and regular videos to share more about your business and products.
Twitter
For a long time, sharing photos and videos on Twitter put you at a disadvantage, as it took up 23 character of your 140-limit. However, they've now changed it so that attaching a link or media (ie. photos, GIFs, videos, and polls) no longer affects the 140 characters. Phew.
And although people won't see your cover image unless they click to your profile, it's important not to neglect it. Make sure it's engaging and sharp and take advantage of it to highlight your employees, a new product or offer, or even as free advertising space.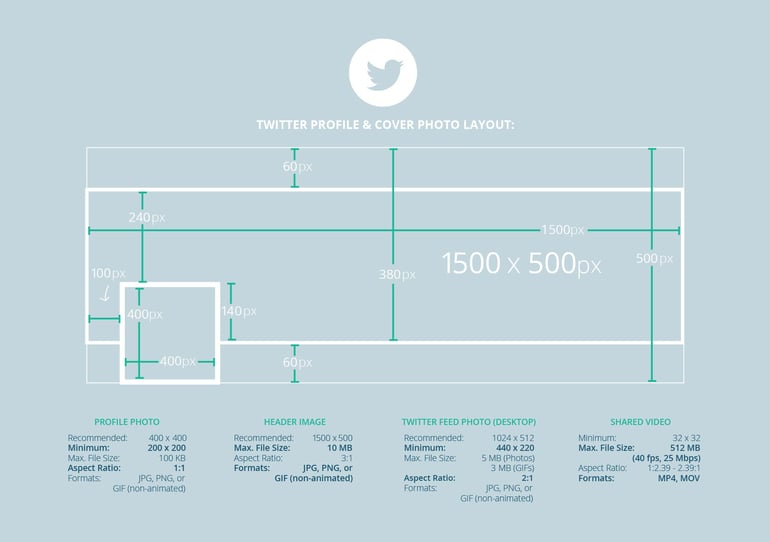 Google+
Although it isn't considered one of the top social platforms, Google+ still has great potential to grow your business, most importantly because your profile and feed can show up in Google searches for your business.
Your cover photo is the largest image on your profile, so take advantage of this space and use a clear, engaging image that best reflects your brand or business.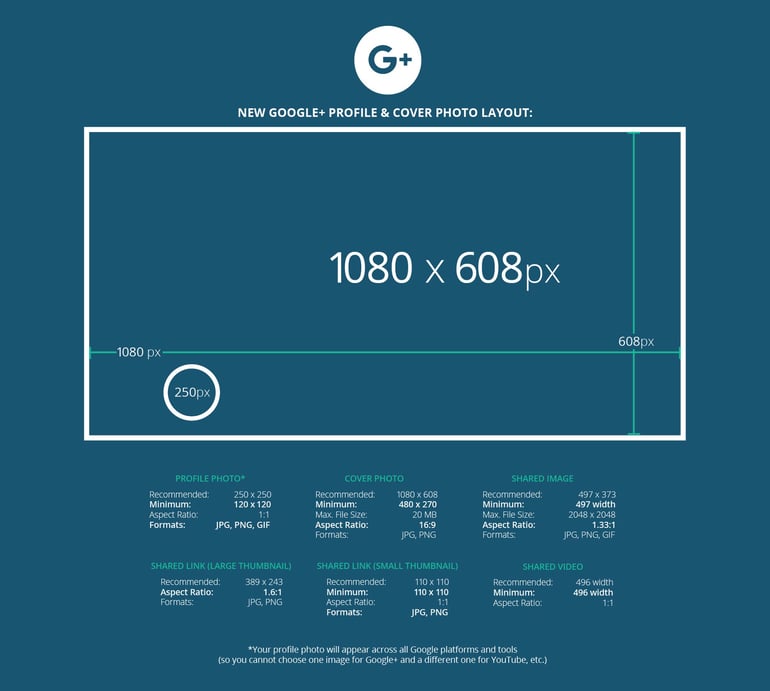 Pinterest
Despite what people may think, Pinterest can be used for many different business and industries, you don't just have to be an interior designer or clothing brand. For example, infographics work really on Pinterest.
On your Pinterest profile, you have a circular profile image to work with and then a snapshot of all your boards below. You can use your profile dimensions to include a logo or branded photo, and then take advantage of the boards to share what your business is about and inspire people to pin and engage with your imagery.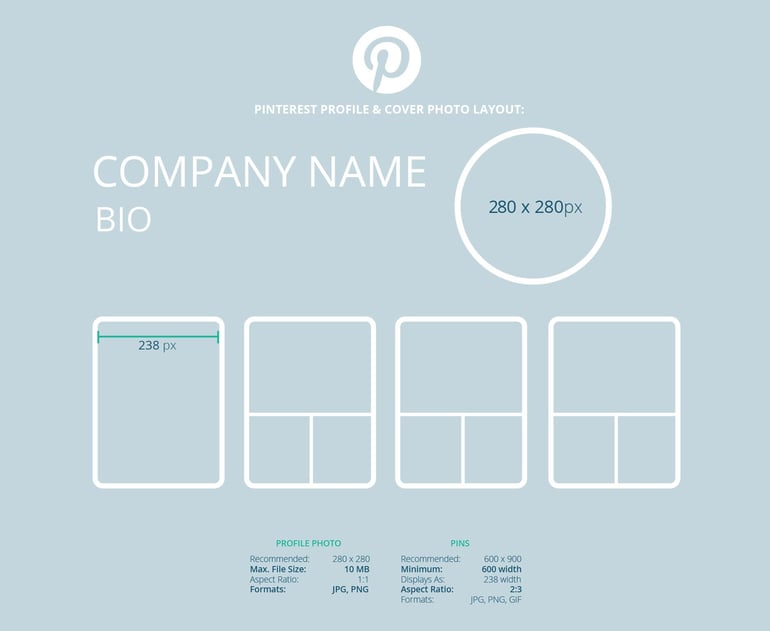 Tumblr
People share anything and everything on Tumblr, so you don't just have to post image-based content. However, like all the platforms we've looked at, ensuring you have a sharp avatar (profile image) and share high-resolution images and videos is important for your brand integrity.
Don't think of Tumblr as just a blogging platform for teeneagers, you can get creative with your Tumblr page by customising your theme and including visually engaging videos, GIFs, and branded content.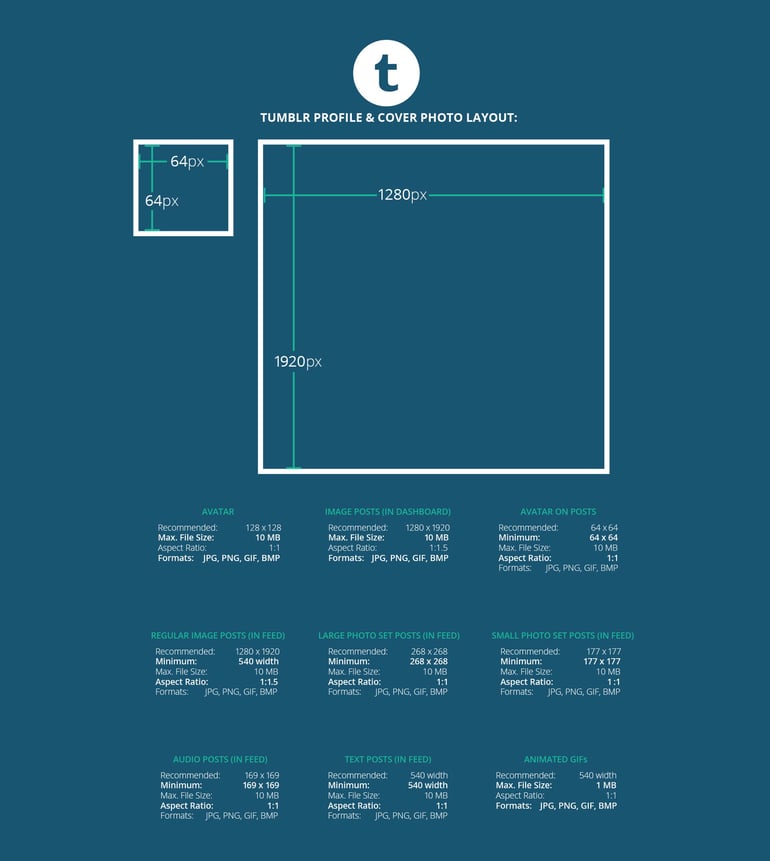 YouTube
YouTube is a video-sharing platform, but that doesn't mean you shouldn't pay attention to the images you use on your channel page. Making sure your channel icon and art is in-keeping with your brand and eye-catching ensures that your channel is memorable and recognisable.
Most viewers will only see you in the little box below a YouTube video with your channel name alongside. Have consistency across your channel images so that people can begin to recognise you from that little box, and also make sure your channel images work across different devices.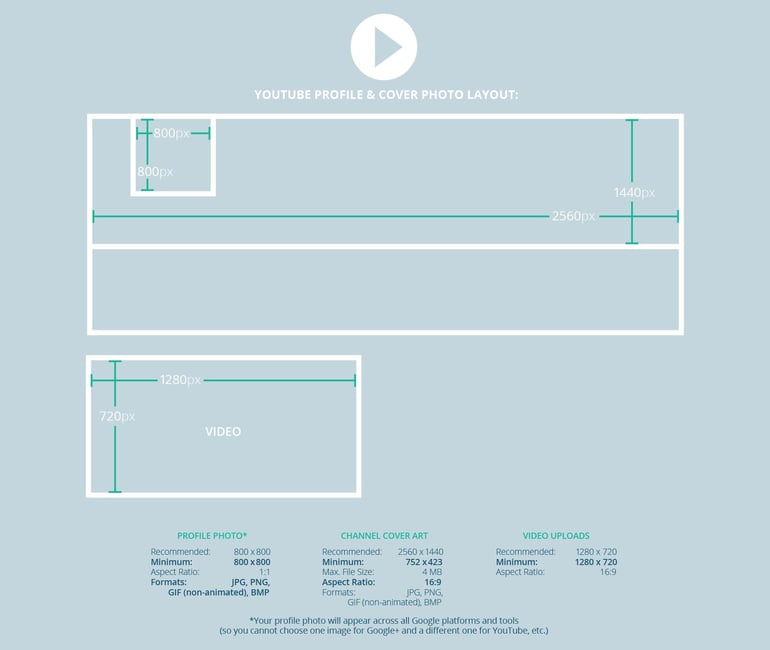 For the full infographic, head here.