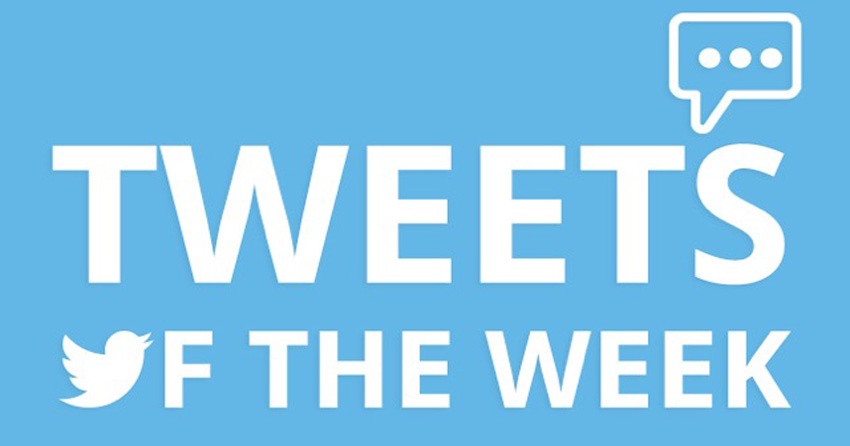 This week we trawled the web to find some of the funnier and more creative tweets doing the rounds. With Valentine's Day, the cricket World Cup and many more happenings in the news this week, it was hard to pick from the thousands of goodies online. But here are some of our standout tweets of the week.
Don't drop the ring. http://t.co/rQoZ5CaGHP #WhatIsLoveIn4Words pic.twitter.com/luHcA0UxPl

— YouTube (@YouTube) February 12, 2015
Valentine's Day hit Twitter hard this week. What did we learn? Twitter revealed that Sweden is the most romantic country in the world after they tracked tweets mentioning the phrase "I love you" in over 100 different countries, with Slovenia, Israel, the UAE and Norway rounding out the top five. 180 million Valentine's Day cards were exchanged, $13 billion was spent on gifts, and a lot of people found interesting ways to share their love online.
#HappyValentinesDay from the #NSA. No, we don't listen to your pillow talk. #vday2015

— NSA/CSS (@NSA_PAO) February 14, 2015
The lovely folks at the NSA decided to get in on the Valentine's Day banter.
This is surely BBC News' most superfluous caption http://t.co/efdfAVtFoQ pic.twitter.com/rFWdL10777

— The Independent (@Independent) February 13, 2015
This poor pooch was a guest on BBC News this week. Why, you ask? His owner, animal psychologist Dr Roger Mugford, talked about a study that says dogs can tell the difference between happy and angry human facial expressions. A big day out for Bounce the dog!
Our cartoons this week: http://t.co/m6zzQFJl9J pic.twitter.com/EH9LWldKHr

— Nicholas Thompson (@nxthompson) February 10, 2015
Classic newspaper styled cartoons will always have a place in modern media.
Knowledge | Experience | Creativity pic.twitter.com/buv4IcQhWS

— JESS3 (@JESS3) February 11, 2015
This incredibly simple and somewhat crude drawing caught our eye. Simple sells.
So Pakistan's target is 301, but the real question is: will this unbelievable stat continue? pic.twitter.com/VdbD2PRVNx

— Jimmy Neesham (@JimmyNeesh) February 15, 2015
The cricket World Cup has been dominating our air waves since hitting our shores. This little piece of statistical brilliance left many people online in stitches.
Best picture of the day from #Adelaide. #IndvsPak #जयहिन्द pic.twitter.com/oBpjpgk3PX

— गीतिका (@ggiittiikkaa) February 15, 2015
Certainly one of the best photos posted so far. Hopefully it's a sign of good things to come!
If you'd like to keep up-to-date on the latest marketing and tech news, be sure to subscribe to our blog via email. You can find the subscription box to the right on this page.
Margin Media is an inbound marketing company based in Brisbane. We offer a range of digital solutions to help your business increase its traffic, qualified leads and customer base. To find out more about our services, visit our home page.
* Twitter Mobile Image via Shutterstock