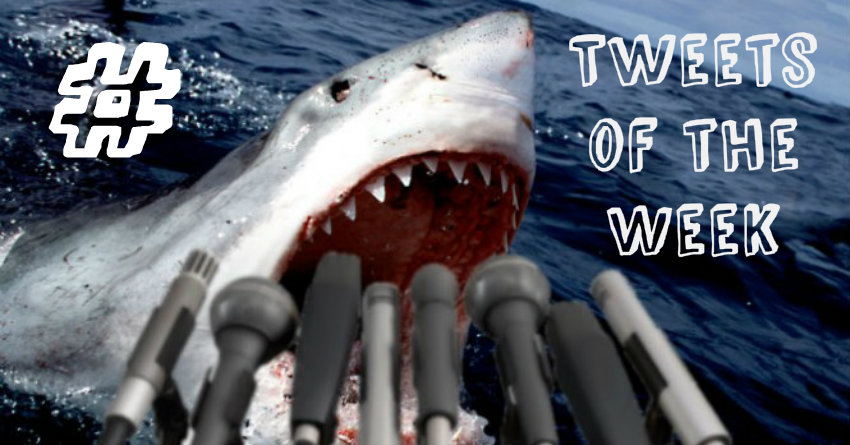 This week's tweets are all about The Land Down Under. Be it Australian surfers, Australian city development plans or Australian parliamentary spending, we bring you the best tweets this week.
Professional surfer escapes life-threatening shark encounter on live TV http://t.co/auTbeEmmjm http://t.co/UB6L3BnpNp

— The Independent (@Independent) July 20, 2015
This week, the world watched in fear as Australian surfer Mick Fanning fought with a great white shark (and won) during a surfing competition in South Africa.
Pain before gain as casino moves forward http://t.co/okFqZPOb3H (News) #brisbane #qld

— Brisbane News (@BrissieLiveNews) July 21, 2015
James Packer lost the bid to develop Brisbane's newest casino precinct
Hey Julie Bishop, I can't be arsed driving to work tomorrow - can I please get a tax-payer funded helicopter ride to work instead?

— InsaneGlovePuppet (@DobinsonTdib) July 16, 2015
Parliamentary spending is under review after Julie Bishop's tax payer travel expenses were revealed.
Westfield chairman Frank Lowy has surgery for injury suffered at the A-League grand final. http://t.co/2onQTjI6ne

— The Australian (@australian) July 21, 2015
And, on a sobering note, Westfield Chairman Frank Lowry undergoes brain surgery after complications from his fall during the Hyundai A League grand final.

If you'd like to keep up-to-date on the latest marketing and tech news, be sure to subscribe to our blog via email. You can find the subscription box to the top-right or on the bottom of this page.