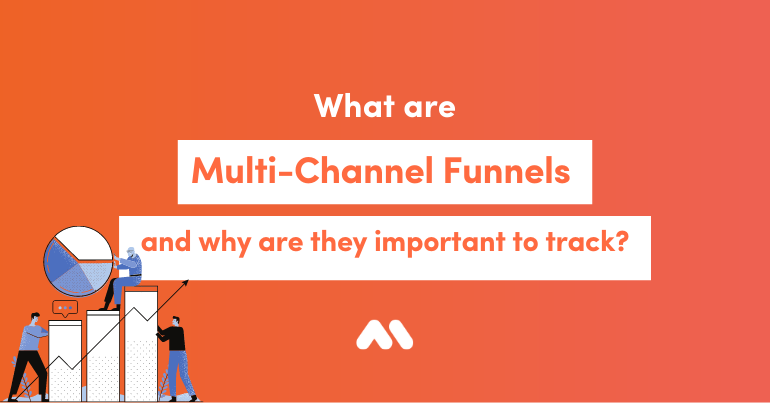 As a business owner, it can be a challenge to figure out which of your marketing efforts are being effective across multiple platforms.
For example, do you know how your customers are converting?
To get more clarity about how your marketing channels drive conversions, look no further than the Google Analytics Multi-Channel funnels.
So, what are multi-channel funnels?
Multi-channel funnels are a group of reports in Google Analytics that allow business owners to break down how different marketing channels contributed to conversions. It also looks at how those conversions took place, including the types of interactions they completed before converting.
Basically, a multi-channel funnel shows you all the steps a customer took from seeing your ad, social post, or email, to visiting your website and then making a purchase.
These reports can be highly valuable for your business, as they highlight which aspects of your content and campaigns are performing best. Then, you can see which areas need improvement, and which are worth investing in.
Many businesses are missing out on the benefits of multi-channel funnels and don't even look at the reports. This is because of a lack of understanding of how to use them and of the value of data. Here's some advice on how to make the most of them.
Types of Multi-Channel Funnels:
In many Google analytics reports, the goal conversion is credited to the last source (channel) that delivered the visitor to your website. But, how can you tell if social media, ads, or content made a difference in that journey?
Multi-channel funnels show how all your channels of traffic flow together. There are different types of reports you can do, depending on which aspect of your customer's conversion journey you want to look at and analyse.
On Google Analytics, there are six different types of multi-channel funnels that you can explore. These include:
Overview: The overview gives you a bird's eye view of conversions and assisted conversions (those that used more than one channel). It allows you to select four channels and visualise the overlap between them. This way, you can see when two, three or four channels played a role in the conversion.


Assisted conversions: An assist for a conversion is a channel that appears anywhere on the conversion path, except for the final interaction. For example, if a visitor originally found your website on Google (organic search), then saw it mentioned on Facebook (organic social), and then returned to convert. In this case, both Google and Facebook assisted in the conversion. The assisted conversions report provides a summary of the contribution that each marketing channel has made to the number of conversions.


Top conversion paths: The top conversion paths report shows the most common paths viewers took towards completing your goal (converting). For example, if your most common path is organic search > direct, this means most users find your website in search engines, bookmark it, and then return directly to your site to convert.
Time lag: The time lag report tells you how long it took for a customer to convert, in a number of days. By studying how long each customer took from the initial contact to conversion, you can learn more about your website's sales cycle.
Path length: The path length report breaks down the average number of interactions with your content the customer had before converting. Visitors can have up to 12 touches before converting.


Model comparison tool: The model comparison tool compares data from three attribution models in one place. Attribution models can include last non-direct click, last AdWords click, first interaction, linear, time decay, and position.


So, what can you use multi-channel funnel reports for?
There are many goals and benefits you can achieve for your business with the information gathered in the multi-channel funnels. For example, you can use it to:
Determine which channels are influencing or assisting conversions
Decide which channels are best at increasing conversions
Identify how customers are converting
Identify which content/ channels customers are interacting with
Identify which channels to use more/less often to convert customers
Find most common paths to conversion
Find how long it takes for customers to convert
Understand timeframe of customer journey
Adjust campaigns to reflect customer behaviour
How do you set up multi-channel funnels?
Setting up multi-channel funnels on Google analytics is simple. Start by deciding on a goal you want to track (such as conversion rate).
Analytics automatically detects many traffic sources to your website, including:
organic search (all search engines)

referrals from other websites (including social media sites)

direct traffic
Other channels require some setup in order to be properly tracked, including:
Google Ads

paid search on non-Google search engines

custom campaigns
All the reports, data and analytics in the world aren't going to matter if your overall campaign is weak and ineffective. So, what does a successful multi-channel campaign look like?
Multi-channel marketing seeks to establish a brand's presence across many varying platforms. Goals include: increasing brand awareness and reach, increasing engagement, generating leads and conversions, and providing unified communication.
A successful multi-channel campaign should focus on:
Brand reach

Message

Consistency

Engagement

Experience
To launch a multi-channel campaign, you need to:
Identify buyer personas

Choose channels to target

Create strong messaging for your persona

Integrate the experience across channels

Follow rules of each channel

Measure data and analytics

Set up retargeting
Now you know all about multi-channel funnels, campaigns, reports and tracking, it's time to invest in your own business. Apply our tips to see your conversions soar today.
Looking for more help with your business' digital marketing? Margin is here.