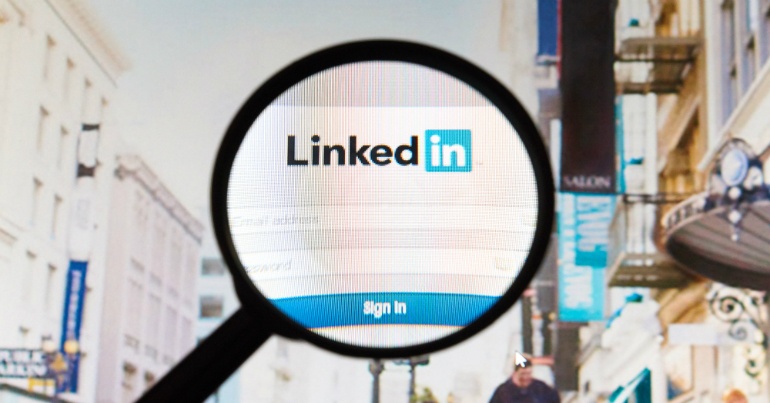 As businesses get more complex and multifaceted, the need for segmented marketing grows. When a company offers varying products or services, represents multiples brands, or has diverse buyer personas, there is a great need to segment social media efforts.
It's this multidimensional business model that LinkedIn taps into with their Showcase Pages. They are extensions of your main Company Page that highlight a particular brand, initiative, product, or event. The pages allow companies with multiple brand messages to segment them easily and deliver them to the right audiences.
LinkedIn users can follow one of these pages without following the main Company Page, and that allows businesses to create content that caters to different audiences.
Think about Adobe and clothing company Cotton On Group, they have several brands or entities within their company, and each has a different use or customer. Someone that wants to know more about Typo products will be very different to someone interested in Cotton On BODY.
When a complex company like Cotton On Group tries to use its social channels to promote every product and brand under its umbrella, the message will become confused. If you serve everything to an entire customer base, you risk alienating audiences that aren't interested or already saturated with information.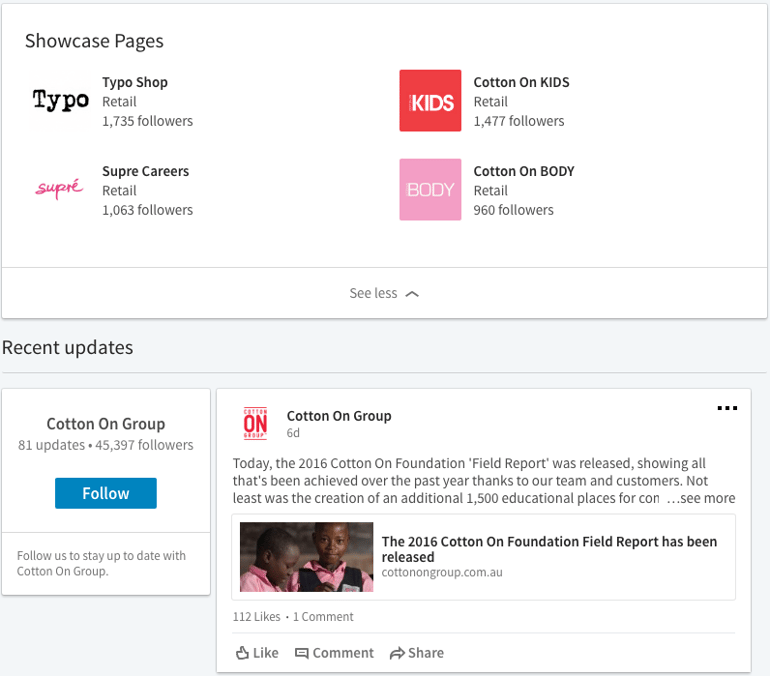 That's where Showcase Pages come in.
Top 3 benefits:
Segment your products or services
One of the key benefits is that they bring order to your LinkedIn marketing. If you are a complex company that offers more than one product or service, you can optimise your social presence by separating and streamlining your social messages.
Your brands or products might have a different "voice", a vastly different use and appeal, and even a different industry that it applies to. Creating an individual (but interconnected) page to share your message is a great way to personalise and customise your marketing.
Page administrators also have the ability to view and track analytical data, just like Company Pages. You have access to metrics on engagement (of individual posts), trends (patterns of impressions and engagement), and demographics (such as follow demographics and sources).
This information can help shape your pages and the content you share, giving you a better idea of what your audience wants and responds to.
Reach different buyer personas
Not all your products or services are going to appeal to the same people. Take Adobe for example, the same person that is interested in Adobe Creative Cloud (like a graphic designer) is likely not the same as someone interested in Adobe Marketing Cloud (say a marketing manager).
Using Showcase pages to segment different buyer personas allows Adobe to cater to different audiences and give them the most relevant content to their needs and interests. As LinkedIn's Senior Content Marketing Manager Jason Miller said, "Content marketing is no longer a numbers game. It's a game of relevance."
Choose what you highlight
These pages are also a great way to highlight a specific area or endeavour that your company wants to promote. Say you want to dedicate a page to regular networking events you hold or an affiliated charity endeavour, this is the perfect place to do so.
Rather than overloading your Company Updates feed with varying messages, you can streamline your content and know that the people following that individual page will be interested in it.
You can share all the same kind of content to a Showcase Page, like product announcements, relevant company and industry news, information about upcoming webinars, links to blog posts, etc. But these pages allow you to get more specific and personal in what you choose to highlight and promote, strengthening your LinkedIn presence.
You can learn more about creating a Showcase Page here.