Since the popularisation of smart phones, the iTunes store, and Google Play, developers from all over the world have worked tirelessly to bring us, the owners of these phones, applications that hold our attention, solve a situational problem, or even better our lives. And some are just plain funny.

One way or another, one can safely say there's pretty much an app for everything. But of all these apps, and the multitude of copies that each one may have, how will you know which to download?
Below I have compiled a list of the 7 best free apps that should be on your phone. Granted, two of these are more of a category, but regardless – your phone still needs them.
1. Online Banking
If there's anything that mobile phones have enabled us to do, it's exactly that – they allow us to be mobile. And one of the more useful features whilst mobile is being able to manage your bank account.
Have you ever swiped your card at the checkout and had it decline? I know I have. Far too many times. However, with your choice of online banking app (be it Commonwealth, Suncorp, Heritage, and all those in between), you're just a swipe away from transferring money into the necessary account. It's quicker and far less fussy than calling the bank to transfer the funds.
The point of this list is usefulness while on the move – and having an app for mobile banking certainly ticks that box.
2. Facebook/Twitter/Instagram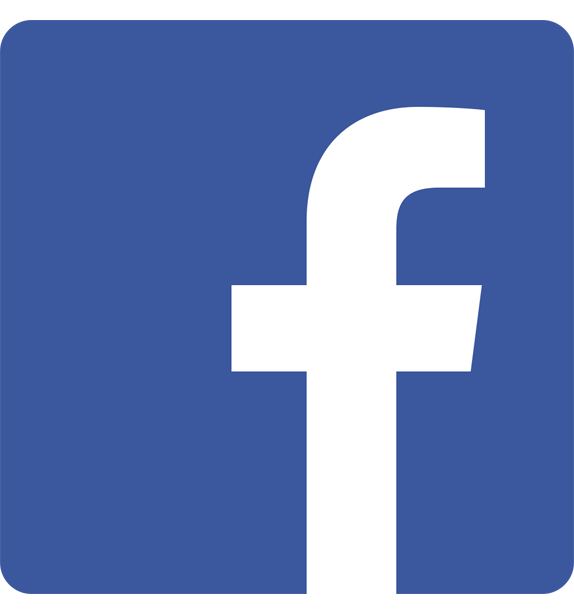 With the social networking revolution comes the 'need' to stay connected; much like mobile phones did when they were first released. And with the popularity of smart phones, it has never been easier to stay connected to your social network of choice.
This section constitutes a number of apps all under the one banner – Facebook, Twitter, Instagram, Snapchat, and so on – because different people have different preferences when it comes to social media. It's not my place to say whether Facebook is better than Twitter, or vice versa, but I can effectively say that no phone is complete without an app allowing you to stay connected on the move.
3. Feedly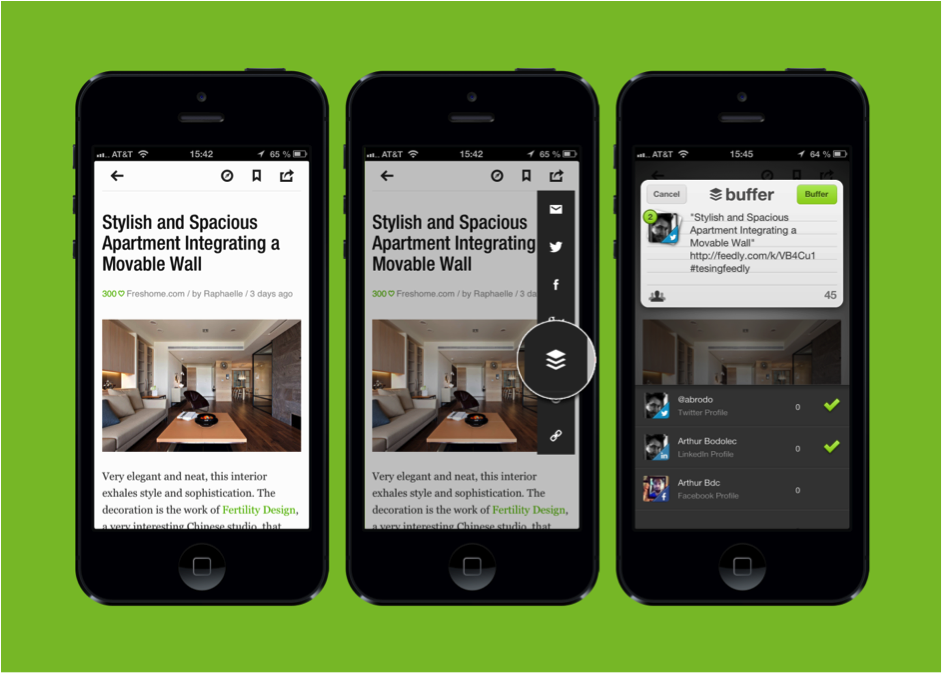 Source: Feedly
Aside from social media, there are other ways to get news. You could slowly trawl your favourite sites one after the other, or you could load up an RSS feed – more specifically, Feedly.
Feedly, at its most simple, is a news aggregator. By logging into the app users can save links from their favourite websites to the reader, customise categories, and keep them in one easily accessible feed. The feed itself is simple and concise, and the customisation options allow users to read only the news that they want to.
This RSS reader provides the tools to collect and display news on the move, tailoring the experience to each and every user, making it the perfect source for staying up to date with your favourite sites on the move.
4. Shazam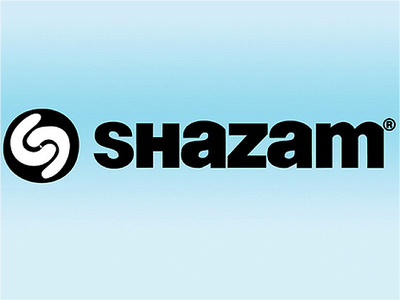 Have you ever heard a song playing on the radio that you recognise, but can't quite remember the name of? The makers of Shazam have, and their app has the perfect remedy.
Upon hearing a song they wish to identify, users simply open the app and 'tag' a song and Shazam identifies a segment of the song, cross-referencing it to a database containing over 11 million songs. Once identified, users are presented with the song in question, and can listen to it through Songify or buy it from iTunes.
This app is incredibly useful because of the simple fact that everyone has had one of those moments, where you can't quite remember the name of a song.
5. Toshl Finance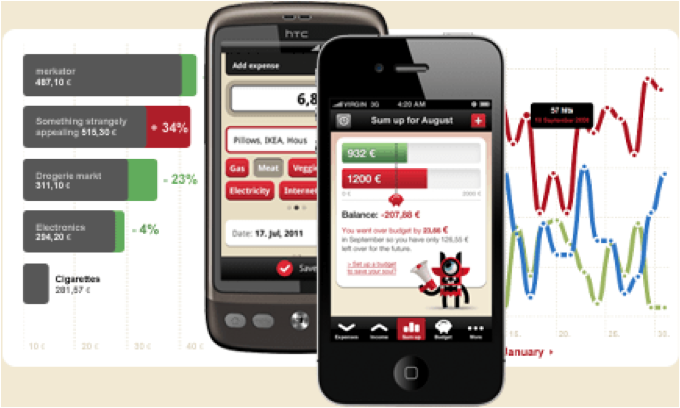 Source: Toshl Finance
Nowadays, smart phones come pre-loaded with a calendar and a series of organisational apps. These are very useful for scheduling events and taking down quick notes. What they don't include, however, is an app for controlling your budget. And if your spending habits are anything like mine, that's an app your phone definitely needs.
Toshl Finance is an app that does exactly that – allows you to easily view and control your budget and finances. After quickly making a profile, users log into Toshl and enter their expenses and incomes into the separate tabs. After setting up the numbers, a third screen, 'sum up', shows two bars that represent each amount – green for 'incomes', and red for 'expenses' – as well as displaying the final balance below. The length of the bars tracks progress, and if the red overtakes the green, then you're in trouble.
A third tab allows you to set up a budget (daily, weekly, bi-weekly, monthly, or yearly), for all expenses or specific tags (for example, you can budget an amount each week for groceries). Once set up, the budgets you set up are displayed in a similar 'progress bar' fashion, with the amount you've entered in the expenses tab being deducted from the budget.
The fact that Toshl Finance provides smart phone users with the ability to budget on the move is a fantastic asset to have. Combined with mobile banking, it's an absolute must-have app for anyone with money they want to save.
6. Any.DO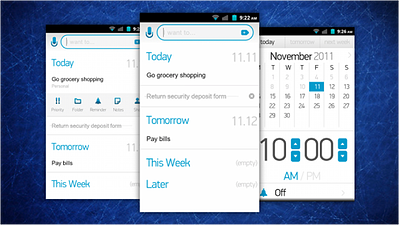 Circling back around to organisational features, I can safely say that my iPhone didn't have anything of the sort when I first started it up, save for a calendar. That's changed now that I have Any.DO.
Any.DO is a free, easy to use 'to-do list' with an incredibly simple and understandable interface. The app features 4 tabs – today, tomorrow, upcoming, and someday. With the time period sorted, users can jot down an event under 'today', mark it as a priority, file it under the 'work' folder (or any other folder they create), and set a reminder alarm to go off at a specific time.
Upon completion, users can cross out items as they would a real list with a swipe of the finger. The simplicity of the app is astounding, and yet it still manages to provide a strong organiser that you need in your phone. Whether your day is completely booked out, or you have nothing to do and simply feel good when the alarm goes and you cross another item off the list, your phone could definitely use this app.
7. Flappy Wings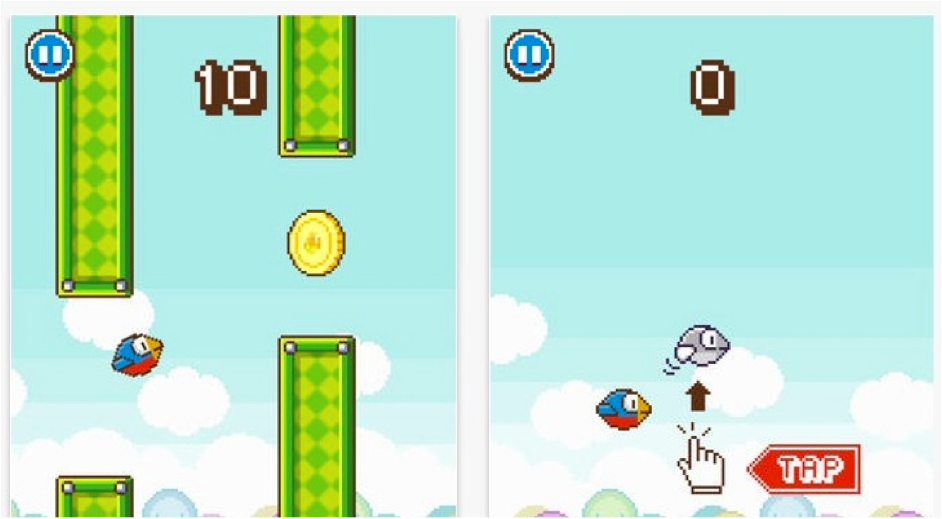 Source: Softpedia
What smart phone would be complete without a time killer? Flappy Wings is exactly that – an app designed entirely around repetition to burn time.
One of the more popular clones of the late Flappy Bird, Flappy Wings is the closest game you're going to get to the original, which has now been taken down from the iTunes and Google Play store. Quick to start up and get into, Flappy Wings is easy to learn, but very, very hard to master.
If you can ignore the occasional ad popup, and you can bear the looped soundtrack, Flappy Wings is the perfect game to have on your phone for when you simply can't go 5 minutes without touching it. You could play it on the train or bus, or just because you're trying to beat your friend's high score, it doesn't really matter where or why – and that's what makes it so necessary.
Margin Media is an inbound marketing company based in Brisbane. We offer a range of digital marketing solutions to help your business increase its website traffic, qualified leads and customer base. To find out more about our services, give us a call on 1300 798 848 or visit our contact page.