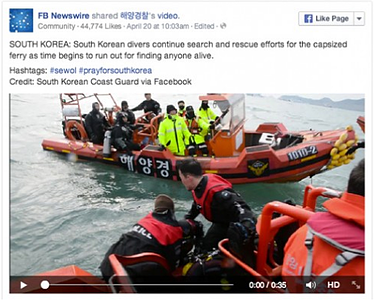 Publicised by Time Magazine as Facebook's plan "to crush Twitter", the new FB Newswire page is a primary social media resource for breaking news. Partnered with NewsCorp-owned Storyful, FB Newswire provides photos, videos and status updates that journalists can use to create their own stories. Verified and discovered by Storyful, the content is readily available to be embedded and shared.
Storyful already acts as an alert service for journalists every time something newsworthy is happening. According to the Storyful website, "Our global team of journalists source, date and geolocate everything, and add uploader contact details to every story." Similarly, information is verified and aggregated before being posted to FB Newswire. This cuts out some of the research time for journalists and provides them with usable content that they can trust.
In an announcement on the Facebook newsroom, Andy Mitchell, Director, News and Global Media Partnerships, said: "Every day news is made on Facebook. More than one billion people use our platform to discover, explore and participate in news-making events around the world. Today, we're excited to announce FB Newswire, a resource that will make it easier for journalists and newsrooms to find, share and embed newsworthy content [emphasis added] from Facebook in the media they produce."
Citizen journalism is a trend that started with Twitter and continues to grow as more people upload images and videos of events and news than ever before. The Guardian newspaper responded to this trend with The Guardian Witness app, which targets citizen journalists, asking them to supply videos, photos and stories that they think are newsworthy. It was only a matter of time before Facebook jumped on the bandwagon.
With recent innovations such as 'Trending', updates to pages and an algorithm that is designed to more prominently feature news articles in the news feed, Facebook is facilitating increasing traffic to media sites through smart media management and is quickly increasing its news audience.
I personally follow pages on Facebook from my preferred new sources, rather than going straight to the news site each day, as having them in my feed keeps me up-to-date with news headlines and gives me interesting articles to read throughout the day. If they weren't there, it is likely that I wouldn't read half the news I do as when it is strategically placed in front of me. So for news sites, Facebook could prove to be one of the best news aggregate solutions out there.
Margin Media is an inbound marketing company based in Brisbane. We offer a range of digital marketing solutions to help your business increase its website traffic, qualified leads and customer base. To find out more about our services, visit our home page.