The much loved Android Police have stumbled across rumours that Google are trying to make voice commands a much more widely-used and further-reaching feature of Android that isn't limited to just searching or very basic voice commands.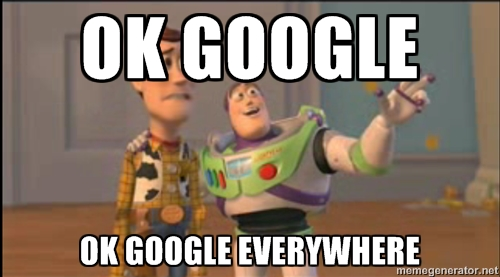 As Android Police state in their in-depth write up much of this is speculation, but it seems likely that most of this new functionality will at some point be released. Whether it is in the exact same manner as the rumours suggest remains to be seen. With technology these days it's hard to keep everything under wraps until the moment of reveal.
So what does this expansion of "OK Google" mean? Well, currently the "Ok Google" command just opens up the search app, and whilst it is a very versatile app it doesn't cross into any other apps such as Gmail. Currently search allows you to make basic voice commands such as messaging, calling, reminders and do searches, but this is all contained within the Search app.
This new update is going to potentially allow the OK Google command to be used in just about any app. As Android Police say it could allow, for example, users to say "OK Google" whilst in the camera app and share the photo, edit it or possibly even send it via attachment. This brings in untold levels to integration and interaction just using voice commands, and will outdo pretty much everything else out there on the market.
Another interesting thought is how it will connect with Android Wear, which has a lot of focus on Google Now and voice commands. If the new "OK Google" is released and implemented into Android Wear, it will take an already amazing-looking product and turn it into the best you can get.
In addition to this new integration of voice commands, it appears Google is getting a bit of a makeover. Android Police have mocked up some visualisations of what it could look like but it does look very sleek.
The only potential issue with this new update is the fact that it is unlikely to come to anything other than pure Google devices. This means that only Nexus and Google Play Editions could get this amazing update. Google appears to be trying to carve its own personal niche in the smartphone market. It already has the Android platform on millions of devices, but with the Google Now Launcher and now this new "OK Google" update, it seems Google want to be a true manufacturer as well.
It is probably just as well with rumours that Samsung are creating their own operating system that does use Google. Currently, Samsung uses Android as the base software and then applies TouchWiz (Samsung's UI) over the top.
It's going to be an interesting couple of years.
Margin Media is an inbound marketing company based in Brisbane. We offer a range of digital marketing solutions to help your business increase its website traffic, qualified leads and customer base. To find out more about our services, visit our home page.