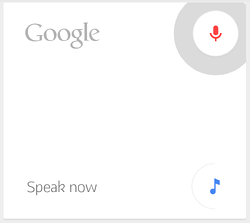 Google is taking a step to making your phone safer and more friendly while driving by possibly updating its voice search, OK Google.

In an earlier article, I mentioned there were rumours that Google was working on integrating its "OK Google" voice command into the entirety of Android.
It seems some of that might start making its way into consumer updates, maybe even in time for Google I/O - the annual Google Expo where Google usually announces its new updates, next versions of Android, and other things Google-related.
Google is rumoured to be working on expanding the "OK Google" voice command into something that resembles a conversation and that doesn't require eye-screen or hand-screen contact, something that will be perfect and seems to be aimed at driving.
Supposedly called KITT after the AI in Knight Rider, this new update will allow users to say "OK Google" and then search for weather, news, directions, and message/call contacts - all without ever looking at the screen.
Coming as a feature Google's own Moto X (something of a testing platform), the new update will allow results to be read to the user without them having to ever look at the screen to read information.
This would be done via the user and the phone running through steps to achieve what the user wants, something that would run somewhat like a conversation between the user and phone.
As an additional safety feature, if Google can't provide or read the information safely, then it will save the information until the user pulls over and can read it safely.
How this will work and whether it will be a Google Maps link is yet to be discovered, but it's a very interesting update and, possibly, the start of the rumoured "OK Google" integration across the entire platform.
Margin Media is an inbound marketing company based in Brisbane. We offer a range of digital marketing solutions to help your business increase its website traffic, qualified leads and customer base. To find out more about our services, visit our home page.