Nokia have finally succumbed to the pressures of Android, or at least figured out that it's not going anywhere soon. Earlier this year, they announced hybrid Windows/Android phones and now they've announced and are testing their very own Android launcher: The Z Launcher.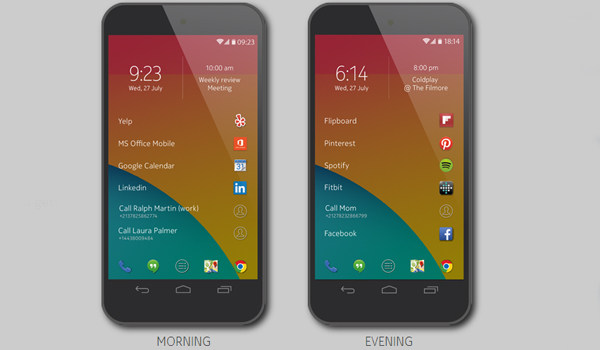 The image above perfectly describes the main purpose of the launcher, which is to provide the user with the apps they commonly use at certain times of the day. It's a clever bit of software which will only get better the more users interact with it.
Z Launcher will appear as you see it above with common apps and contacts for specific times on the left, the time above and appointments next to it. These apps and contacts will change randomly as the app remembers when you used them and in what context.
As you interact with the app, it learns your habits and consistently used apps and frequented contacts. It's a clever system if it works; if not, well, then it ends up rather useless.
Another awesome feature is the screen writing recognition, which in itself is nothing new. There have been gestures in launchers for quite some time now, but what makes the Z Launcher special is how it recognises writing and then brings up the apps that begin with the letter you write. If you write more letters, as you would imagine, it narrows the search. Once you're writing over 4 letters it changes to showing Google searches as well.
I have to say, I am interested in trying it out, however, the app is currently in a closed pre-beta and for all of you clever Androiders, the APK requires an online activation so that way doesn't work either. I've already tried it!
Currently the app is optimised for Nexus 5; Galaxy S5, S4, and S3; Moto X; HTC One; and Sony Xperia Z1, but since when has a little word like optimised stopped true Android fans?
One more thing to mention... it doesn't appear Z Launcher supports much customisation just yet, which is a big downside for some of us (myself included), but this could change with future updates.
What are your thoughts on Z Launcher? Let me know in the comments below.
Margin Media is an inbound marketing company based in Brisbane. We offer a range of digital marketing solutions to help your business increase its website traffic, qualified leads and customer base. To find out more about our services, visit our home page.