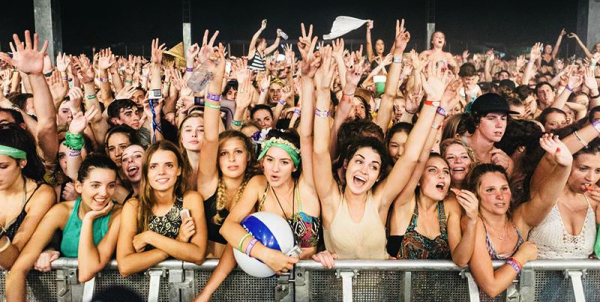 We all want to reach as many people as possible on Facebook, but how do we do this without paying Facebook to boost our post?

Each organisation will have different objectives on Facebook but there is one objective I believe we all share, brand awareness. We want as many people as possible to know about and engage with our brand.
In this article I am going to let you in on a little secret of how I reached over 10,000 people on Facebook organically with one post. 10,856 to be exact.
One of our Facebook pages we manage is AAA Backstage. AAA Backstage is a music news website supporting local and touring artists and events, dedicated to supporting musicians from the grassroots to the penthouse.
With a social media policy and a detailed list of posting styles, we have been able to grow AAA Backstage's Facebook following, expand their daily social reach and generate more traffic to the website.
So how did we do it? How did we receive over 10,000 organic reach for one Facebook post? It is important to note that at the time of this post AAA Backstage's Facebook page had a modest following of just over 3,000 likes.
One of our Facebook posting styles is called a "Fun Post". This style of post is all about entertaining your followers, giving them something to engage with. Some "Fun Posts" include memes, shared videos and funny articles with the overall objectives to appeal to people's positive emotions and provide some social currency to be shared or commented on.
What we did
Tools: 1 x Red felt pen, 1 x notepad, 1 x iPhone Camera, 1 x Laptop computer.
Using a red pen a notepad and an iPhone camera we created a Call to action to get the conversation going along with the post "We need your help!!". What is important to note here is that we did not use a question mark.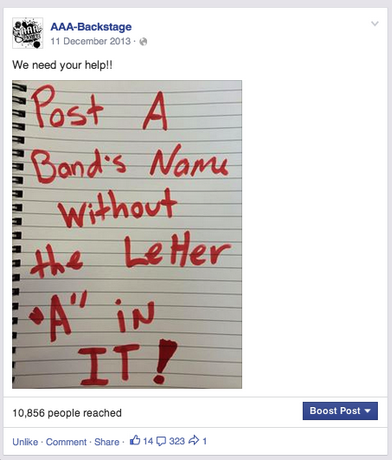 Immediately after we posted the photo we started to receive comments. Our team engaged with the comments and got in on the act providing our own responses and congratulating others on their responses. An hour after posting, the conversation was still going and the the reach was growing and growing by the minute. The conversation continued on into the night and by the next day the post had reached close to 11,000 people.
The following is a screenshot of the post's analytical results.
How did this post generate this much reach?
What this post did was ask people to remember music and bands that they love. We asked them to demonstrate their musical knowledge by posting a band's name without the letter "A" in it. We asked them to join in a conversation with us and with our followers that gave them a source of nostalgia and provided an emotion of joy.
Our followers decide which articles, post and pictures to share and engage with. They are more inclined to do that if the act of engaging makes a strong statement about who they are.
In my next article I will explore 7 Facebook posting styles to increase your organic reach on Facebook.
To learn more about how Facebook's EdgeRank algorithm surfaces posts and what you can do to give your organic brand posts the best chance on the social network, check out this article.
If you'd like to keep up-to-date on the latest marketing and tech news, be sure to subscribe to our blog via email. You can find the subscription box to the right on this page.
Margin Media is an inbound marketing company based in Brisbane. We offer a range of digital marketing solutions to help your business increase its website traffic, qualified leads and customer base. To find out more about our services, visit our home page.