Uber has once again tried to find a place in our hearts and in our transport plans after launching in Australia recently - this time using legendary Messina Gelati and delivering it to users for free. While no one can say no to free ice cream, it seems that users were unable to actually order it, with ice cream demand remaining "off the charts" for the majority of users.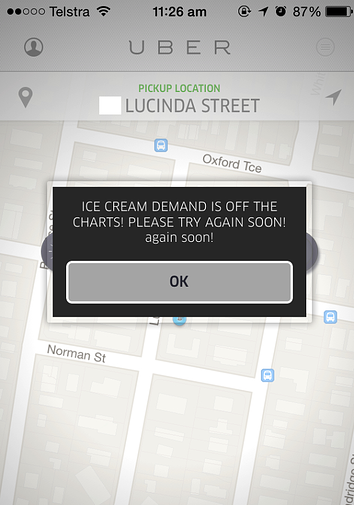 The message that users received when their ice cream request was unsuccessful.
Additionally, users had the nasty surprise of a $1 'authorisation charge' made to their credit card or Paypal account every time they clicked request delivery, regardless of whether they were actually able to order the ice cream.
Users have found out they're getting charged $1 for every UNSUCCESSFUL delivery attempt for this "free" icecream from @Uber @Uber_Brisbane

— Kate Noon (@katenoon) July 18, 2014
The deal was meant to be made sweeter by an introductory code that Uber made available, offering $25 credit to new users with the 'ICECREAMBNE' code. This meant that a $20 tub of Messina magic would be free, and with a second tub costing only $15, users would only have to front up $10 for 1L of ice cream - still pretty expensive, but considering Sydney-siders queue for hours to get their hands on some of Messina's products it works out to be quite reasonable.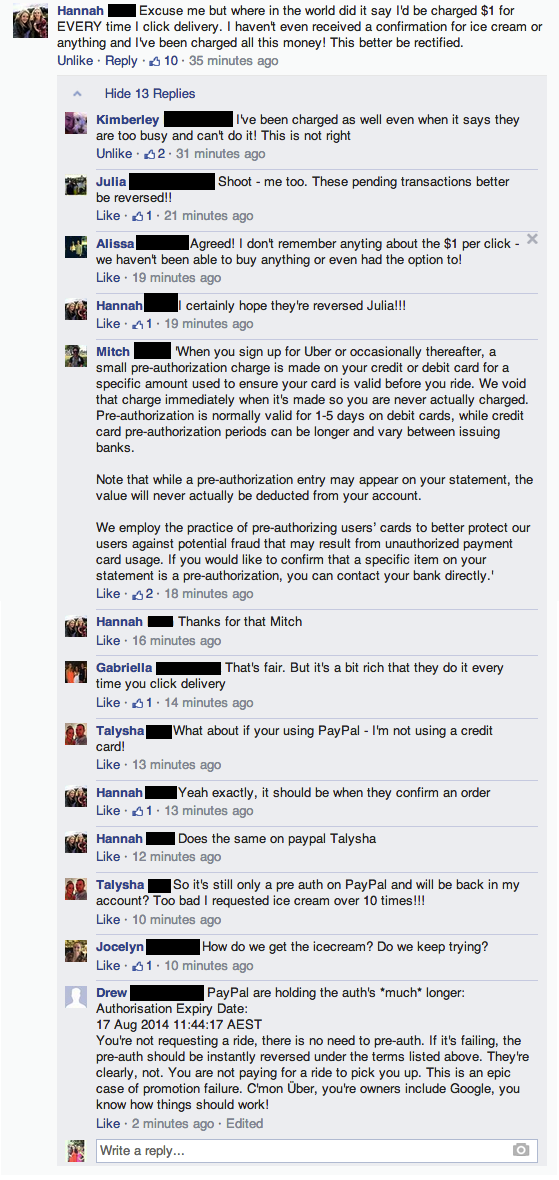 Uber's Facebook fans were less than impressed with the situation.
Uber's social media team were relatively timely to address concerns over Twitter and Instagram, however Facebook users were left largely in the dark over the situation. The fact that Facebook users were the most vocal in their concerns and disappointment didn't stop the Uber team from posting a happy snap of a smiling Uber team member in the same thread as users complaints kept rolling in.
One user has apparently had a credit card cancelled by the bank over multiple authorisation charges #marketing #ubericecream @Uber

— Kate Noon (@katenoon) July 18, 2014
One user has spent $81 so far on failed attempts to get free #ubericecream @Uber that's 162 GUARANTEED 50c cones from Maccas.

— Kate Noon (@katenoon) July 18, 2014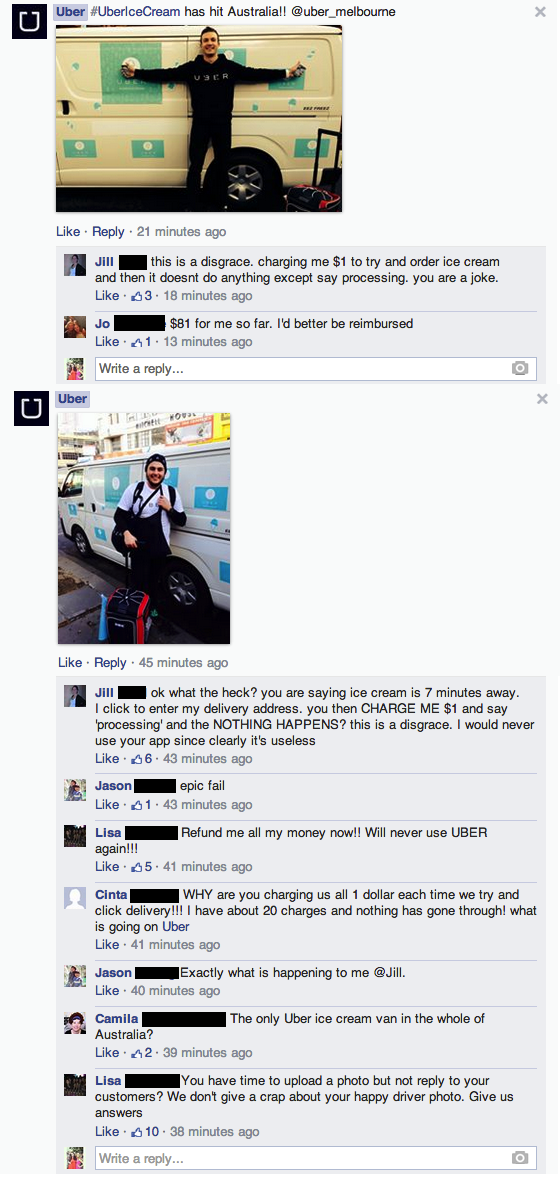 Facebook users were not happy with Uber's response, or lack of, to their complaints.
One Facebook user complained about having spent $81 by 12.25pm attempting to get free ice cream from the campaign. Another reported that friends had their credit cards cancelled by their banks as a result of too many authorisation charges.
Users can continue trying to get ice cream until 5pm or until Uber's ice cream stocks run out, though we haven't heard of anyone getting any ice cream here in Brisbane yet. Maybe we'll have some luck later today.
Have you been able to get your hands on any of Uber's free ice cream?
If you'd like to keep up-to-date on the latest marketing and tech news, be sure to subscribe to our blog via email. You can find the subscription box to the right on this page.
Margin Media is an inbound marketing company based in Brisbane. We offer a range of digital marketing solutions to help your business increase its website traffic, qualified leads and customer base. To find out more about our services, visit our home page.