Unless you've been living under a rock for the past two weeks, you've probably seen or even been involved in an Ice Bucket Challenge for ALS (amyotrophic lateral sclerosis) awareness and fundraising. The concept is people get nominated to complete the challenge and have to do so within 24 hours or donate $100 toward ALS research. Those who complete the challenge get to nominate new people and the cycle continues.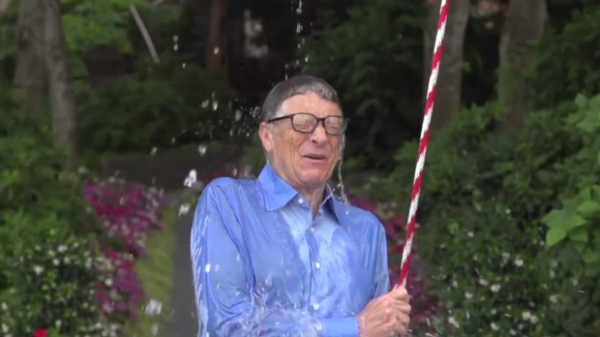 Of course, as with most things these days, people have been sceptical as to the actual benefit of completing the challenge, comparing it with other 'clicktivism' efforts. From #BringBackOurGirls and as far back as #Kony2012, social media-driven causes have become globally supported. However, the extent to which tweeting, liking and Instagramming actually helps the cause has been the subject of contentious debate. In the same sense that not forwarding a chain email didn't cause a dead girl to appear in the middle of the night and kill you, liking a video on Facebook doesn't seem to do much.
However, the Ice Bucket Challenge has managed to become a viral sensation and raise funds. According to digital content data and marketing technology company Amobee the number of viewers who saw or read content that referred to the terms "ALS", "Lou Gehrig's Disease" and "Ice Bucket Challenge" skyrocketed from the week beginning July 30th to the week beginning August 6th. The campaign was officially launched on August 6th, which means that the impact of the challenge was fairly instant. Amobee revealed that items including the term "ALS" increased 1,007%, and ones that mentioned Lou Gehrig's Disease increased 1,167%.
Of course, the success doesn't stop there. TIME reported that $1 million was raised in the first weekend and $2.3 million within the first two weeks. During the same time last year the organisation only received $25,000 in donations. More recently, the challenge saw $8.6 million raised in just one day.
The campaign has received a lot of support from high-profile celebrities with loyal social media followers, as well as the non-famous but just as cold and wet participants. From Justin Timberlake to Mark Zuckerberg and even Bill Gates, it seems as though celebrities were just itching for someone to nominate them. Here are some of the celebrity #IceBucketChallenge videos.
Justin Timberlake
Jimmy Fallon, The Roots, Rob Riggle, Horatio Sanz and Steve Higgins
Mark Zuckerberg
Bill Gates
If you'd like to keep up-to-date on the latest marketing and tech news, be sure to subscribe to our blog via email. You can find the subscription box to the right on this page.
Margin Media is an inbound marketing company based in Brisbane. We offer a range of digital marketing solutions to help your business increase its website traffic, qualified leads and customer base. To find out more about our services, visit our home page.