Apple's event may have brought two new iPhones to the table, but perhaps the more interesting announcement was the Apple Watch.

For the first time in history as CEO, Tim Cook used the phrase "One more thing", which was popularised by Steve Jobs as a way of leading into a key announcement about new, notably more innovative products or services on Apple's end.
Regardless of whether or not the iPhone announcements really meant much to you, it's hard to deny that Apple's first foray into the smart watch market is impressive. In fact, it could be one of the best debut smart watches to come from any tech company.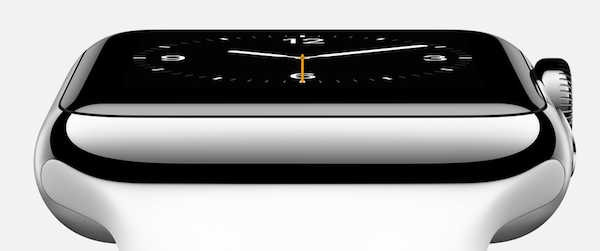 The Apple Watch
While rumours were going for the name "iWatch", Apple has gone with a far simpler name: Watch. But while the name may be simple, it looks as though a lot of thought and care has been taken in the development of Apple's first flagship wearable device (and the first new product line since 2010).
The Apple Watch can theoretically work as a standalone product, but it's clear that it's meant to be embraced as a complementary item to your iPhone. The Apple Watch offers many of the typical features that you'd expect from a smart watch, including:
Fitness tracking and heart rate monitor
Text and call functionality
GPS / maps
Watch-specific apps
iTunes / music player functionality

What's interesting with the Apple Watch, however, is not just some of the unique tweaks it's offering with these features, but also the level of personalisation that's being offered for the Watch. And then, of course, there's the Digital Crown.

The Digital Crown
While users will be able to navigate the Apple Watch via touch, the watch comes with what Apple is calling the Digital Crown, inspired by the traditional winding crown on analogue watches. The Digital Crown looks to be used primarily for zooming into the apps shown on the watch's screen, as well as making finer adjustments (e.g. adjusting the date/time on your watch). As clicking on an app may be hard via touch alone, especially considering the Apple Watch shows a wealth of apps on screen at once, the Digital Crown allows for far easier access.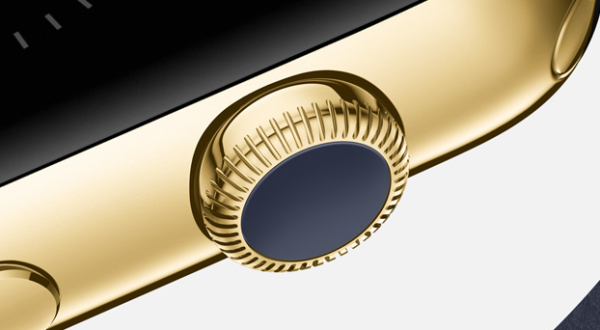 Digital Touch and other unique forms of communication
Digital Touch is just one of the ways Apple is offering a unique take on how Watch users can interact with one another. Digital Touch allows users to communicate via, well, touch. More specifically, users will be able to draw images on their screen, which will then be sent to the person they're communicating with. (Digital Touch also refers to the overall touch functionality of the device.)
But along with these Sketches, Apple Watch also has a few other unique communication-based offerings up its sleeve. With the watch's built-in speaker, users can send short audio snippets to one another - Apple's calling this Walkie-Talkie. With Tap, users can send messages that are simply a gentle tap to let the recipient know they're thinking of them. Apple notes you'll even be able to set up customised Taps for different contacts.
Finally, there's Heartbeat. As Watch is can read your heart rate, you'll be able to send contacts a recording of your heartbeat. You simply place two fingers on the screen, which will cause Watch to record your heartbeat and send it off to a chosen contact. No doubt this will prove popular for couples on Valentine's Day.
Fitness
Fitness has become a staple of smart watches, even if smart watches are a relatively new technology. The Apple Watch is no exception, with the inclusion of a heart rate monitor and a wealth of fitness tracking features.
The Apple Watch won't just measure your physical activity, but it will dynamically adjust goals to achieve. If you want, you can change these goals to suit you. The base of Fitness is defined by three key factors, which are represented in rings:
Move ring: number of calories burned in a day
Exercise ring: amount of brisk activity you performed in a day (with benchmark set at 30 minutes; brisk activity refers to anything from a brisk walk and higher)
Stand: measures how often you got up out of chair and stood up during a day
Along with these three basic benchmarks, more avid fitness users also have access to a comprehensive workout app. Watch will measure acitivity in real time and provide summaries at the conclusion of a workout. If you reach or exceed set goals, little symbolic awards will pop up on screen and be saved.
The more you use Watch's fitness features, the more it begins to understand your behaviour. Once it has a good amount of data on your fitness behaviour, it will offer you revised goals to reach, in turn encouraging you to strive for an even healthier lifestyle.
Personalisation
While it may be comparitively minor to the slew of apps and features contained within the Apple Watch, it's surprising to see the amount of personalisation available. This doesn't just apply in the sense of the constantly customisable watch faces, but also in terms of the physical device itself.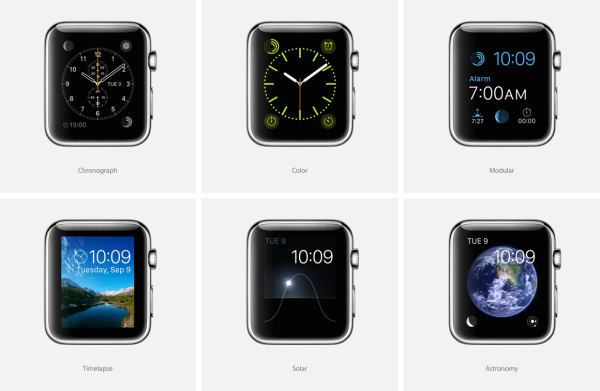 The Apple Watch will come in three variations (Apple Watch, Apple Watch Sport, and the higher end Apple Watch Edition), and these three variations have a whole host of removable straps and colours. The screen also comes in two different sizes - 38mm or 42mm (based on height).
Compared to the restricted number of options that come with iPhones and iPads, the far wider range of options with the Apple Watch is a pleasant surprise.
Siri & Apple Pay
The Apple Watch will also come with Siri. While it may feel a little odd to talk into your watch, it's still a logical feature to include on a device where touch gestures could become a little tedious from to time.
As with the iPhone 6 and iPhone 6 Plus, Apple Watch will also support Apple Pay - Apple's new NFC-based payment feature. To use it, you simply place your Watch up against a NFC, Apple Pay-enabled device. Quick and easy.

The Apple Watch is slated for release early next year.
What do you think of the Apple Watch? Share your thoughts in the comments below.