Is your businesses website converting leads into customers? What tools do you use to measure your websites performance? Is your website content driving quality traffic to your site? When was the last time you added fresh content to your website? And what was the purpose for adding that content? What are your websites top 5 ranking keywords? Do you have a blog on your website that is regularly updated?

These are all questions you as a business owner or marketing manager should know the answers to. If you do not, they are the questions you need to be asking your Inbound Marketing Agency or Digital Marketing Agency.

Website Redesign, also known as Website Redevelopment or Website Rebuild, can often be a misguided solution to a website that is not preforming. However many people go about it in the exact same way they did for the first website. For example they focus on design but use the same images and content from the previous site. Really all anyone is doing in these instances is wasting a lot of money and time. In this post I am going to give you my top 5 Right Reasons, Why you should redesign your website.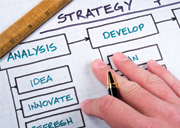 1. Increase website visitors, leads and customers.

As a business owner I know that the more visits I get to my website, the more chance I have to use strategically placed Call To Actions and remarkable content to turn them into valuable leads.

The number 1 goal of your website redesign project should be to increase website traffic, gather leads and convert leads to customers. If your website isn't doing this then what's the point of having one.

2. To create search engine optimised content - SEO

It is no secret that search engines love great content, but so do potential customers browsing your website. A Website Redesign gives you a great opportunity to change your old boring website content that no one reads to search engine optimised keyword rich content that drives visitors and leads to your website.
It allows you to create better Call to Actions attracting users to interact with your website.

3. Create an ongoing Content Building Strategy

The more content you have on your website, on average will lead to more visitors and more customers. A 100 page website will beat a 10 page website and a 200 page website will do even better. The more pages you have, the more chance you have of being found as long as your content is planned.

Create an ongoing content strategy to continue to add more and more content to your website. Blogging is great tool for adding fresh content to your website.

4. To update to an advanced Content Management System (CMS) that allows you to edit, blog and build landing pages without having to know coding

Does your current website have a blogging engine allowing you to create new fresh content every week? Are you able to add new landing pages on your site dedicated to new marketing offers? Can you add new sharing plugins to your site so users can quickly and easily share your content on the web?
Moving over to a modern Content Management System that gives you this flexibility is another important reason to redesign your website.

5. Metrics: Measure and Refine

Measuring your websites conversion rate is important right? Converting to a website that allows you to measure Views, New Visitors, Repeat Visitors and Leads all from the one screen is a great advantage for any business.

Your website is the most important marketing tool you have. It should be delivering your marketing department real results. Redesigning your website for the wrong reasons can be a timely and expensive to your business. Redesigning your website for the right reasons can and will help your business grow.
Additional Resources
How to Develop a Blog Content Strategy
6 Essential Elements In Planning Your Website