With the ever-growing popularity of online marketing strategies, you may have heard the coining of terms such as "inbound marketing" and "outbound marketing".
If you're interested in understanding how these two differ from each other, then the first thing to note is that 'Inbound Marketing' is the newer form of marketing, whereas 'Outbound Marketing' (AKA Interruption Marketing) is a well-established, albeit decreasingly effective, form of marketing.
So what are these two marketing styles? And which one is better?

Outbound Marketing
When you're watching TV, listening to the radio, and looking through websites (and many other things), you more than likely are exposed to advertisments promoting a product or service in the most aggressive form possible. This is known as outbound marketing.
To put it simply, outbound marketing is the more traditional form of marketing in which advertisements are designed to interrupt your day (such as the inevitable ad breaks on TV) to convince you to take action in the form of enquiry or purchase.
The reason this is defined as outbound marketing is because those responsible for these forms of marketing are trying to reach out far and wide with the product to bring in sales. However, with modern technology and shifts in communication and entertainment, people are finding more ways to decrease their exposure to unwanted ads, the effectiveness of traditional outbound marketing is decreasing.

Inbound marketing
With inbound marketing, all of the marketing is done on the reverse approach. As opposed to having to spend thousands of dollars on outbound ads and marketing campaigns, inbound marketing is all about allowing your business to be found by an individuals.
Inbound marketing is done online and is achieved through businesses turning their websites into a hub for discussion and resources for the industry they're part of. By providing quality content along with strategic keyword placement, a business's site will become more likely to attract visitors search engines, blogs, and social media.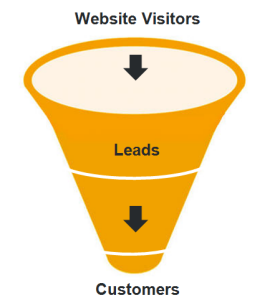 In effect, by creating interesting and relevent content across a range of online mediums, you attract qualified traffic to your online material. Then through the use of strategic Call to Actions and Landing Pages this traffic is converted into Leads, and then through Lead Nurturing Campaigns, these leads are converted into clients and customers. See Funnel Diagram above.
By creating a successful inbound marketing campaign, a business can draw in people who are genuinely interested in their industry as opposed to trying to reach out to a comparatively unspecified audience who may have no interest whatsoever in what you're about. Additionally, inbound marketing is a far cheaper option and doesn't rely on costly ads, but simple quality content.

While outbound marketing is still going to exist for a long time to come, inbound marketing is a strong new contender. By bringing in people through making your website a hub of quality content, you'll attract the types of customers/clients that will truly help your business grow.
Have any more questions regarding inbound marketing? Call us on 1300 798 848 or contact us through our website and we'll answer any questions you have. If your business has an inbound marketing campaign, share your experiences with us in the comments below.
* Image source: Hubspot